"I always say the academic pressure at Cambridge is worth it because you also get all the good bits, but we knew this term was going to be difficult"
In January when Candela Louzao Carabel became Co-President of the JCR (Junior Combination Room), the student-elected committee that represents undergraduates at St John's College, she was looking forward to a fresh challenge and a fun year, the chance to 'make a difference'. Then the pandemic struck, students went home, and all her plans went out the window. In our latest pandemic story from St John's, Candela, who is in the third year of her four-year Engineering degree, talks quizzes, self-isolation and karaoke in a mask.
When we stood for election, Tim d'Aboville, my Co-President, and I, were told that unexpected things would crop up occasionally in our roles, but we never expected this! It all happened very quickly. We'd planned a JCR event, and we wondering whether to go ahead. Then suddenly the pandemic worsened and everyone was sent home. When we didn't come back after Easter, we had to do everything online. I was at home in Spain and Tim was in France, and the rest of the committee was all over the place, but we tried to keep that sense of community alive by hosting all sorts of virtual events for the final term – I think it worked.
Freshers' Week was a big challenge. I always say the academic pressure at Cambridge is worth it because you also get all the good bits, but we knew this term was going to be difficult, and I feel sorry for the freshers who haven't been able to enjoy all those good bits. We really wanted them to be able to meet each other in person, so we planned a socially-distanced event, then the regulations changed to a limit of 30 people. We had another plan in place, then the regulations changed again, to the rule of six, just a week-and-a-half before Freshers' Week! We still managed to organise quizzes, bingo, live music and karaoke – with groups of six, table service and people singing in masks, which was fun. So, it was hard working on our plans with so much uncertainty, but we adapted and the events the JCR has organised this term have gone really well.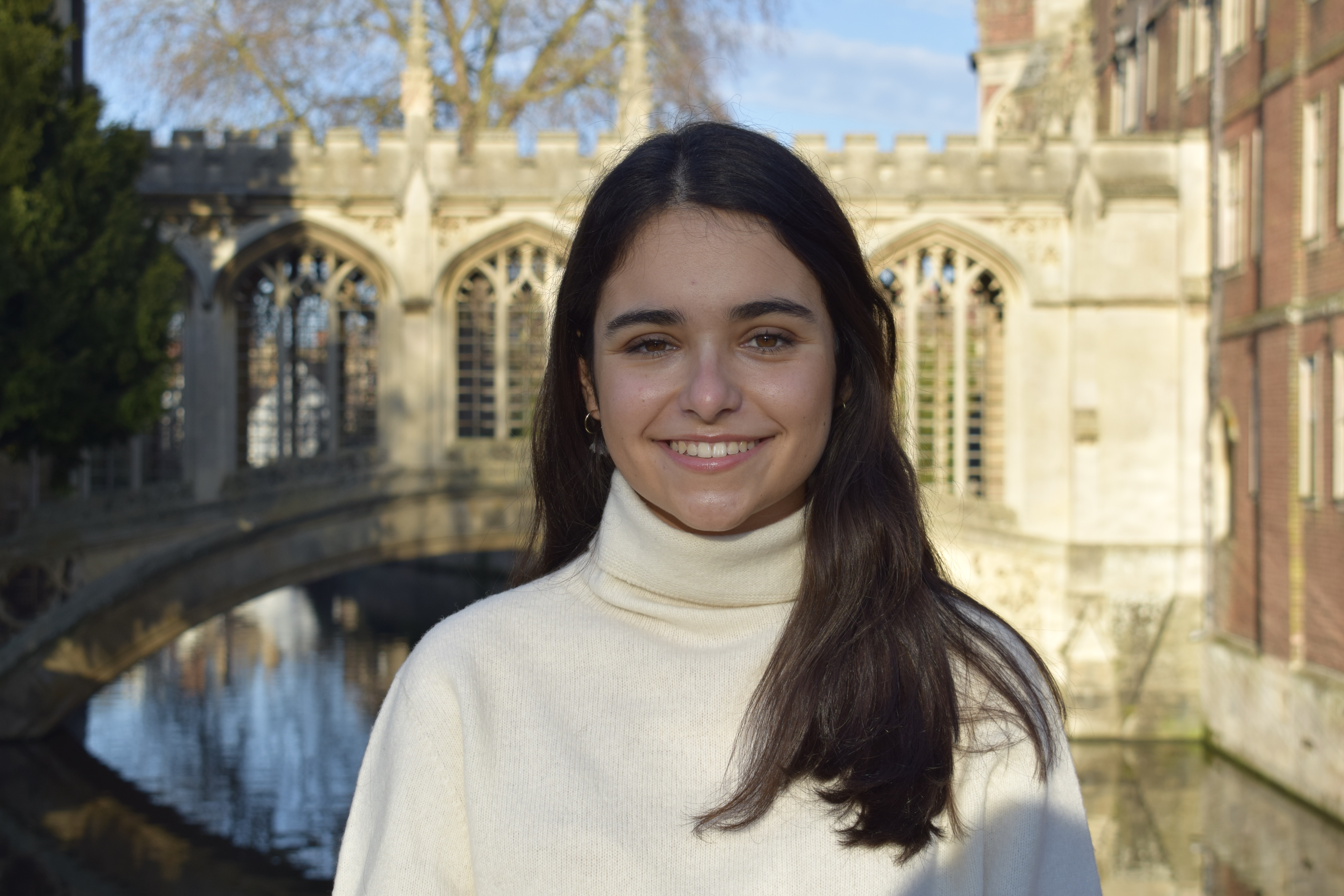 We've also had yoga, a Bake-Off competition, a University Challenge-type quiz and a fundraiser for the Stephen Lawrence Charitable Trust. We've been part of the Entertainments Committee, which College set up this term to organise activities, and we've put board games in the Library to keep people occupied.
Organising events, even something like an online quiz, is quite a lot of work. With physical events there are now risk assessments to be done, too, and you have to double the number of committee members in attendance, but luckily Tim and I are quite organised and we've had the whole committee behind us.
It has been a little awkward at times. The students see the JCR as the organisers of cool events, serving up drinks and having fun, but the reality was me having to march around and police everyone with my Excel sheet, asking people to sit back in their seats when they've jumped up to go to chat with friends, because of the rules! Most people have been responsible and understanding.
I have had to self-isolate three times this term. The first time I quarantined for two weeks when I arrived back from Spain and most recently for another fortnight because a person on my floor in Cripps, who I share a kitchen with, tested positive. The JCR team has been very supportive every time I've been in isolation, and Tim has been bringing me my food, he's been great.
"My message to everyone for next term is just, keeping going, keep being supportive of one another"
This term has been tough for everyone. The biggest thing for most students has been the loneliness. Last year, I was in a double set with an engineer and we did everything together, we went to lectures together, had laughs together, but this year because I live in a single room I've had to do my own thing, sat in my room watching lectures, and doing my labs in my room as well. I've had to transition to being very independent. Through all of this, I think I have learned to value my friendships more. Also, I've realised online lectures do work – they've been really good and I think that, when this is over, they should continue to be an option for courses that were not recorded before. Online meetings have been handy, too; now I don't have to run from the Engineering Department to a JCR meeting, when one starts as the other ends!
Being an international student, going virtual is a real positive. One of our main objectives as co-presidents was to do a Virtual Open Day for prospective students who couldn't visit in person, and we had obtained funding for this from the College Annual Fund. Because we were at home in the spring, we couldn't organise the whole thing remotely, but the College did a virtual tour and Admissions did virtual open days, which were great. Before my applicant interview, I'd only seen pictures of St John's on the internet, so this would have been really helpful for me so some of the innovation has been very welcome and I hope it continues.
Once our presidency is over at the end of December, I would like to take up something else, though I'm unsure what yet. In the first year I didn't sign up for anything because I was scared, I thought, 'I'm going to Cambridge and I'm a year younger than everyone else - because of how my school year fell in Spain - how I am going to manage it?'. Then, in my second year, I took on this huge thing, so I don't know what I would do with my free time now, but I know I won't miss those risk assessments!
My message to everyone for next term is just, keeping going, keep being supportive of one another. If I had known what I was signing up for at the start of the year, would I have still signed up? I don't know, but I have definitely learned a lot and I hope we have made a difference.
Published: 4/12/20