William Crashaw's Library
William Crashaw (1572-1625/6)
The religious controversialist and poet William Crashaw built up an impressive library while serving as preacher to the Inner and Middle Temples in London. He even went to the expense of extending his official lodgings to house it. In 1615, however, due to tensions between himself and his employers, he was forced by his financial and family circumstances to move away from London. After offering his books to the Temple and to the Royal Library, some 200 manuscripts and 1,000 early printed books were lodged with the Earl of Southampton, also a Johnian, who oversaw the gift of the collection to their old Cambridge College. It was the size of this donation that precipitated the building of the Old Library at St John's. Crashaw eventually died of the plague in the parish of Burton Agnes. His son Richard went on to become a well known poet.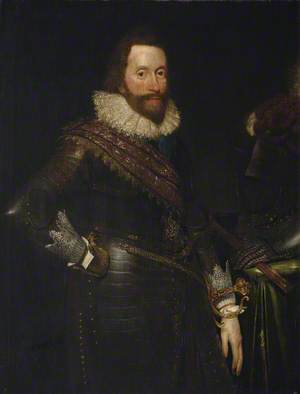 Henry Wriothesley, 3rd Earl of Southampton (1573-1624)
As well as being principal courtier to Elizabeth I, Wriothesley was a major literary patron, including amongst his protégés John Nashe, Gervaise Markham, Barnabe Barnes, and most famously Shakespeare, whom he supported for a year or so in 1593-4. There are even suggestions that he was the addressee of Shakespeare's Sonnet cycle. Later in life he was associated with the Earl of Essex's rebellion against the ageing Queen for which he was imprisoned and nearly executed. After James I's accession he was rehabilitated for a time, and was able to build up enough wealth to become a major sponsor of the colonization of North America as a member of the Virginia Company. He oversaw the transfer of Crashaw's collection of printed books to St John's in 1626. 
Crashaw's library
Crashaw left 200 manuscripts, which form the core of the College's collection of medieval manuscripts, and around 1,000 early printed books to St John's. The printed books are predominantly works concerning theology and canon law from the 16th and early 17th centuries, and are virtually all in Latin. There are also at least thirty volumes or fragments of incunabula bearing his provenance. Among the volumes that he left are some of the most important items in the Old Library:
Provenance markings
Crashaw's books are variously marked, although many bear no immediately recognisable provenance at all and can only be recognised from notes or fore-edge titles in his hand. Those more readily attributable to his library bear his name or initials on the title-page, often together with his motto "Servire deo regnare est" ("To serve God is to reign"). Other volumes also bear his device (an anchor and clasped hands together with his initials), usually stamped in blind (occasionally gold) on both covers. Many of them also bear a small inscription "Hen. C.S." inside the front cover, denoting their subsequent possession by the Earl of Southampton.