Developing in new directions
"The Telethon gives alumni the opportunity to talk to and interact with current students and vice-versa, it's a really great way of connecting the community"
Running the annual Telethon campaign from a kitchen table is not how Amy Reeve, Head of Annual Giving, usually raises money for student support at St John's. But this year the 35-year-old and her colleagues in the Development Office have shifted key events and fundraising activity online to keep our alumni community in the loop with life at the College during 2020. As part of our series of stories from the pandemic, Amy tells us how they kept the show on the road.
The Development Office team has mainly been working from home since March. From the word go my colleagues were proactive and came up with some great ideas for online events, and the College community has been really supportive, with Fellows and students coming forward to be involved. We've hosted everything from academics talking about their research, to students talking about life at Cambridge during Covid-19, and Christmas carols from the Chapel. Recently, we held a live 'meet and greet' digitally with the new Master for alumni and 135 people attended from around the globe.
Recording events means we can now connect with our international alumni in a way that we sometimes couldn't before. One Johnian who resides in a care home hasn't been able to come to College events for years, but he attended an online event in October because his carer helped to set it up on Zoom. It means so much to reach people in this way. All of our usual alumni publications are being produced from home too – there's nothing we are not doing, we've just adapted to do things differently.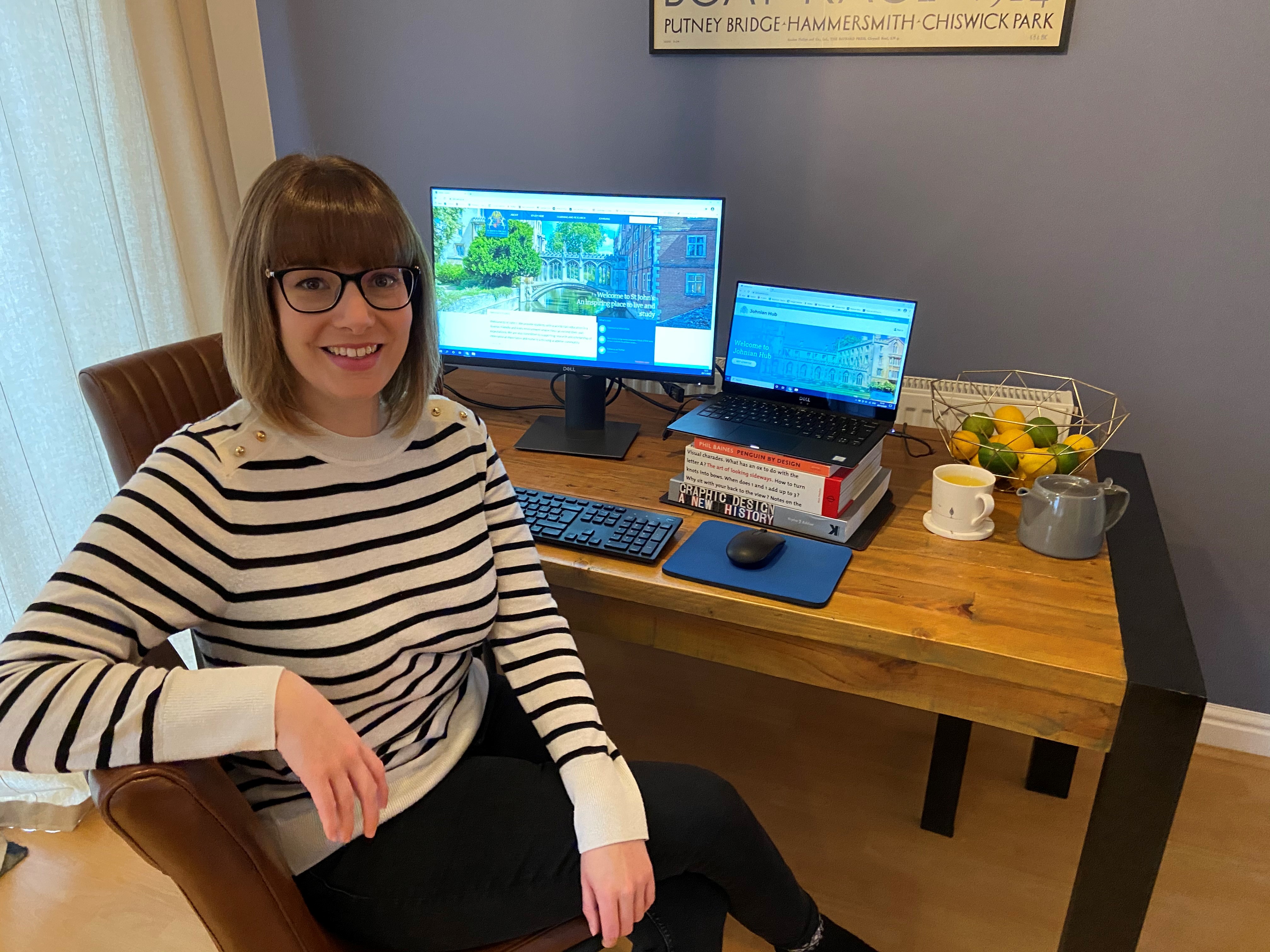 I've been working from a table in my kitchen. In 'normal times' I have an hour commute at the beginning and end of my day – I get the train from Waterbeach and walk from the station – so it's been nice not being squashed up against sixth formers on the way to work! Me and the rest of the office speak on Microsoft Teams and we've been supportive and tried to help each other out when we can, just as we would if we were in the office. Some of my colleagues have children to look after and I have nothing but admiration for them as they've managed to juggle work while keeping small humans alive and home-schooled!
I manage our regular giving programme, which means the alumni who decide to give monthly or annually to the College fall within my remit. My main focus this time of year is managing the annual College Telethon, one of our biggest mass fundraising projects. The Telethon normally raises about £380,000, which helps to ensure future generations of Johnians can continue to enjoy all that St John's has to offer regardless of their financial background. Traditionally we employ 13 student callers who, for three weeks, work together in the Fisher Building. It gives alumni the opportunity to talk to and interact with current students and vice-versa, it's a really great way of connecting the community. Students find out what Johnians went on to do with their degrees and, quite often, alumni offer mentoring opportunities or placements, as well as valuable careers advice.
This year we had to conduct the Telethon remotely. It was initially a difficult decision to carry on but I'm so glad we did. We cut the number of callers down to six students, who were working from home across the UK, so we could support them all. The students were trained to use the calling software via Zoom but still spoke with alumni on the telephone, rather than on video calls. We usually contact around 700 alumni and this year we spoke to 256 – but we still raised £144,000, which is phenomenal considering everything that's been going on, and proves how generous the Johnian community is.
"Science is what is going to get us out of this situation. A lot of Johnians felt the same when we were raising money to fund the next generation of postgraduate scientists"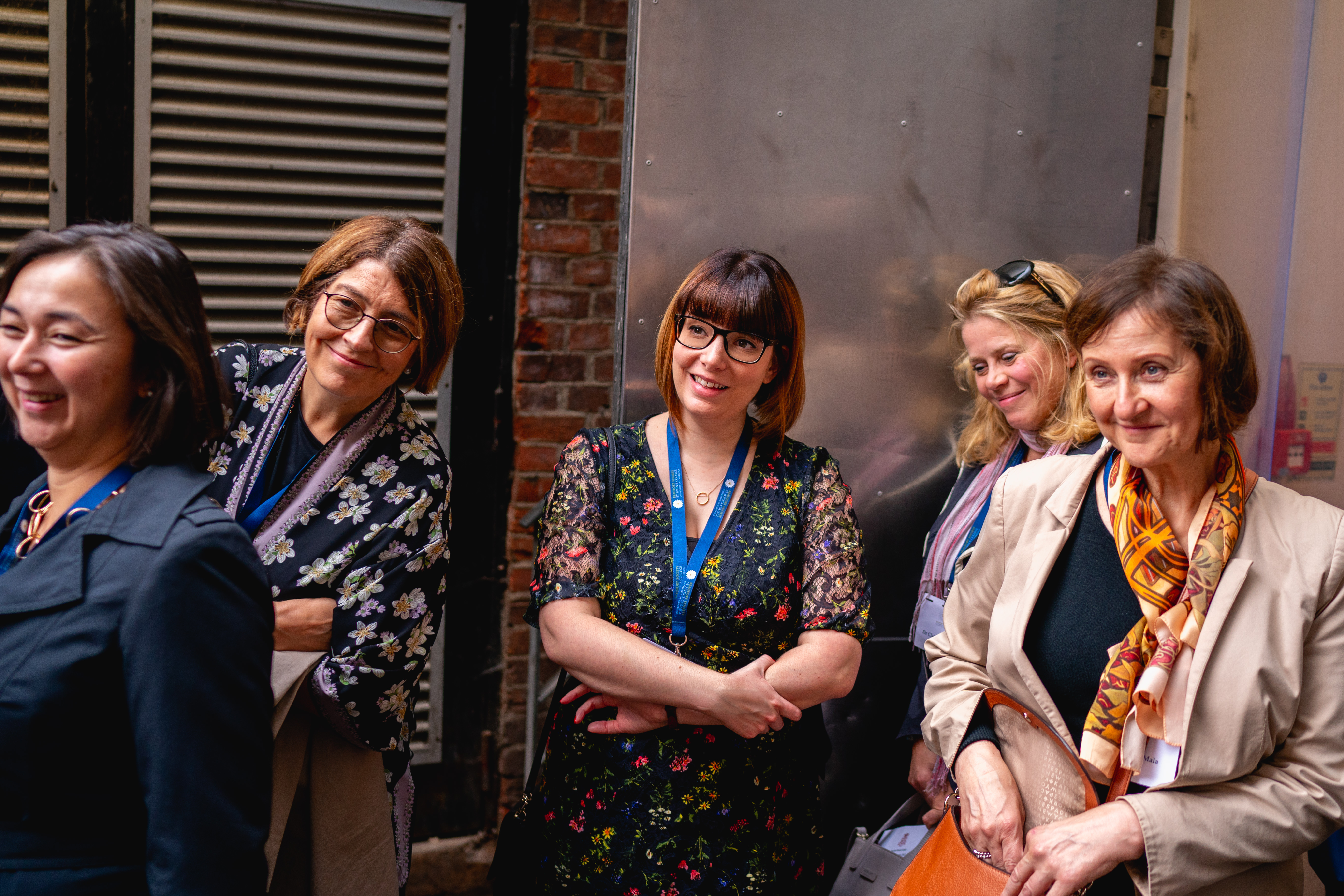 This year we are raising funds for the Professor Sir Christopher Dobson PhD Scholarship, named in honour of the late Master who died last year. It was really meaningful that the student callers got to share memories of Chris with alumni, and they in turn shared their stories of Chris. I think it was interesting timing for them to fundraise for a science-based scholarship too, because of the pandemic, and science is what is going to get us out of this situation; I think a lot of Johnians felt the same when we were raising money to fund the next generation of postgraduate scientists. They were often worried about the students and wanted to hear all about their experiences, how distance learning was going, how it was graduating 'via PDF' and not in person, and how the job market is. Overall it was a really heartening experience and I am grateful to the team of student callers who took on the challenge of a remote Telethon and smashed it.
I love the Telethon, because for three weeks every year I get to know some of the current students really well. They're always such an impressive group and it's great to hear about them, their friends, their studies, and get to know which of the catering team's amazing cakes they prefer at our tea breaks! My vote always went to the millionaire shortbread.
I chose a job in fundraising and development because I like people, so I miss that daily interaction of being in an office, someone saying, 'did you watch that show last night?'. I also miss Buttery lunches – those dauphinoise potatoes! – and having to wash up for myself is not something I enjoy! In the Buttery you always see people you know for a chat, so I miss that too, although the Virtual Staff Room Facebook page has been great for keeping in touch.
During the summer I took part in the Diabetes UK One Million Step Challenge. I used to do at least 10,000 steps a day commuting, but when you're working at home it is easy to get out of the habit and be lured in by Homes Under the Hammer instead.  With the steps challenge I've managed to lose weight, discover some local river walks, and my family and friends have helped me to raise more than £1,300 for a charity that's close to my heart.
I can't wait until we can do things in person again. The Office once organised an event at the House of Lords, which particularly impressed my grandmother, and I've been lucky enough to meet with Johnians and host events in San Francisco and Toronto. We couldn't do our graduands garden party this summer for obvious reasons, so drinks with the Vice-Master were organised on Zoom. It was so special because lots of the students dressed up as if they were coming to graduation – and their parents did too. I felt deeply sorry for graduates this year but they coped admirably and we hope they get a chance to come back next year to celebrate in person.
I might not have needed my smart work dresses this year but I think I will go all-out for Christmas Day – there won't be a flashing Christmas jumper for me, I will be in my velvet frock for turkey and all the trimmings.
Published: 11/12/20