From fractional quantum Hall effect to field-theoretic dualities
Dirac Lecture 2019
The annual Dirac Lecture 2019, entitled From fractional quantum Hall effect to field-theoretic dualities, will be given by Professor Dam Thanh Son, University of Chicago.
The lecture will take place on Tuesday 14 May at the Centre for Mathematical Sciences, Cambridge.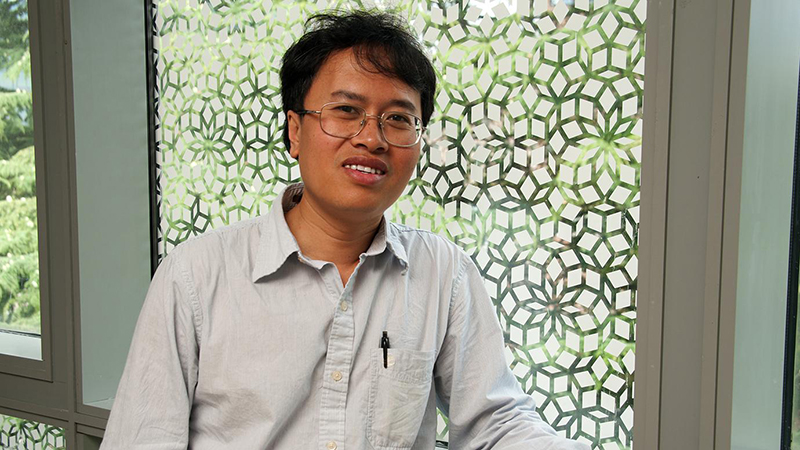 The Dirac Lecture, established jointly by St John's College and the University of Cambridge's Department of Applied Mathematics and Theoretical Physics, is named after the Nobel Prize-winning physicist, who was a Fellow of St John's.
Paul Dirac came to St John's in 1923 to read for a PhD in Mathematical Physics, and was a Fellow of the College until his death in 1984. He made valuable contributions to the early development of quantum mechanics and quantum electrodynamics, and was awarded the Nobel Prize in Physics in 1933 jointly with Erwin Schrödinger "for the discovery of new productive forms of atomic theory."
The lecture discusses the fractional quantum Hall fluid, one of the most nontrivial strongly interacting fluids of nature. Many phenomena occurring in this fluid can be explained by postulating a new type of quasiparticle - the composite fermion. Professor Son will describe the new "Dirac composite fermion" theory, which has provided a simple solution to some long-standing puzzles and at the same time has stimulated the discovery of a large number of new dualities between quantum field theories in (2+1) dimensions. He will also describe physical consequences of the new theory.
Professor Son is a Vietnamese scientist, and has been Professor at the University of Chicago since 2012. He studies theoretical physics, mainly in particle physics, nuclear physics and the applications of string theory. In 2014 he became a member of the American Academy of Arts and Sciences, and was elected a member of the US National Academy of Sciences in the same year. In August 2018, he received the Dirac Medal of the International Center for Theoretical Physics (ICTP).
The Dirac Lecture will take place at 2.30-4pm on Tuesday 14 May in the Wolfson Room (MR2) at the Centre for Mathematical Sciences, Wilberforce Road, Cambridge. Everyone is welcome to attend.