First ever vegan 'sustainability dinner' takes place at St John's
"We are always looking at new sustainable initiatives"
Chefs from a Michelin-starred restaurant cooked a four course vegan menu for guests at St John's at our inaugural 'Sustainability Dinner'. 
The event was the first of its kind to take place at any Cambridge College and included talks from industry leaders on changing food habits, reducing food waste, and creating exciting vegan meals. 
Chefs Andreas Antona and Luke Tipping from Simpsons Restaurant in Birmingham, which has held a Michelin star since 2000, cooked for guests including Fellows, stewards, catering managers and College bursars.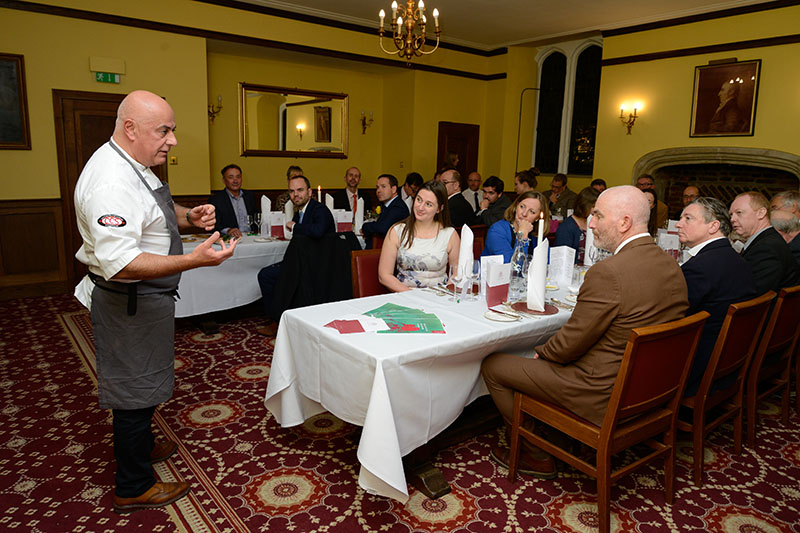 The chefs at Simpsons Restaurant have embraced vegan cooking and they believe vegetarian and vegan food has a role to play in increasing wellbeing. The restaurant' s vegan menu has been recognised by PETA as being one of the best in the UK.
The menu at St John's included carrot broth with parsley oil, pickled and raw heritage beetroot with sorrel, celeriac with kale, Hen of the Wood mushrooms with truffle sauce, and apple tart with blackberry sorbet. The courses were accompanied by a selection of vegan wines.
Bill Brogan, St John's Catering and Conference Manager, said the dinner was very popular with the guests. He added: "The beetroot and carrot broth was outstanding. I have already adapted the beetroot dish for one of the recent Festive Halls, and I will be using an adaptation of the broth for the College Feast."
The vegan dinner was hosted by the Cambridge Colleges Catering Managers' Sustainable Committee, and formed part of their 'Sustainable Evening' event.
As well as the dinner, the evening included presentations and speeches on sustainability in the catering industry.
The guest speakers were Dame Polly Courtice, Director of the University of Cambridge Institute for Sustainability Leadership, Professor Andrew Balmford, Professor of Conservation Science at the Department of Zoology, and Dr Chris Sambrook, Senior Lecturer in environmental and food crime at Buckinghamshire New University. Themes included climate change, food waste, changing eating habits, and how to produce exciting vegan food.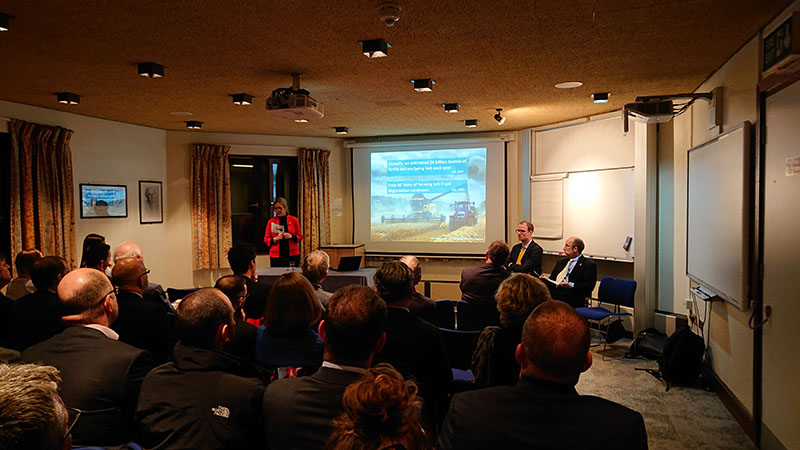 St John's has been offering vegan food on its menus for more than a year, and Bill Brogan is always keen to introduce new, sustainable dishes to the College. Chefs at St John's are learning how to prepare vegetarian and vegan food, with some chefs developing their skills further by training with specialist vegetarian restaurants including Vanilla Black in London.
Sustainability is important to the College's catering team; in 2015, St John's was the first of the Cambridge Colleges to receive a two-star award of sustainability from the 'Sustainable Restaurant Association's Food Made Good' programme for the team's commitment to serving sustainable food and running a sustainable food operation. St John's also received top marks at the University of Cambridge Catering Manager's Committee Environmental Awards for having one of the best sustainability policies in catering amongst the Cambridge Colleges.
Bill is always looking at new ways to improve and develop. He explained: "We are always looking at new sustainable initiatives. We are currently selling new reusable water bottles in the College Bar, which are very popular, and we are replacing single use plastic bottles with glass bottles."
Published: 9/12/2019