FameLab beckons for St John's PhD student
Science communication competition designed to give scientists and engineers skills, confidence and opportunities to share their enthusiasm for research
A surgeon-turned PhD student from St John's has reached the regional finals of a science communications competition taking place as part of the new Cambridge Festival.
Matthew Seah will have just three minutes to talk about his research in an engaging and entertaining way for the live online FameLab Cambridge final on Friday 2 April. The winner will go on to compete in FameLab UK, with the aim of getting to the International FameLab finals in June.
FameLab is run by Cheltenham Science Festival in partnership with the British Council and is the only international science communication competition designed to give scientists and engineers the skills, confidence and opportunities to share their enthusiasm for research with the public, armed only with their wits and a few props. The result is an 'unpredictable, enlightening and exciting way' to find out about current research. More than 10,000 scientists and engineers from 31 countries have taken part to date.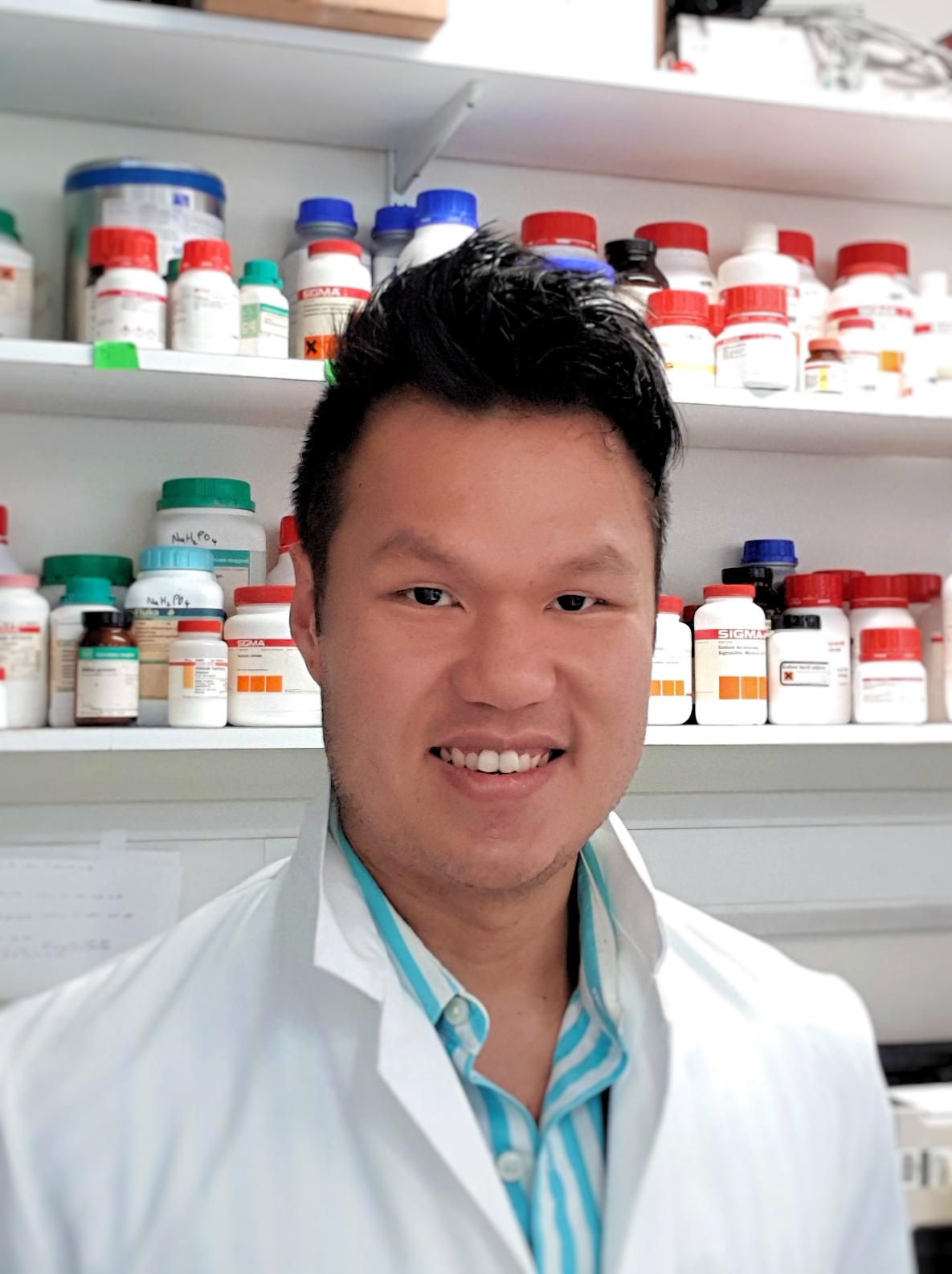 Matthew is an orthopaedic surgeon who worked at Addenbrooke's Hospital for a few years before starting his PhD. Now in his third year, he said: "I am used to writing and presenting for an academic audience, which is great, but there is a risk of forgetting how to explain my research in everyday language. I was attracted to the challenge of FameLab because I have only three minutes and no PowerPoint to make my work accessible - and hopefully engaging - to the public."
Matthew was among 60 people to compete in the Cambridge heats in early March. For this, he pre-recorded a video about the potential role of stem cells in regenerative medicine. "People have been hopeful for some time that stem cell research will lead to more personalised - or precise - treatments of disease. However, there remain several important barriers to translating stem cell therapies from the laboratory to the clinic," he explained.
In the regional final in Cambridge, his talk will relate to the delivery of personalised healthcare. He said: "Doctors have always tailored healthcare to individual needs, but we have never had the tools to help us predict how each of our bodies will respond to specific interventions or identify which of us is at risk of developing an illness. These possibilities are now emerging as we have rapidly developing technologies such as whole genome sequencing and bioinformatics."
FameLab entrants must be 21 or older, studying or working in science, engineering, technology, medicine or mathematics, and based in the UK while participating. Matthew will face nine other competitors in the Cambridge final and said he is looking forward to the challenge.
"I've never been a very natural or charismatic public speaker – so I am excited that I've managed to make the cut and reach the Cambridge final," he said. "Overcoming the fears and insecurities that accompany public speaking can be empowering and connecting with audiences can be a strong reminder that I have valuable opinions to share with other people."
The key to being a good science communicator, said Matthew, is knowing your material and your audience, and what they expect from your talk. "You then need to think about your own objectives and what you want to convey. By combining all that information, you can then shape the content and delivery of your message," he added.
At the start of the pandemic, Matthew paused his studies to help with the Covid-19 efforts at Addenbrooke's. He is now back doing his PhD in the Department of Surgery and collaborating with a team at the Cancer Research UK Cambridge Institute, although he still does the occasional hospital shift to cover for staff sickness. His PhD looks at the role of mesenchymal stem cells in cartilage regeneration in osteoarthritis, as well as the clinical translation of these cell therapies to the clinic.
He said that good science communication is now more important than ever. "The coronavirus pandemic has posed unprecedented challenges to science, policy and the interface between the two. Uncertainty is inherent in science, and the difficulty in communicating that may have sometimes undermined public support for science-based policy in contexts such as Covid-19, vaccination or even climate change. As we redress the violent injustices facing us in today's crises, communication is vital in rebuilding a more just and prosperous society – one which is better prepared to weather the next crisis that will inevitably come."
More than 350 free events and activities are on offer as part of the primarily digital Cambridge Festival, which replaces Cambridge Science Festival and Cambridge Festival of Ideas. It takes place from 26 March to 4 April 2021 and is organised by the University of Cambridge Public Engagement team.
The Cambridge FameLab final takes place from 7.30pm-9pm on Friday 2 April. Register for free to watch the live event.
Published: 24/3/21