Every Eagle edition now available on the College website
Scans of volumes, articles and chapters of the College annual publication The Eagle dating back to the 1850s are now available online.
Articles and volumes of The Eagle dating back to the first publication in the later 1850s have been scanned by members of the Library team, and are now available on the St John's website.
The Eagle is an annual review of the College, and features content written by students, alumni, staff and Fellows. The Eagle was founded by poet Thomas Nash in 1859 with the help of Fellow Joseph Bickersteth Mayor, and was first published by W. Metcalfe of Green Street.
Indexes, chapters, and volumes of every edition of The Eagle can now be viewed online. Chapters vary throughout the publication's 158-year history, but many of the editions include articles, book reviews, College awards, Fellows' and members' news, obituaries, College notes, the Johnian dinner, donations, and sports and societies updates. Earlier chapters also included a list of subscribers, a roll of honour, and war lists. The articles focus on various subjects, including the arms and badges of St John's (1889), the joy of drinking tea (1923), the cobbling of Second Court (1953), and the inception of the Fisher Building (Eagle 1987).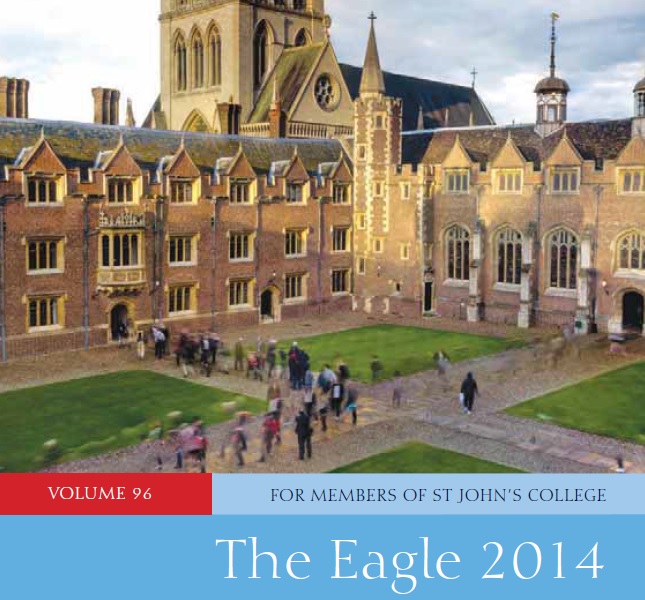 The Eagle was initially a subscription publication, but in 1990 the subscription was removed and it was distributed to members as the College's official annual record.
The Eagle documents on the website are presented in two ways: chronologically by issue, and chronologically by chapter, split into decades. All scans are text-searchable via OCR (optical character recognition) and a guide with tips on how to search The Eagle is also provided online.
To view the different editions of The Eagle, visit the Eagle Scanning Project page on the website.