The Enemy Within: A new documentary
The film tells the remarkable and moving story of Justin Yerbury and his quest to understand the nature of Motor Neurone Disease
A new documentary made for Australian television explores the life of Dr Justin Yerbury and his fight against Motor Neurone Disease, both in his research and personal life.
The film entitled The Enemy Within and made by ABC (the Australian Broadcasting Corporation) tells the remarkable and moving story of Justin Yerbury and his quest to understand the nature of Motor Neurone Disease, a condition that has led to the deaths of many members of his family and that has now put Justin himself in a wheelchair.
Justin has worked closely for well over a decade with scientists at the Centre of Misfolding Diseases in Cambridge University, including professors at St John's College, and has been inspired by meeting and receiving support from Professor Stephen Hawking, who suffered from the same condition for some 50 years, and who introduces Justin's story.
The documentary can be viewed on the ABC: Australian Story webpage here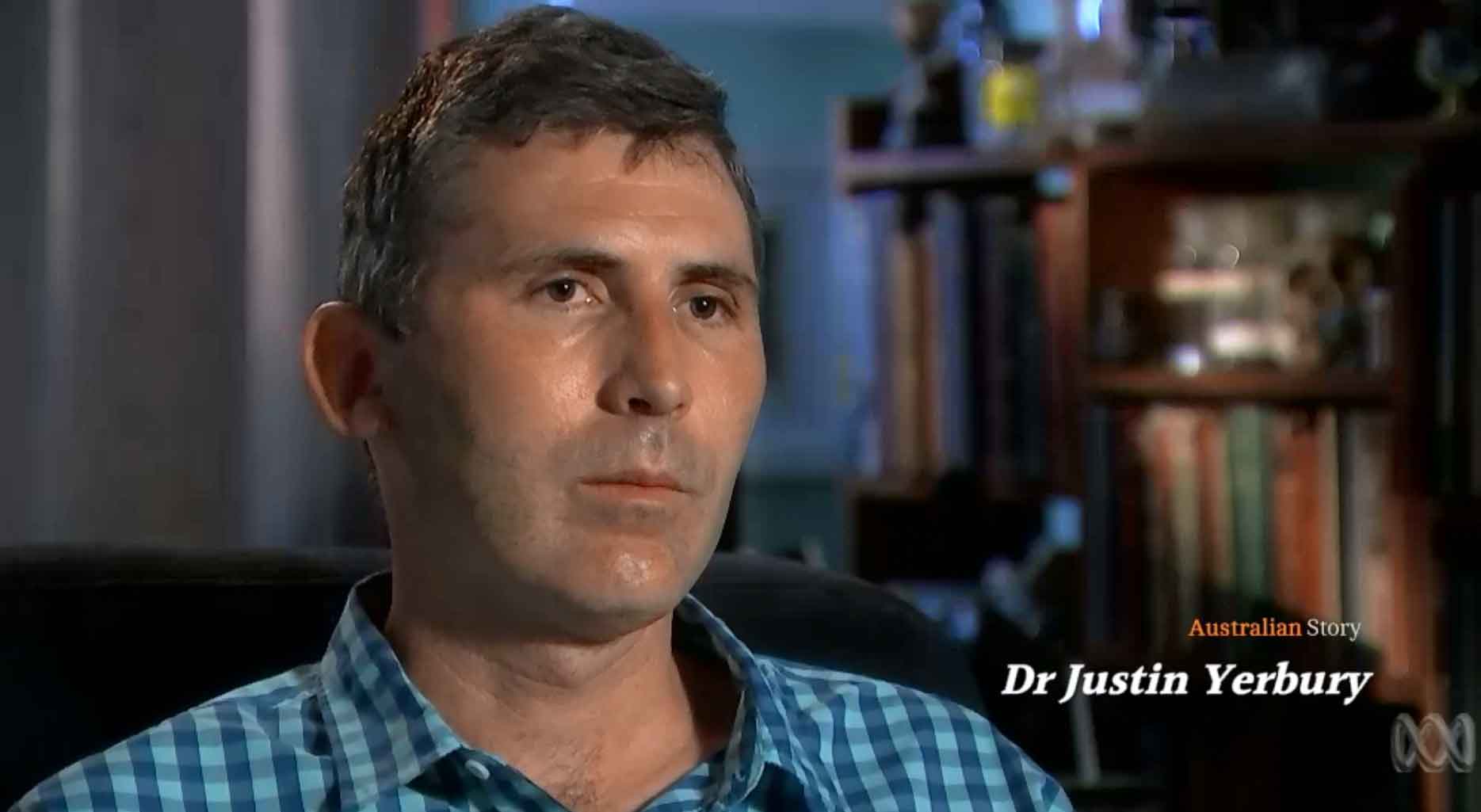 A still image of Dr Justin Yerbury from the ABC Documentary The Enemy Within
Dr Justin Yerbury is a Senior Research Fellow at Wollongong University where he works on the origin and progression of MND, also known as ALS (Amyotrophic Lateral Sclerosis).  He collaborates closely with members of the Centre for Misfolding Diseases that is located in the Department of Chemistry, and is directed by Professors Chris Dobson, Tuomas Knowles and Michele Vendruscolo.
The work of Centre is focused on enhancing our knowledge of the family of amyloid-related disorders that are associated with protein misfolding and aggregation, a group of approximately fifty conditions that includes ALS in addition to Alzheimer's and Parkinson's diseases and type II diabetes. The ultimate objective of the Centre is to develop rational means for their diagnosis and treatment; at present there are no highly effective therapies or means of prevention for any of these conditions.
Justin first visited Cambridge in 2006, when he was a PhD student in Professor Mark Wilson's laboratory at Wollongong, and he collaborated on the biological role of clusterin, an extracellular molecular chaperone that has been associated with the regulation of protein misfolding and aggregation. He found that clusterin interacts with the intermediate species populated during the process of the pathogenic aggregation, and helps to suppress the generation of the toxic species that are thought to be the driving forces behind these conditions.
Since then Justin has visited Cambridge regularly, including spending a sabbatical leave here investigating neurodegenerative conditions, and he has been associated with St John's College during such visits. On his last visit, in April 2017, Justin was accompanied by his wife and by his two daughters, and although he was already significantly affected by the progression of the disease they were all able to visit Stephen Hawking. Justin also continued to work on his scientific objectives and has recently completed several joint scientific papers, as well as planning further studies.
This film describes Justin's life and career, and illustrates why we feel so strongly about the importance of research work in this area, and pays tribute to the courage of Justin and his family and to his continuing efforts to understand the molecular basis of the MND and its related conditions.
The documentary can be viewed on the ABC: Australian Story webpage here
Banner photo credit: Hal Gatewood on Unsplash 
Published: 03/04/18