On this day...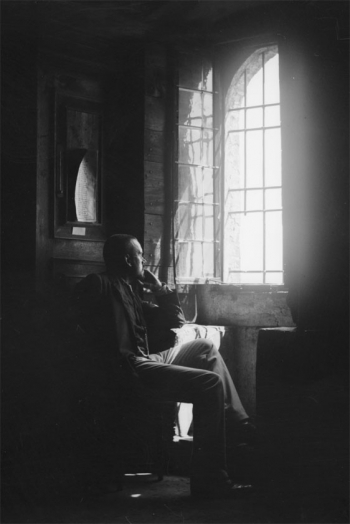 2 September 1891. Henry Festing Jones, solicitor and alumnus of Trinity Hall, Cambridge, gazes calmly out of a window in the Rocca Borromeo di Angera, the impressive fortress situated on the southern shore of Lake Maggiore, Italy. He is travelling with his friend, the writer and painter Samuel Butler (1835-1902), who is also here the photographer. The play of light and shadow as the warm Italian sun mingles with the building's historic interior is perfectly preserved on Butler's glass negative, which he subsequently developed himself, then mounted in the first of five large albums.
Butler was a prolific photographer, and the Library holds around 1700 of his original glass plates and about the same quantity of black-and-white prints, mostly dating from the period 1888-99. He referred to his photographs as 'snap-shots', demonstrating his informal attitude to the medium. The 1880s saw a revolution in photographic technique thanks to the advent of 'dry plate' negatives, which, being pre-prepared with a light-sensitive emulsion, enabled photographers to work freely outside and to travel with their negatives before developing them.
Travel, particularly in Italy, was one of Butler's favourite pastimes, and he was known to the locals in many towns and villages in the northern Alpine regions which he affectionately documented in his illustrated guidebook Alps and Sanctuaries (1882). His drawings and sketches (also preserved in the Library) of Italian scenery and architecture often overlap with the subjects of his photographs, as is the case with these sketches also depicting the Castle of Angera:
Butler had honed his drawing and painting skills while at art school in London during the 1860s and 1870s, but photography became his favoured art form, being in those days completely free from the conventions and expectations of the artistic establishment. The spontaneity and immediacy of the camera suited Butler's convivial and perceptive nature perfectly.
It was Henry Festing Jones, acting as executor, who arranged for Butler's photographs, paintings, drawings, books, manuscripts and select personal possessions to come to St John's. You can find out more about this fascinating collection on the Butler Project webpages, where hundreds of Butler's photographs have been made available, alongside a range of online exhibitions.
This Special Collections Spotlight article was contributed on 2 September 2014 by Rebecca Watts, Library Projects Assistant.