Choral work based on top mathematician's battle with Covid-19 to be performed at Royal Festival Hall
"It is a huge honour to take experiences from my brush with death and turn them into verse that captures the very human desire to have hope even in the darkest of days"
A collection of diary entries written by nurses when a St John's Fellow was in a coma after being struck down by Covid have been transformed into a concert by an award-winning composer.
Professor Peter Johnstone was kept alive by a ventilator after he caught Covid at the start of the pandemic.
The 72-year-old is a tenor with The Bach Choir, one of the world's leading choruses, and on 4 March 2020 they travelled to America to sing with the Yale Schola Cantorum, from Yale University, and to give a series of joint concerts at major US cities. Not long after they arrived in the US, the Yale authorities pulled the plug on the tour in response to the escalating coronavirus situation.
Peter flew back to the UK and travelled home to St John's College, University of Cambridge. For a while he felt 'absolutely fine' and carried on with his normal life, including going to London to rehearse with the choir again, but his health was slowly deteriorating.
It was fellow academics and staff at St John's who raised the alarm when they felt he was not himself and needed urgent medical help. Peter was admitted to Addenbrooke's Hospital in Cambridge on 19 March suffering from a cough, confusion, and breathing difficulties. His condition was so serious he was swiftly sedated and put on a ventilator.
He remained unconscious and on life-support for several weeks.
Peter cannot remember much apart from some strange dreams, but a diary from his medical team shows he suffered repeated seizures, worryingly low blood pressure, developed pneumonia and his temperature spiked dangerously over the first few weeks. It also shows how they played him classical music when he was in a coma.
Finally in June 2020 the medical team was able to successfully take him off the ventilator, a few earlier attempts were aborted when Peter's condition worsened.
"I will never be able to thank the medical team enough for the empathy and expert care I received at Addenbrooke's Hospital"
Now his battle with the virus that has claimed more than four million lives around the world has been transformed into a spectacular new choral piece called Vision of a Garden featuring The Bach Choir and a string orchestra. It is named after fragments of memories Peter has of visiting a garden at Addenbrooke's during his recovery.
David Hill MBE, conductor and Musical Director of the Bach Choir and former Director of Music at St John's, persuaded Peter to turn the diary entries and his recollections into the text for the new music by Ivor Novello award-winning composer Richard Blackford. Baritone Gareth Brynmor John, another Johnian, will sing the solo part in Vision of a Garden. The Bach Choir will be joined on stage by members of the NHS Chorus-19, a group of medical and nursing staff at Addenbrooke's Hospital, for one of the pieces.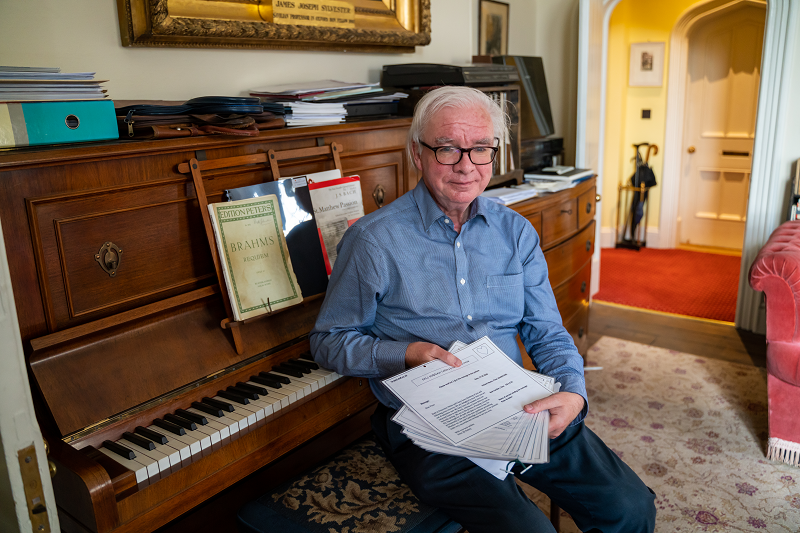 Mathematician Peter, who is known for his ground-breaking contributions to Topos Theory, said: "It is a huge honour to be asked to take experiences from my brush with death and turn them into verse that hopefully captures the very human desire to have hope even in the darkest of days."
At the concert, Fauré's Requiem and Cantique de Jean Racine will be paired with the world premiere of Vision of a Garden alongside another new piece called The Promise of Dawn.
Also in the programme is Vaughan Williams' Tallis Fantasia which showcases the trademark warmth and beauty of the Philharmonia Orchestra's string section.
The centrepiece of the programme is the arrival of 150 singers of the Bach Choir to the concert platform to perform Vision of a Garden.
Peter added: "I wanted to find a way to give something back as I was lucky enough to live when so many perished. This is my way of telling the world what it is like to battle Covid-19 and survive.
"I will never be able to thank the medical team enough for the empathy and expert care I received at Addenbrooke's Hospital, but I can invite a number of the team to a concert at The Royal Festival Hall in their honour.
"The afternoon of music will be dedicated to the memory of those who lost their lives during the pandemic. I will forever be in the debt of the incredible NHS staff, and I will never forget the kindness shown to me."
Fauré's Requiem: Music for Reflection and Hope
Sun 24 Oct, 3pm
Royal Festival Hall
Southbank Centre
Classical music
£13 - £65
Read more about Peter's battle with Covid-19
Published 15/9/2021