Children's treasure hunt book written by alumnus launches this summer
'The Riddle of the White Sphinx' by Mark Wells will be published in July
A treasure hunt book aimed at children and written by former St John's Fellow and Domestic Bursar Mark Wells will be published in July.
Riddle of the White Sphinx is the first in the Hidden Tales series of children's treasure hunt books. The illustrated adventure story takes children and their families around Cambridge museums where they have to crack codes and solve clues, with the aim of finding a secret artefact that has been hidden somewhere in the city.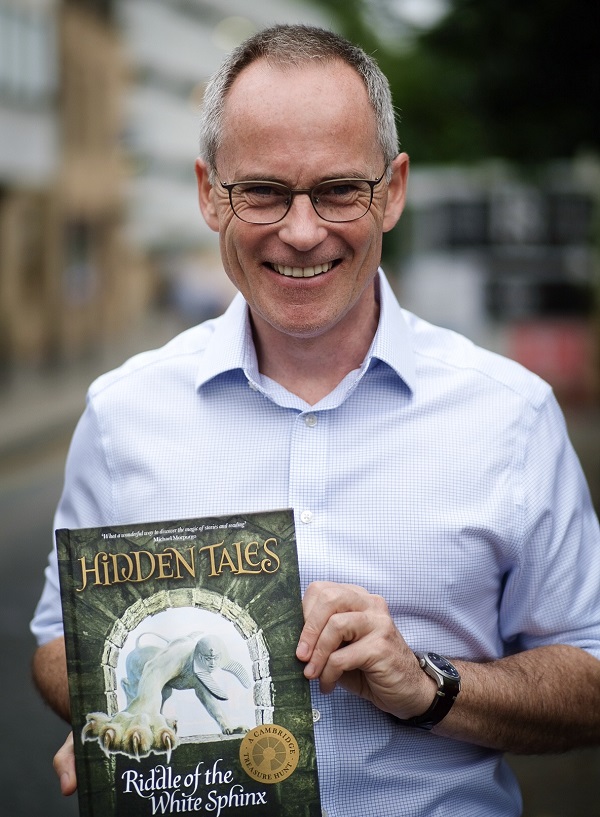 Set in a fantasy world but linked to real Cambridge museums and artefacts, the Arts Council-funded book has been described as a 'Da Vinci Code' for children. The story follows Leo and Nina, two children who enter a museum and stumble upon a centuries-old game of cat and mouse. Historical characters called 'The Hidden' are trapped in the 'World of Secrets' – and are fighting a sinister character called 'the Keeper of Secrets'. At stake is the fate of a secret world which can only be freed by unlocking its seven portals in the city and breaking the Keeper's power.
Children and their families are invited to help Leo and Nina to free The Hidden and discover The Keeper's final secret.
The book was written because three parents wanted to create something stimulating and interactive for children to encourage them to read, visit museums and work collaboratively to solve problems – and get them away from screens.
Designed to appeal to reluctant readers, it is encrypted with codes and clues as well as eye-catching illustrations. Sorrel May, a TV producer, came up with the initial idea of a treasure hunt book, Mark wrote the story, and the book was illustrated by Jennifer Bell, known for using an art technique called trompe l'oeil that uses realistic imagery to create the optical illusion that objects exist in three dimensions.
"When Professor Dame Mary Beard described it as 'wonderfully imaginative' I felt all the hard work had been worth it."
Mark, who is also an alumnus of St John's and Chair of the Johnian Society, said: "I wanted to write a children's book that was both exciting and mysterious – one where children drag parents to museums, not the other way around! And what better way than a real-life treasure hunt around the museums of Cambridge?"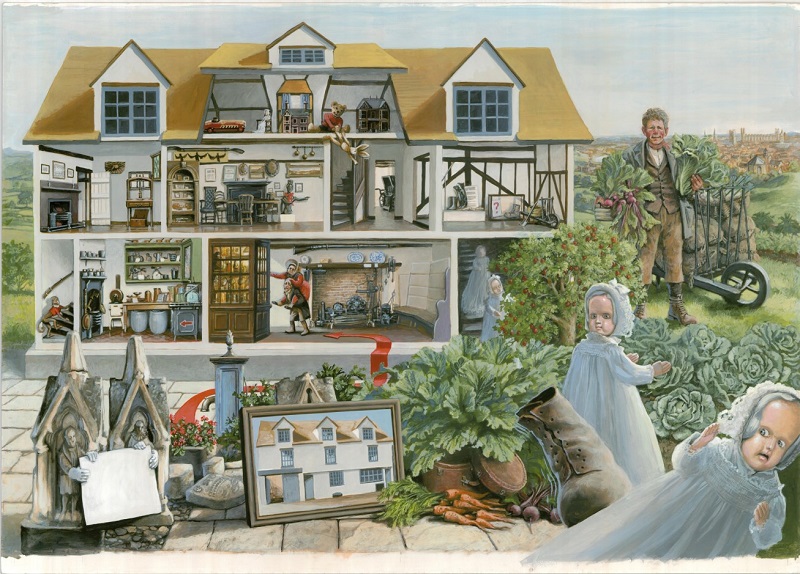 In each of the seven museums there is a secret that has to be revealed. Children can collect unique ink stamps for their Museum Passport in their book, which will give them an extra clue to help them discover the location of the hidden artefact. Once the readers crack the final code, they can send in their solution to the Hidden Tales website and receive a certificate from AHA! (Association of Hidden Adventurers).
Wells, who also recently released College of Shadows, a fantasy mystery novel set in St John's, was thrilled to receive some high profile endorsements of Riddle of the White Sphinx from the literary world.
"To have the former Children's Laureate, Sir Michael Morpurgo, endorse the book was a bit special," Mark said. "And when Professor Dame Mary Beard described it as 'wonderfully imaginative' I felt all the hard work had been worth it."
Hidden Tales workshops are currently being run in schools across Cambridgeshire, and a set of lesson plans designed by primary school teachers to help children solve the mystery using critical-thinking, art appreciation and code-breaking is available to download from the Hidden Tales website.
There is a special Hidden Tales pre-launch event on 29 June at Sedgwick Museum for Golden Ticket winners from participating schools, a book signing at the Fitzwilliam Museum on 6 July, and a family book launch at Heffers on 20 July. Various immersive museum events are planned over the summer and free tickets can be booked on the website.
Riddle of the White Sphinx, priced at £14.99, will be released on 1 July, and stockists in Cambridge include Heffers, David's, Cambridge University Press and the Museum Bookshops. Signed copies can also be pre-ordered from the Hidden Tales website.
Published: 27/06/19