Catering Manager Bill Brogan wins 'outstanding achievement' award
"It was amazing to be presented with this top award – it's very special"
St John's Catering Manager Bill Brogan has been awarded the prestigious Outstanding Achievement Award by The University Caterers Organisation (TUCO).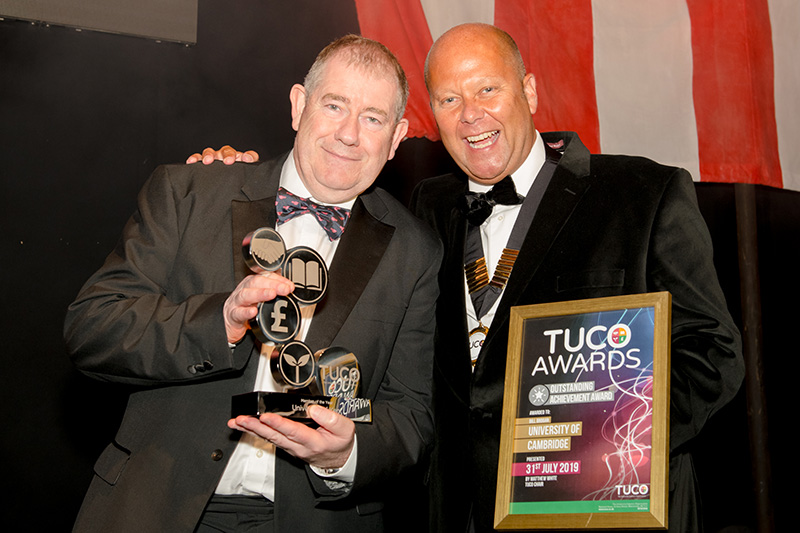 TUCO is the leading professional membership body for in-house caterers in the higher education and public sector. The organisation aims to advance the learning and development of catering and hospitality teams, and it represents 168 universities across the UK as well as some councils.
The three-day annual conference at the University of York at the end of July, with approximately 450 attendees including the main heads of the hospitality industry, saw a line-up of keynote speakers including motivational speaker Brad Burton, writer and presenter KD Adamson, as well as food and brewery tours, sustainability sessions, and the chance to try new products.
The awards ceremony, now in its third year, was set up to help celebrate the dedication of TUCO members and took place at a gala dinner at the end of the conference. Brogan was one of three nominees for the Outstanding Achievement award, and he won the award due to his dedication to innovation and sustainability.
"It was amazing to be presented with this top award – it's very special," Brogan said. "TUCO is an incredible organisation, and it's getting bigger all the time and becoming the most inspiring group in the catering industry."
Brogan has done a great deal of work with TUCO in recent years. He is active with the TUCO Regional Chair's Group, and is on the Academy Steering Committee and the TUCO Sustainability Group. He has also recently been involved in a number of food study tours to China and Lisbon as well as in Cambridge. He has served on the TUCO board and was also an integral member of the Learning and Development Committee.
Other awards presented on the night included the Innovation Award, given to the University of Manchester, and the Sustainability Award, which went to the University of Chester.
Matt White, TUCO chair, said: "Congratulations to all the winners and finalists. It's such an exhilarating night and I was delighted to recognise so many of my colleagues for the great work they have been doing at their institutions up and down the country."

Published: 06/08/2019
Back to College News