Brilliant Club comes to Cambridge
The Brilliant Club, an educational charity, brought gifted and talented Year 5 and 6 pupils to St John's last week to experience university-style teaching.

Educational charity The Brilliant Club visited St John's last week with 48 bright and talented Year 5 and 6 pupils, to experience university-style education and see behind the scenes of a Cambridge College.
The pupils, from primary schools across Norfolk, visited Cambridge for the day to take part in a course called the Scholars Programme run by the educational access charity. The group got to explore St John's with current students and learn about the opportunities available in higher education.
The Scholars Programme teams up small groups of school pupils with PhD-level Tutors to develop their knowledge, skills and ambition and help them fulfil their academic potential. The group took part in an hour-long Tutorial held in the Divinity School, on the subject of Philosophy, where they discussed the question "what is fairness?" with their Tutors. The group will go on to study this topic in detail for eight weeks, with six Tutorials in total culminating in a 1,000-word essay at the end of their course. Pupils who complete the programme get to "graduate" with a ceremony held at a leading university.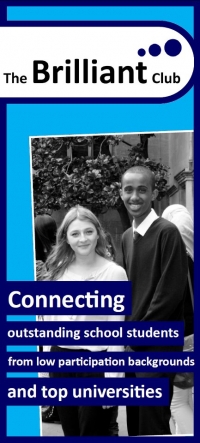 The Brilliant Club is an award winning charity, which exists to widen access to highly selective universities for pupils from all backgrounds. The Club recruits and trains doctoral and post-doctoral research students to act as Tutors within non-selective State Schools and Sixth Form Colleges serving diverse communities. These Tutors deliver programmes of university-style tutorials and seminars to small groups of pupils, with the aim of encouraging them to succeed and secure places at top universities. The Brilliant Club works with over 150 schools across the country, helping up to 6,000 pupils a year.
St John's Access Officer, Megan Goldman-Roberts, said:
"It was great to work with the team at the Brilliant Club. The students were highly engaged and asked some fantastic questions. I think that working with primary school pupils is critical to begin to widen their horizons so that university seems like a real possibility. The Brilliant Club allows a personalised approach to working with pupils and showing them how much fun can be had at university, as well as helping them reach their potential."
For more information about the Brilliant Club, see http://www.thebrilliantclub.org/
For information about school events at St John's College, contact the Access Officer at accessofficer@joh.cam.ac.uk