Bride and groom who met at St John's celebrate graduation together
"We met at a freshers' party in our first year. We are so pleased we both came to St John's"
Newlyweds Joshua Snyder and Hania Adamczyk met at St John's College as undergraduates – and today walked down the 'aisle' together as graduands, a year after finishing their postgraduate studies.
The pair were among a congregation of around 50 students to graduate or return to celebrate achieving their degrees in person from the University of Cambridge, some a year late due to the pandemic.
Joshua and Hania met at St John's in 2016, and their friendship blossomed into romance. Joshua, who read Mathematics, and Hania, who studied Economics, got married in the bride's home city of Opole, Poland, in June.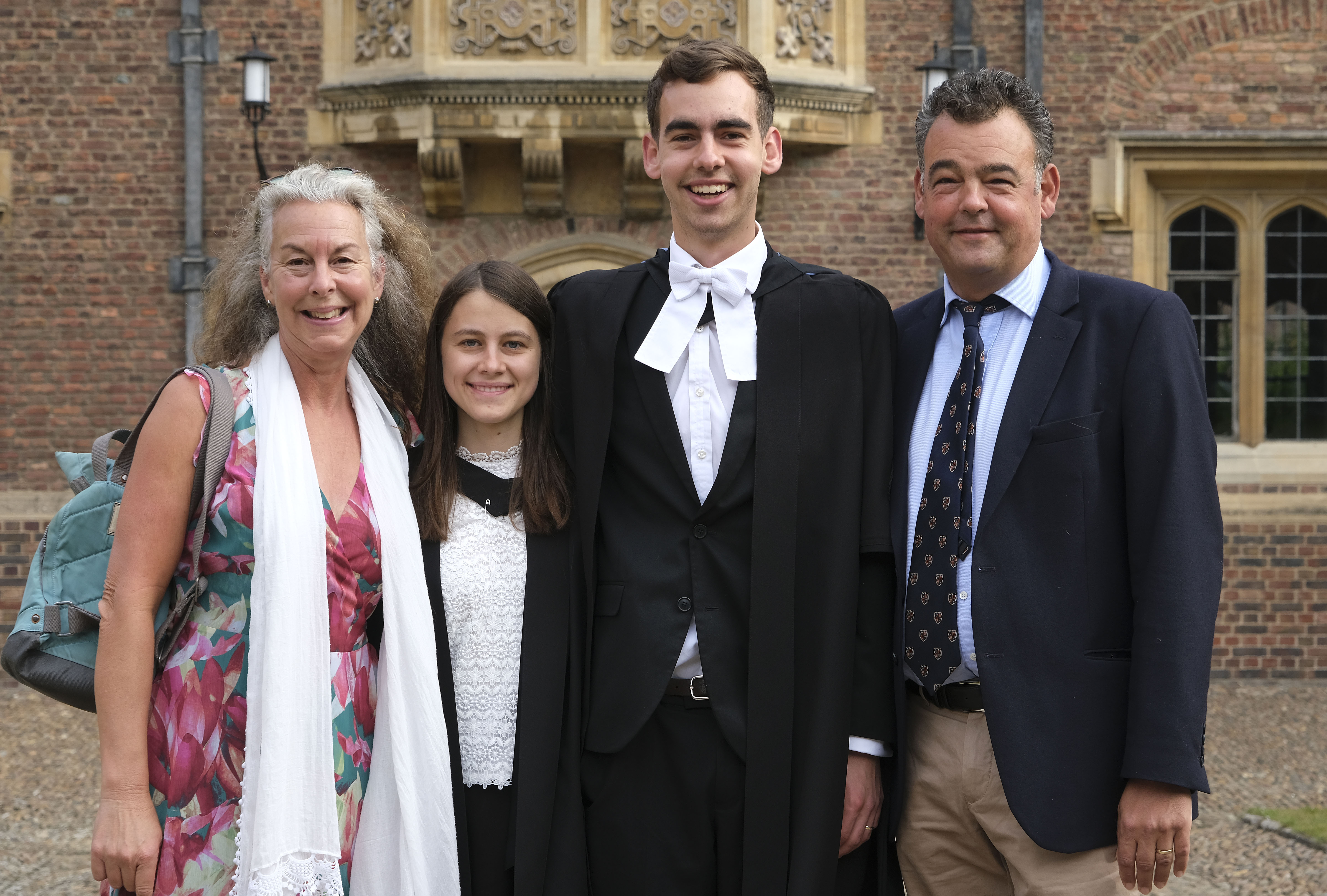 The new Mr and Mrs Snyder returned to St John's to finally celebrate their graduation, which, like many students around the world they formally did in absentia last year, after they had finished their their one-year postgraduate MMaths and MPhil in Economics in 2020.
"It's just so special to be back at St John's and celebrating our graduations together," said Joshua, who is 23 and originally from Cambridge. "We met at a freshers' party in our first year and we got together nine months later – our friends were always trying to fix us up – and we have many happy memories here together."
The couple got engaged last year after being separated for three-and-a-half months by the pandemic, with Joshua in the UK and Hania in Poland.
Hania, 25, first came to Cambridge as a tourist while on a 16th birthday trip to the UK with her dad and brother. As they looked around the College a Porter asked if they were prospective students – and seeded the idea of applying to St John's.
She said: "We are so happy. We are so pleased we both came to St John's or we would never have met."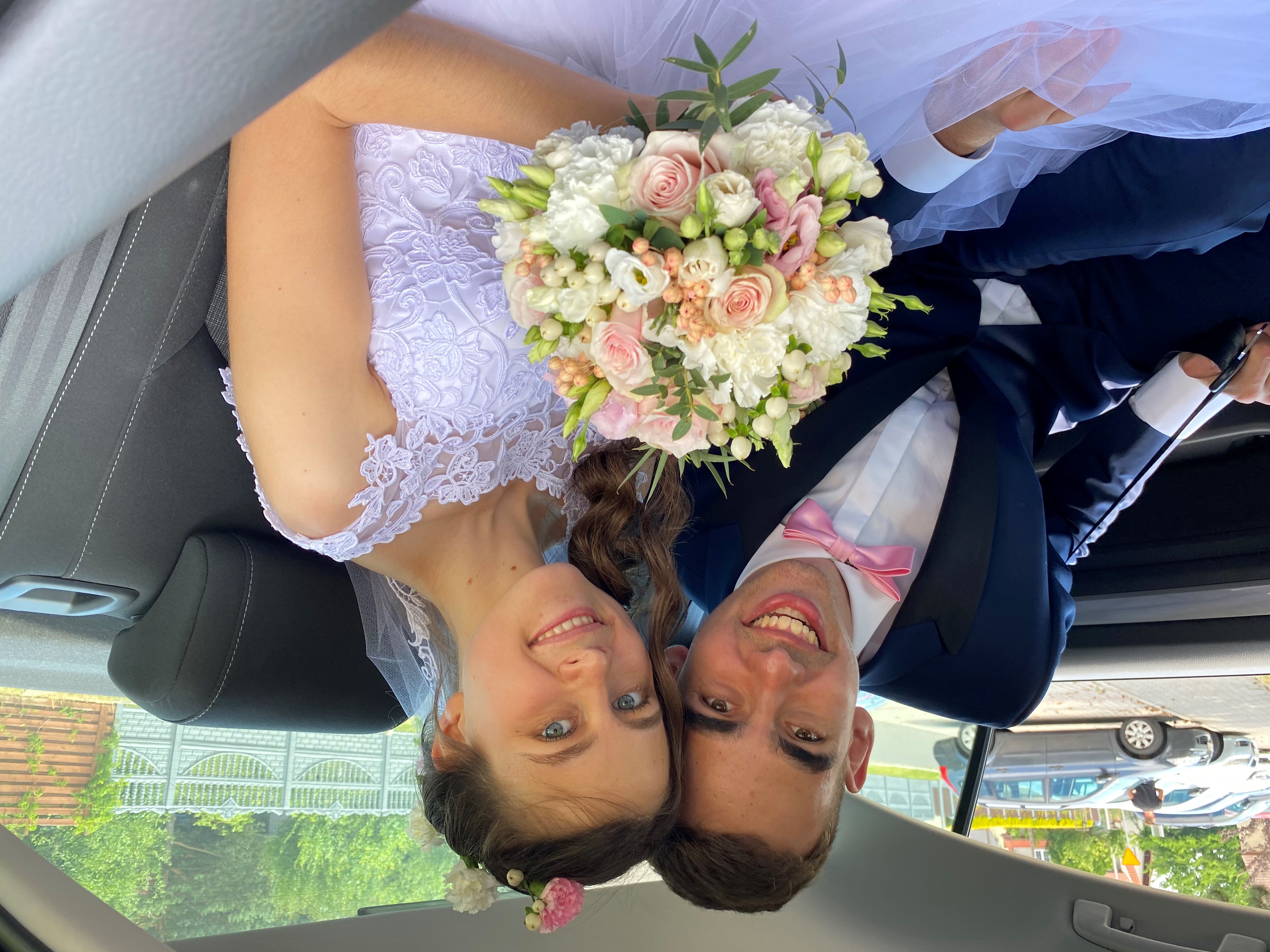 As well as walking to his graduation celebration with his wife, Joshua was also following in the footsteps of his forebears. His mother Sarah graduated with a BA in Archaeology and Anthropology at St John's in 1989, having met husband John in her first year, when he was a student at Christ's College. Joshua's maternal grandparents David and Christine Brewster met when she was a trainee nurse at Addenbrooke's Hospital and he was studying at St John's in the 1960s. David's father, Lesley George Brewster, studied at St John's in the 1940s.
David died suddenly in December 2019 at the age of 80, so never got to see his grandson marry and graduate. "I brought my grandfather back to St John's for dinner in Hall a year before he died," said Joshua. "It is a very special memory, he had a huge grin on his face."
Sarah and John were at St John's to watch their son and daughter-in-law in the procession to the Senate House. Sarah said: "I am absolutely bursting with pride. Joshua's grandad was so thrilled that he got into St John's and he would have been so proud today, too."
Only a few of Joshua's family were able to attend the couple's wedding in Poland due to the country's Covid-19 travel restrictions so he and Hania will be enjoying a Snyder family celebration in Cambridge this weekend.
Since tying the knot the pair have set up a software company together and launched a time management app called TimeNavi. "We were both members of The Johnian Entrepreneurs Club and did an entrepreneurship course together, so St John's helped hugely with our start-up company," said Hania.
Next for the intrepid entrepreneurs is a move to Lisbon to start the next chapter in their lives.
Published 17/9/2021

Back to College News