"I really do love this job because I get to have the kids all day, and then I get to come into College and have adult conversations and be inspired by the people and surroundings"
Sebastian Brimblecombe, Evening Porter and husband of Dr Jodi Gardner, a Fellow at St John's, is on parental leave following the birth of their fourth daughter last lockdown. The first male employee in more than 500 years of College history to do so, he is blazing a trail for dads, even more so during the pandemic. In our latest story from the Covid-19 crisis, he talks College life, kids, and how in-laws stuck on a cruise ship during the pandemic was a stroke of good luck!
We're originally from Australia and a series of fortunate events brought us to Cambridge. Our first child was born in Oxford, where Jodi did her PhD and taught as a lecturer. At the time we thought we'd whack out all the kids while we were young then go back to Australia.
Jodi loved academia and in September 2017 she started as a Fellow at St John's - when our third daughter was just six weeks old. We fell in love with the College and Cambridge, which is an excellent place to raise our kids. Shortly after Jodi started, I got the job as Evening Porter at the Great Gate at St John's. In Oxford I used to take our first daughter, Eleanor, for a walk in her buggy around the College, and I got to know the Porters. I realised what a special role they play, they really add another dimension to the student experience and to the collegiate community.
One Porter I became very good friends with, Steed, passed away when he was just finishing his shift. It was a huge shock but we went to his funeral in the College and there were hundreds of people there, it was absolutely jam-packed with past and present students. I looked around and thought, this one man has brought all these people together from across the world because he had touched all their lives. So when the Evening Porter role came up at St John's I thought, I'd like to do a job like this where I can talk to people who are vibrant, clever and interesting.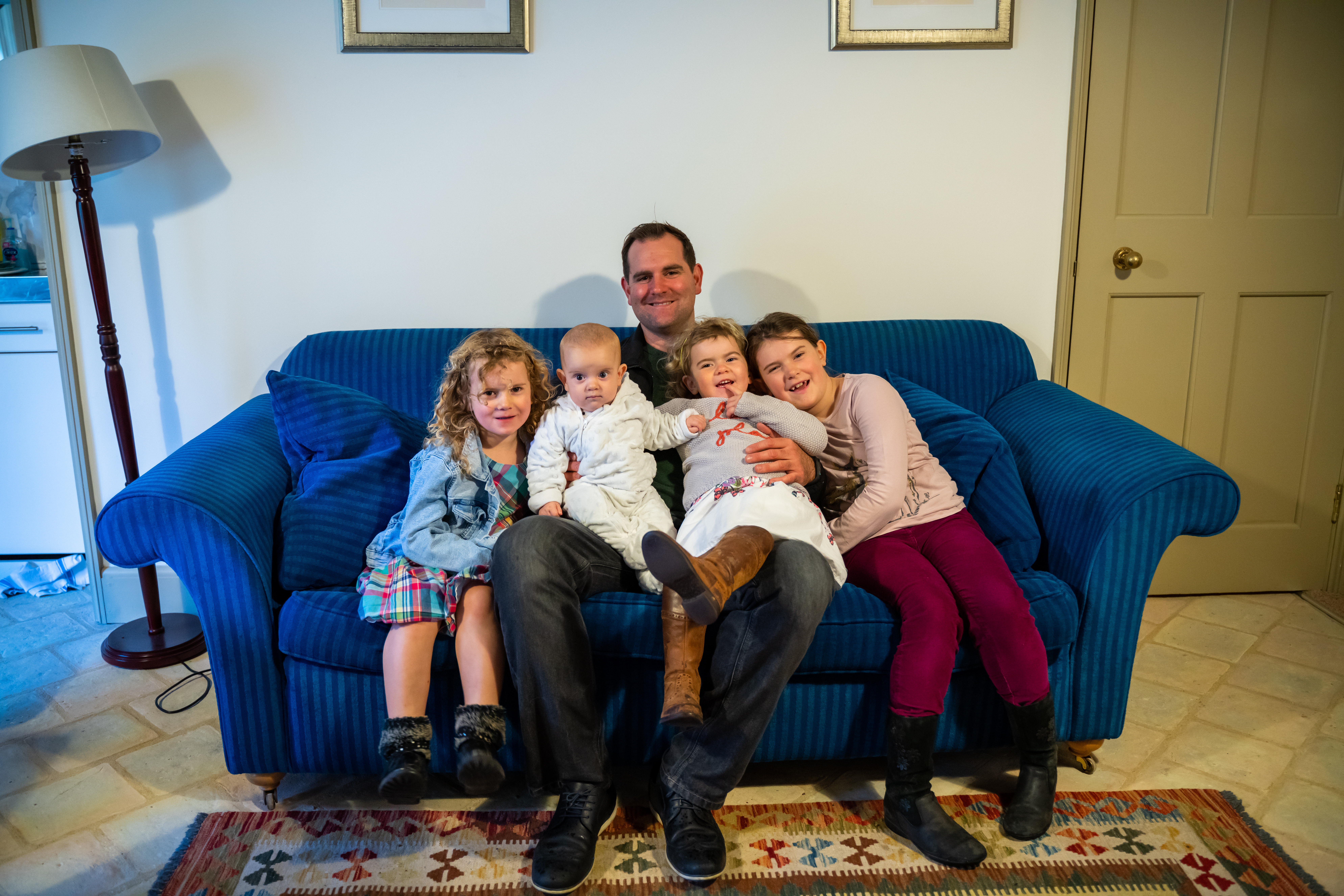 There are only two Evening Porters, me and (Ian) Fleming, and we make a good team. I love talking with students, we'll often have a chat when they collect their mail and I find out how they are doing. You form a relationship with a lot of these young people; sometimes they are missing their parents and want to talk about their achievements. St John's has a lot of very inspirational people, doing amazing things. They are the best and brightest minds and for students, this is only the start, you can see the seeds of the people they will become one day.
I've had a lot of different jobs. I used to be a plumber, then I worked as a property valuer and I did a PGCE and became a primary teacher. I think the average person has three careers in their lifetime, but I've managed to do it by 35! I enjoyed them all, but I really do love this job because I get to have the kids all day, and then I get to come into College and have adult conversations and be inspired by the people and surroundings.
Jodi and I are a good tag team. Before I went on parental leave, she would come home from College, I'd hand over the kids and have dinner ready for her, she'd feed them and I'd come to work, do my shift and come home. And it works. One of Jodi's friends said to me, 'are you having a great time riding on Jodi's coat tails?' And I am!
No-one batted an eyelid here about me taking parental leave when Rosie was born in May. It's just a natural progression and I don't think it matters whether it's a male or female who takes the leave, someone's got to look after the kids. The College has been amazing, everyone from the Porters department through to HR have been very supportive and they've helped us as much as they can. The kids feel like they're a part of the College too. One of the funniest things was when my eight-year-old daughter Eleanor said to someone who was visiting before the pandemic, 'I want you to meet my favourite Porter, Nick'. And I thought, in what reality does a kid say 'I have a favourite Porter'? It really made me laugh. Nick (Lamb) has become like an uncle to my kids, they love coming here, it's their second home.
When the pandemic struck in March, we had much less idea about the virus and all the safety measures we have in place now were not yet known about. The other Porters were really protective. They basically shut the Great Gate Lodge with me inside, so I was there if they really needed me for the purposes of a major calamity or disaster, but I was kept safe. The guys kept reinforcing that we had a baby on the way and wanted to make sure I didn't catch Covid before Jodi went into labour. I thought that was awesome.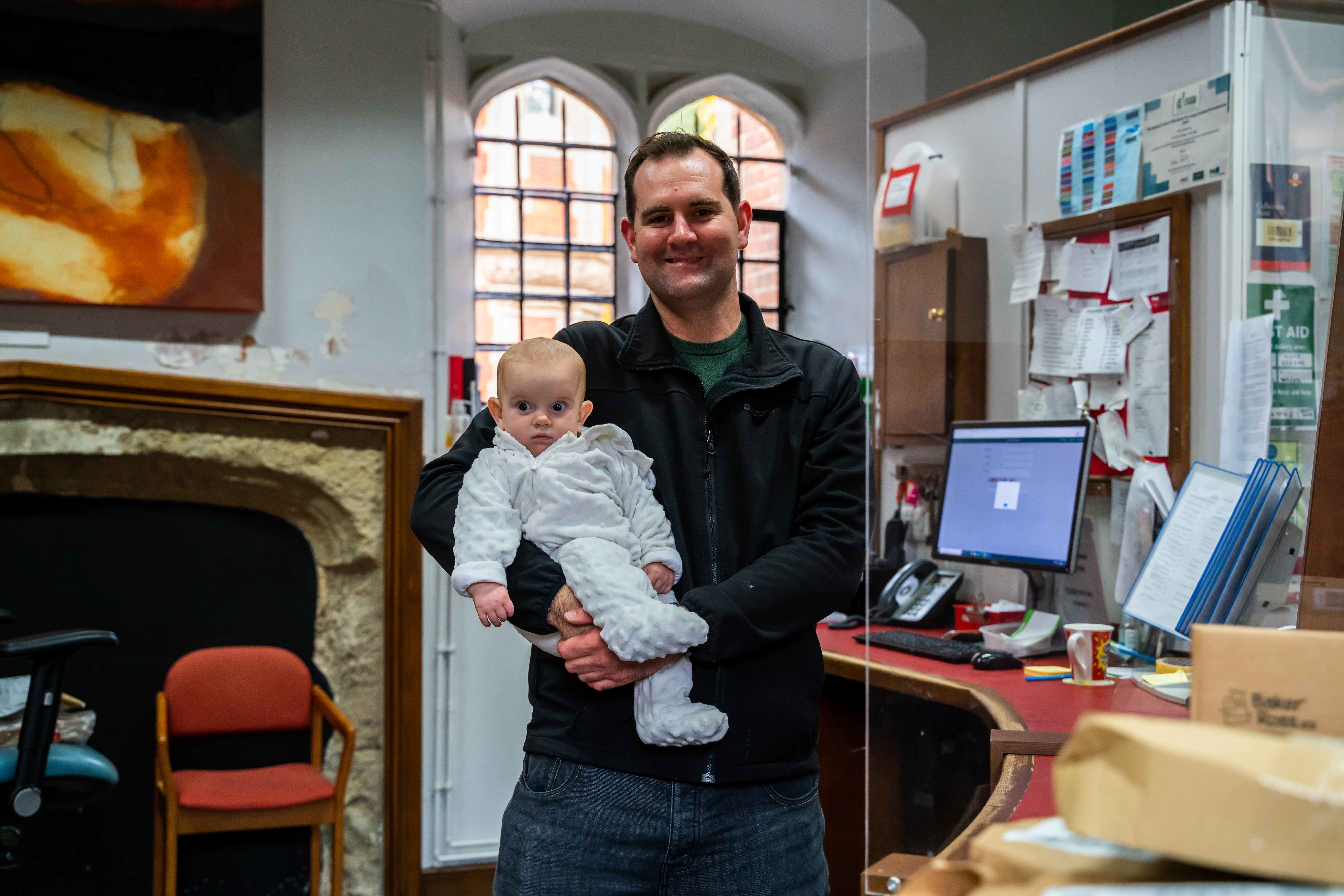 It was around this time that Jodi's parents got stuck on a cruise in the middle of the ocean, between Brazil and Spain. They couldn't disembark in Spain because of Covid and were forced on to France, before they went back to Italy. They were going to get off in Genoa, which at the time was the hotbed of Covid, there were more people dying there than anywhere else in the world. So they were left on the ship and it was running out of food and water. Eventually they managed to disembark and get on a special flight back to Britain. But then Australia closed all of its borders. So Jodi's parents were stuck with us for three months – but it was perfect timing. They were here for the birth of the baby and could assist with home-schooling, which was so helpful because Jodi was also finishing off two books, and she was able to return to work, remotely, 10 days after having Rosie to help students revise for exams. Jodi's mum was incredible with Rosie and newborn wake-ups at 4am. Her dad was great, he was doing morning lessons with Eleanor and I got the fun things like reading The Hobbit for English and doing history lessons.
Jodi has been working back at College this term and life feels like it is getting back to some kind of normality with the older two kids at school. We are a family of six so we weren't able to socialise before the new lockdown because of the rule of six, but it's fine, there are so many people in a lot worse situations, so I feel fortunate about that.
I absolutely love being a stay-at-home dad, it suits my personality. I'm not career driven and I've been fortunate to have Jodi. She's the driving force behind us both and I'm happy to take the back seat and see how things work out, this family dynamic works for us.
Our household is filled with children and cats and dogs and chickens. We recently rehomed a dog, he's a big Siberian Husky, and he needs a lot of attention, but he's great and wonderful with the kids. I'm returning to work in February so I think I'll be coming home late at night after my shift and taking him on big, long walks, so it will be something else interesting to add to the mix!
St John's is a very special place and I feel privileged to be in this position. As a Porter and the spouse of a Fellow, I get to see all sides of College life. I'm friends with wonderful Fellows and their partners and with fantastic staff. I have the best of all worlds.
Books, babies and breastfeeding – Jodi's story
Published: 13/11/20