Beggars can't be choosers
'Imitation is the sincerest form of flattery'. So says Charles Caleb Colton in his Lacon, Or, Many Things in a Few Words (1820). Certainly, the world of musical composition has been inhabited by many who work by this saying; musical quotations are prolific in many scores, from Tchaikovsky's use of a plainchant in his 1812 Overture to Lloyd-Webber's lifting of a Mendelssohn melody in Jesus Christ Superstar. Additionally, one composition can, many years later, become the influence for another, sometimes in a wildly different genre.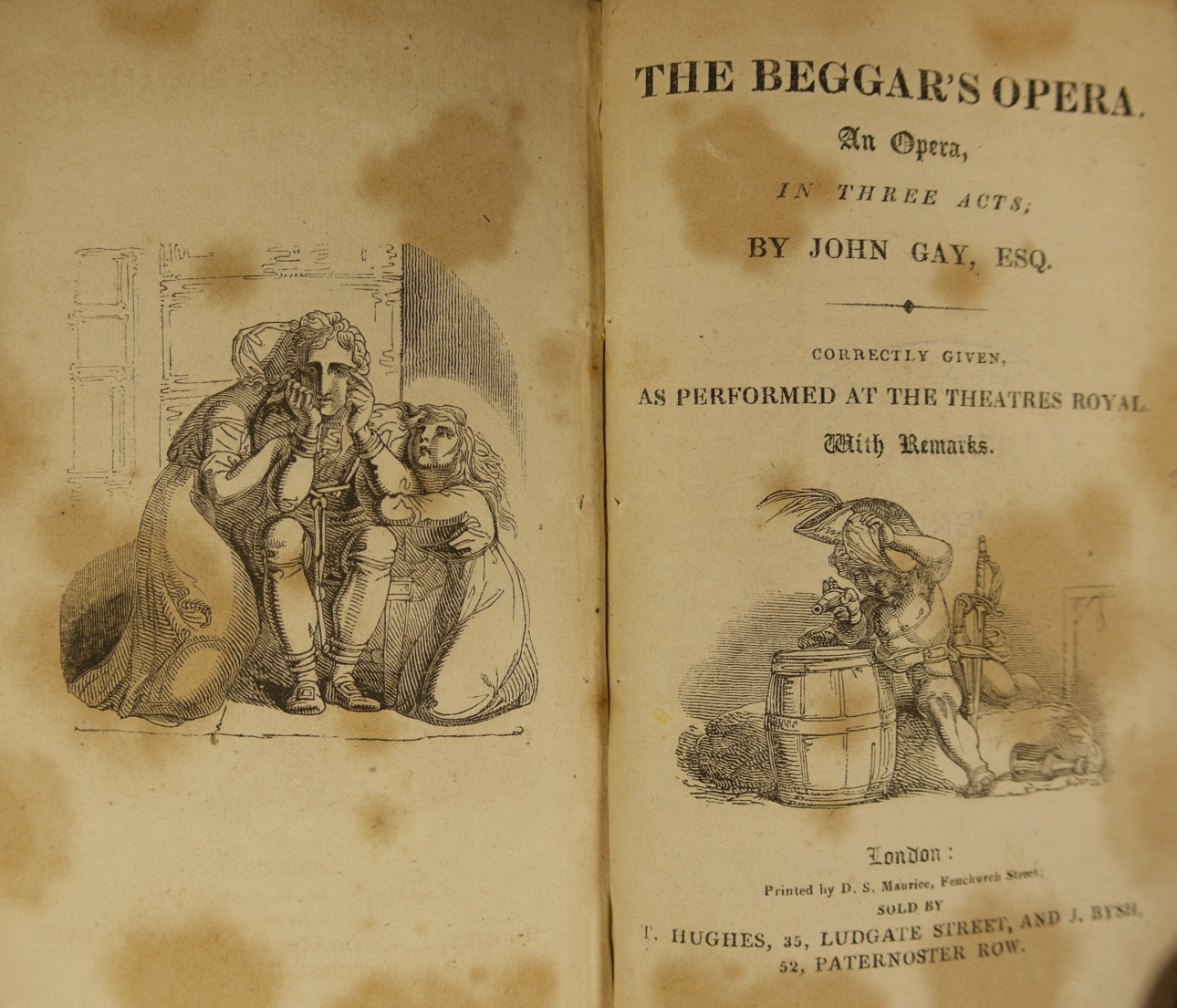 Cover page for the libretto of The Beggar's Opera
The Beggar's Opera (1728) sits in the middle of these two possibilities. This satirical ballad opera was written by John Gay (1685-1732), whose aim was to create a gritty commentary on contemporary society and politics, whilst also parodying the Italian opera, which had recently become popular in London. The plot features an array of colourful characters, including husband-and-wife Macheath and Polly Peachum, who would both go on to become popular figures. The story, narrated by the eponymous Beggar, follows the daily life of Mr Peachum, Polly's father, a thief-catcher who also happens to run a highwaymen syndicate and therefore has a seemingly iron-grip over the criminal underworld.
Musically, Gay's aim for grit and satire led him to eschew the operatic norms of recitative, instead choosing to use 69 short, unaccompanied songs, the melodies for many of which were taken from the Scottish folk tunes used in Allan Ramsay's pastoral comedy The Gentle Shepherd (1725), as seen below: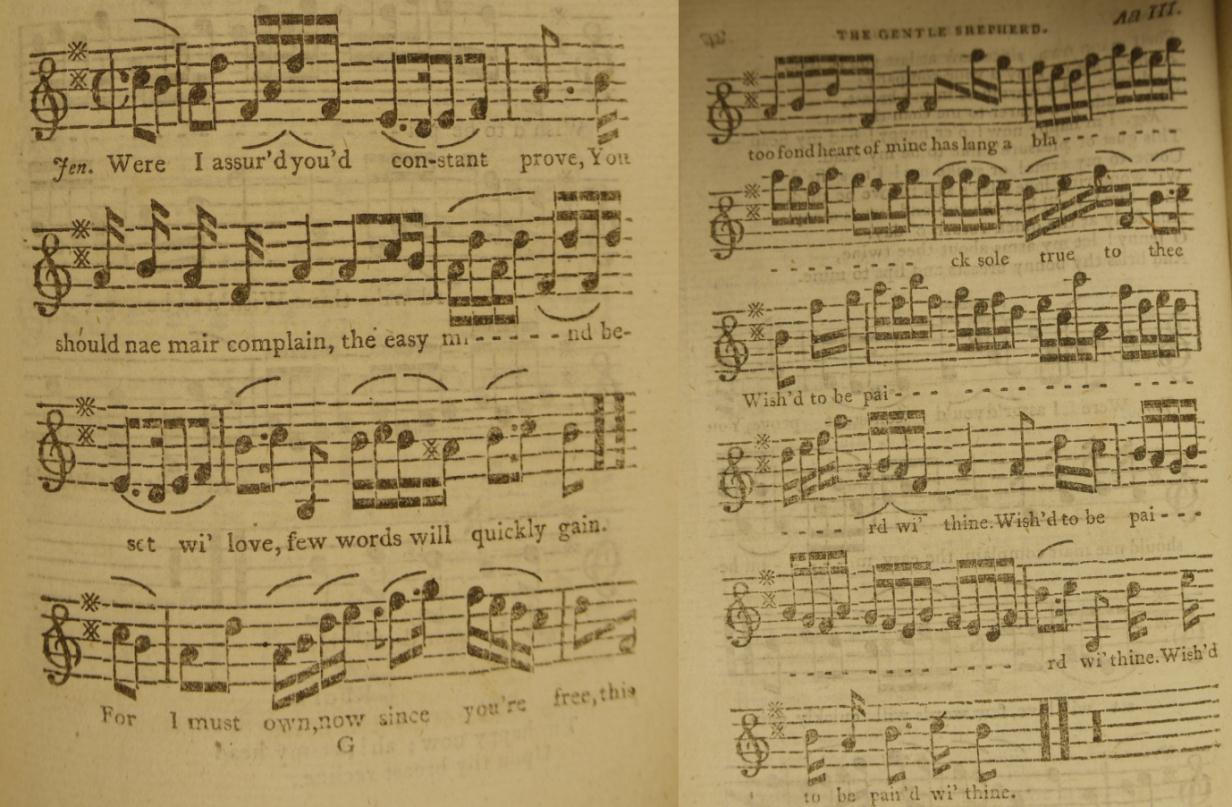 'Were I assur'd you'd constant prove' from The Gentle Shepherd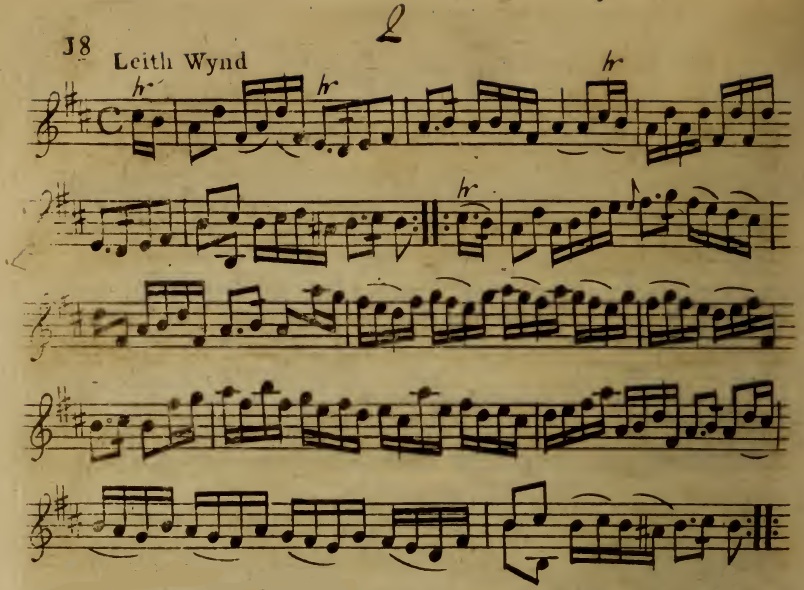 'Leith Wynd' – traditional folk tune transcribed in The Caledonian Pocket Companion (James Oswald)
Gay was also influenced by other popular melodies of the day, including 'Greensleeves' (though in a slightly different guise to the one with which we are familiar today):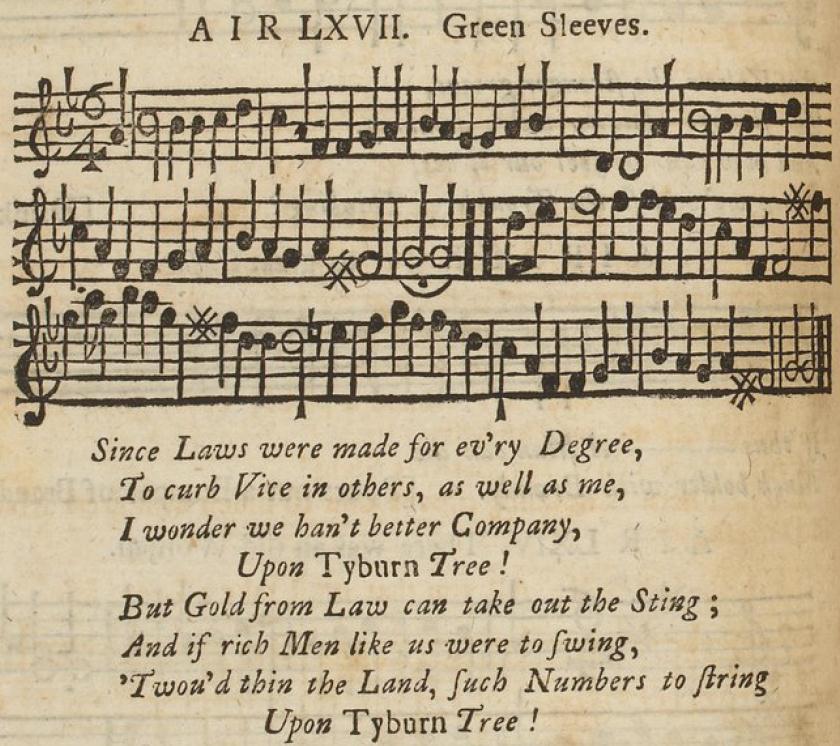 Air 67: 'Since laws were made for ev'ry degree' from The Beggar's Opera
However, a week before the opera's premiere, it was insisted that these songs be arranged with an accompaniment and a French overture be added. All this was done by Johann Christoph Pepusch, one of the founders of The Academy of Vocal Music. When it premiered, the opera faced a varied response. Whilst some applauded its satirical edge, others, largely those affiliated with the lampooned Walpole establishment, were much less enthusiastic. Nevertheless, the work continued to be popular in the years following and has enjoyed many successful revivals, most prominently in 1920, when it ran for a then record-breaking 1,463 performances.
Beggar's also proved to be a popular source for adaptation, from many unlikely sources, including Duke Ellington (with his Beggar's Holiday in 1946). Perhaps the most famous, though, is Bertolt Brecht and Kurt Weill's Die Dreigroschenoper (The Threepenny Opera), which premiered in 1928, the 200th anniversary of Gay's original. Threepenny remains largely faithful to the original plot, though it moves the biting satire of Gay's libretto forward in time to Victorian London. Musically, Weill evokes the grittiness and vignette-style composition of Beggar's, through which he creates a soundscape ('Klangbild') that starkly contrasted with the musical theatre style of the day, especially when in combination with Brecht's avant-garde 'epic theatre' style. Many of the songs from Threepenny have enjoyed a large amount of popularity, but none more so than 'The Ballad of Mack the Knife', which was first introduced to the American hit parade by Louis Armstrong in 1956 and skyrocketed to fame as a jazz standard by the famous crooner Bobby Darin in 1959:
This Special Collections Spotlight article was contributed on 27 April 2015 by Richard Sellens, Library Graduate Trainee 2014-2015 and recovering music scholar.