Architectural historian elected as member of prestigious American Philosophical Society
"This is a great honour, and I am proud to have joined such an illustrious body"
The oldest learned society in the United States has named Professor Deborah Howard, Fellow of St John's College, as one of its new members.
The American Philosophical Society was founded in 1743 by Benjamin Franklin, one of the Founding Fathers of America who helped draft the Declaration of Independence. It has played an important role in American cultural and intellectual life for more than 270 years.
The purpose of the society is to "promote useful knowledge" in the sciences and humanities through excellence in scholarly research, publications, library resources, and community outreach.
Membership of the prestigious society has included illustrious names such as Charles Darwin, Louis Pasteur and Margaret Mead.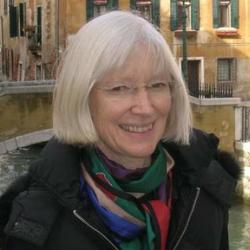 Deborah Howard is Professor Emerita of Architectural History in the Faculty of Architecture and History of Art in the University of Cambridge, where she is a Fellow of St John's College.
A graduate of Cambridge and of the Courtauld Institute of Art, she taught at University College London, Edinburgh University and the Courtauld Institute, before returning to Cambridge in 1992.
She was Head of Department of History of Art in Cambridge from 2002-9 (with a sabbatical break). She has held visiting appointments at Yale (Summer Term programme in London), Harvard (Aga Khan programme and the Villa I Tatti), the National Gallery of Art in Washington DC, Smith College, Princeton, and the Universities of Melbourne and Queensland.
She is a Trustee of Venice in Peril. Her principal research interests are the art and architecture of Venice and the Veneto; Italian Renaissance architecture and theory; music and architecture in the Renaissance; and the relationship between Italy and the Eastern Mediterranean.
Professor Howard said: "One morning I woke up to find a stream of emails from friends and colleagues on both sides of the Atlantic congratulating me on my election to the American Philosophical Society. Until I received the official notification later that day I scarcely believed it, as I am definitely not philosophical by temperament.
"But, of course, this is 'philosophy' in the sense of 'love of knowledge' across all disciplines. The APS is the oldest learned society in the United States, founded by Benjamin Franklin in 1743. This is a great honour, and I am proud to have joined such an illustrious body."
Published: 02/06/2021