10-minute interview with postgraduate student Maaha Elahi
"I think white people need to understand the impact of white privilege and how microaggressions can make people feel"
Maaha Elahi, 23, Black, Asian and Minority Ethnic (BAME) Officer of the Samuel Butler Room, the postgraduate society for students at St John's. 
What is it like being in Cambridge during a pandemic?
I'm doing an MPhil in Criminology which is only a one year course so it has all been under Covid-19 restrictions so far. I did my undergraduate degree in Law at St John's too so I feel very lucky that I got to experience normal Cambridge life during that. Although it does mean I know what we are all missing out on at the moment! During Michaelmas Term I had some face-to-face teaching which I enjoyed but it is all online now and Cambridge and College are very quiet. We are keeping positive by doing lots of remote events and dreaming of May Balls without restrictions.
Why did you decide to apply to Cambridge?
I wasn't one of those students who dreamt of coming to Cambridge, it wasn't even on my radar when I was growing up. My mum moved to the UK from Kenya when she was 11 and she went to University but my dad, who is an engineer and moved here from Pakistan when he was three, didn't. He always encouraged me to aim high and aspire to be a doctor, a barrister, or an architect. Although he didn't really mind what I did as long as I fulfilled my potential. I dreamt of studying law but I thought Cambridge was full of white people who went to private school. Now here I am, the first person in my family to go to Oxbridge, planning to be a barrister, so I was wrong!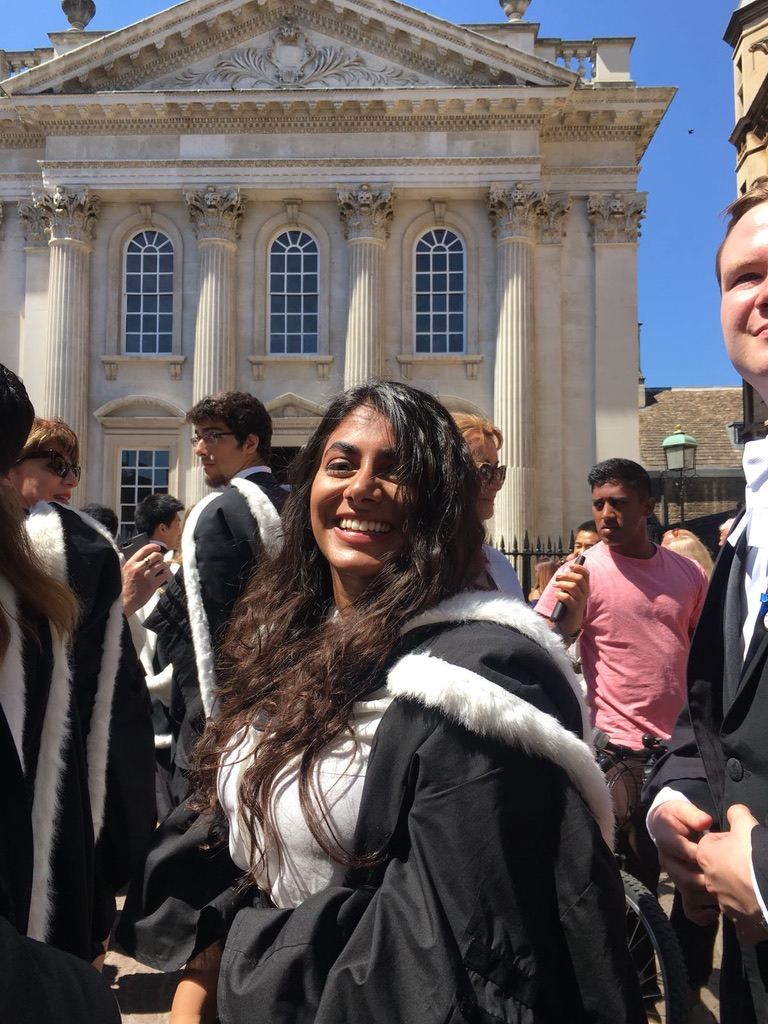 What changed your mind?
I have always liked reading, I used to walk around with my nose in a book all the time even when I was walking to school. And I've always like arguing! Not just arguing for the sake of it, but forming a view based on research and complicated ideas. The adrenaline of structuring a compelling argument is addictive! When I decided I wanted to do Law I started researching summer schools, the one at St John's was free and straightforward to apply to and I came and fell in love with the College.
How did you feel when you got offered a place?
I had the attitude that it was better to get rejected by the best University than not to try in the first place. My school didn't encourage me to apply, even though I always got good grades, I told them it was what I wanted to do. When I got offered a place I thought that if I can get in then everyone who thinks Cambridge might be for them should give it a go.
You are the first Black, Asian and Minority Ethnic (BAME) Officer of the Samuel Butler Room (SBR) – how did that role get introduced?
I was the Ethnic Minorities Officer of the JCR and when I became a postgraduate student at John's, I wrote to the President of the SBR and said that there ought to be a BAME Officer to represent the community. She agreed and an election later, here I am! I noticed that when minority ethnic people come to Cambridge they often try to assimilate themselves into the dominant culture, or they go the other way and embrace all the opportunities there are to connect with other people of similar backgrounds. I just want to be able to help to make being at Cambridge positive an experience as possible for as many people as possible. Different cultures should be celebrated.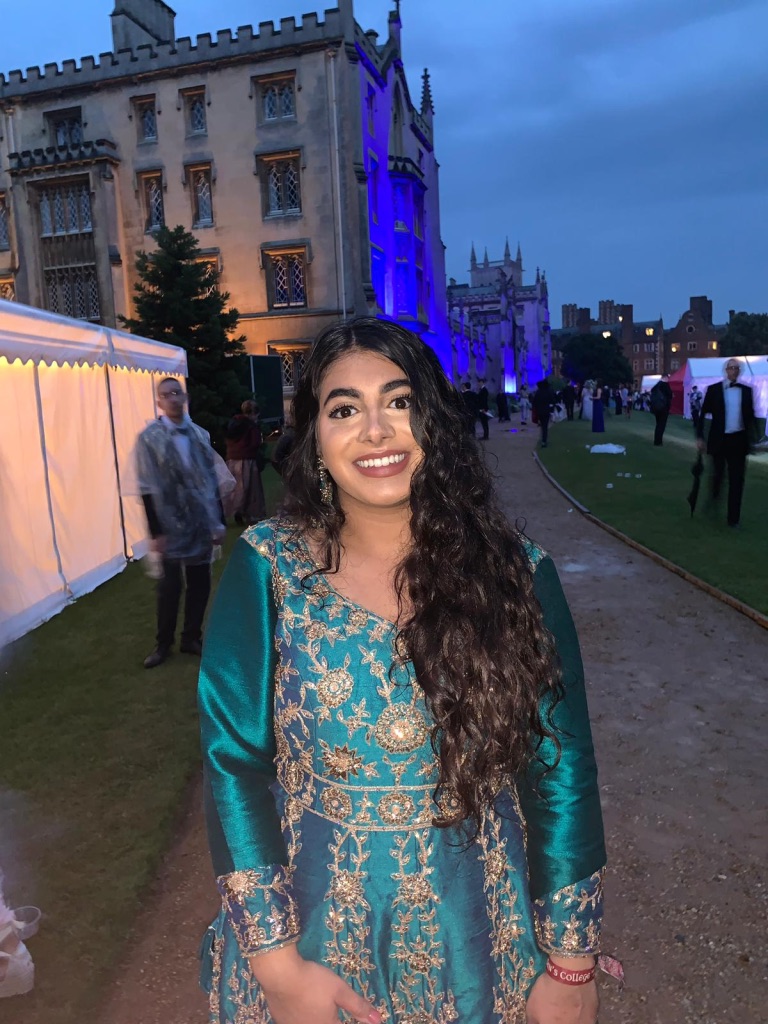 How can white people be good allies to people of colour?
I think listening and learning is really important. I am a South Asian woman so I can only speak for my experience, I don't know what it is like to be black, for example, and every person of colour has a different experience. I feel passionately about acknowledging my own privilege and being open and willing to represent everyone no matter their background or ethnicity. I think white people need to understand the impact of white privilege and how microaggressions can make people feel. They should also seek out work by people of colour whether it is art, music or literature. Being open to change can only ever be a good thing.
Have you had a chance to organise the events you hoped to?
I think people have been getting Zoomed out, particularly when we are learning remotely now. But we are hoping to do events based around activities like a curry night to make it more fun. I've set up an SBR BAME Facebook group for us to chat to each other and we are planning to launch a book club featuring BAME authors.
What else do you do for fun?
I've got cycling legs now and fortunately going for a walk around beautiful Cambridge never seems to get boring. I also love music so I spent a lot of time listening to that and reading books of course!
*This article appears in the Lent Term 2021 edition of Eagle Eye.
Published: 17/3/21