'Coming to St John's was like walking into a fairytale' – the women who made history as our first female students
"We'd seen a bit of the world, so it was easy to cope with being one of the few women in such a large male College"
From Lady Margaret Beaufort's financial bequest, which enabled the foundation of St John's College in 1511, to the appointment of the first female Master in 2020, women have played a crucial role in shaping the College community we know and love today.
In 1980, Fellows of the College voted to admit women to St John's as students and Fellows – a move which was heralded as the 'most profound change in the history of St John's'. The following year Dr Kathleen Wheeler, the first female Fellow, and nine female research students arrived at St John's. Among them was Mary Short, a 23-year-old postgraduate student who had already done an undergraduate degree and PGCE when she was encouraged to apply to St John's by her supervisor at UCL. Her research focused on British politics in the 1920s.
"At the time, myself and the eight other students didn't feel like it was a big deal, we'd seen a bit of the world by then which meant it was easy to cope with being one of the few women in such a large male College. Coming to St John's was like walking into a fairytale. Everyone was incredibly polite and welcoming – the Master was always charming to us and my Tutor, George Reid, was always lovely.
"The other postgraduates were fine with being the first women too. There was a comment made at our Matriculation Dinner by the famous Head Porter 'Big Bob' Fuller who said, 'there have always been women at St John's but before they had to leave before the bedders arrived in the morning'. The comment was tongue-in-cheek and in reality Bob was actually very nice to us all."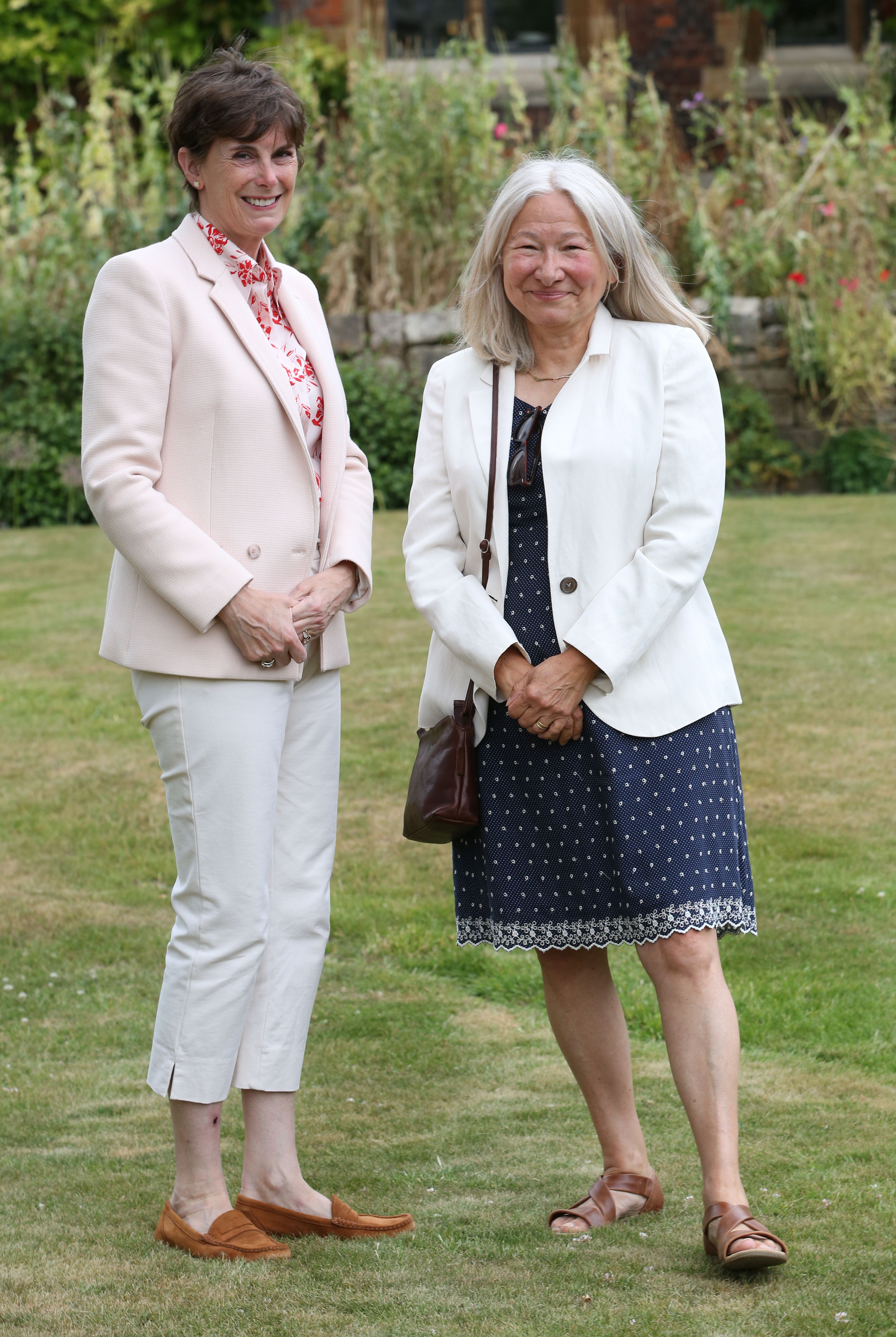 Mary added that Bob's now infamous objections (he flew the College flag at half-mast and wore a black armband on the day women arrived at St John's) were short-lived and the first women swiftly set about integrating themselves into the College community. Seven of the group of women lived together in The Warehouse, a College property on Bridge Street that still houses students today. They were from all over the world including the UK, the US, Japan, Venezuela, Ireland and Germany.
"It was like being in a boarding school sometimes as we'd meet in our nighties for cocoa – something none of us had done as undergraduates! The first year was particularly special, we had the most extraordinary snow in December and we couldn't leave Cambridge. In the summer we went to endless garden parties, punted down the river, and I must have done some work too! It was after the first year that completing the PhD really became a test of grit. Cambridge gave me inner confidence because being one of the first women at St John's and completing my PhD are achievements that can never be taken away from me. I've often been one of the only women in a situation and that is just how it is, although, of course, I'd prefer it to change."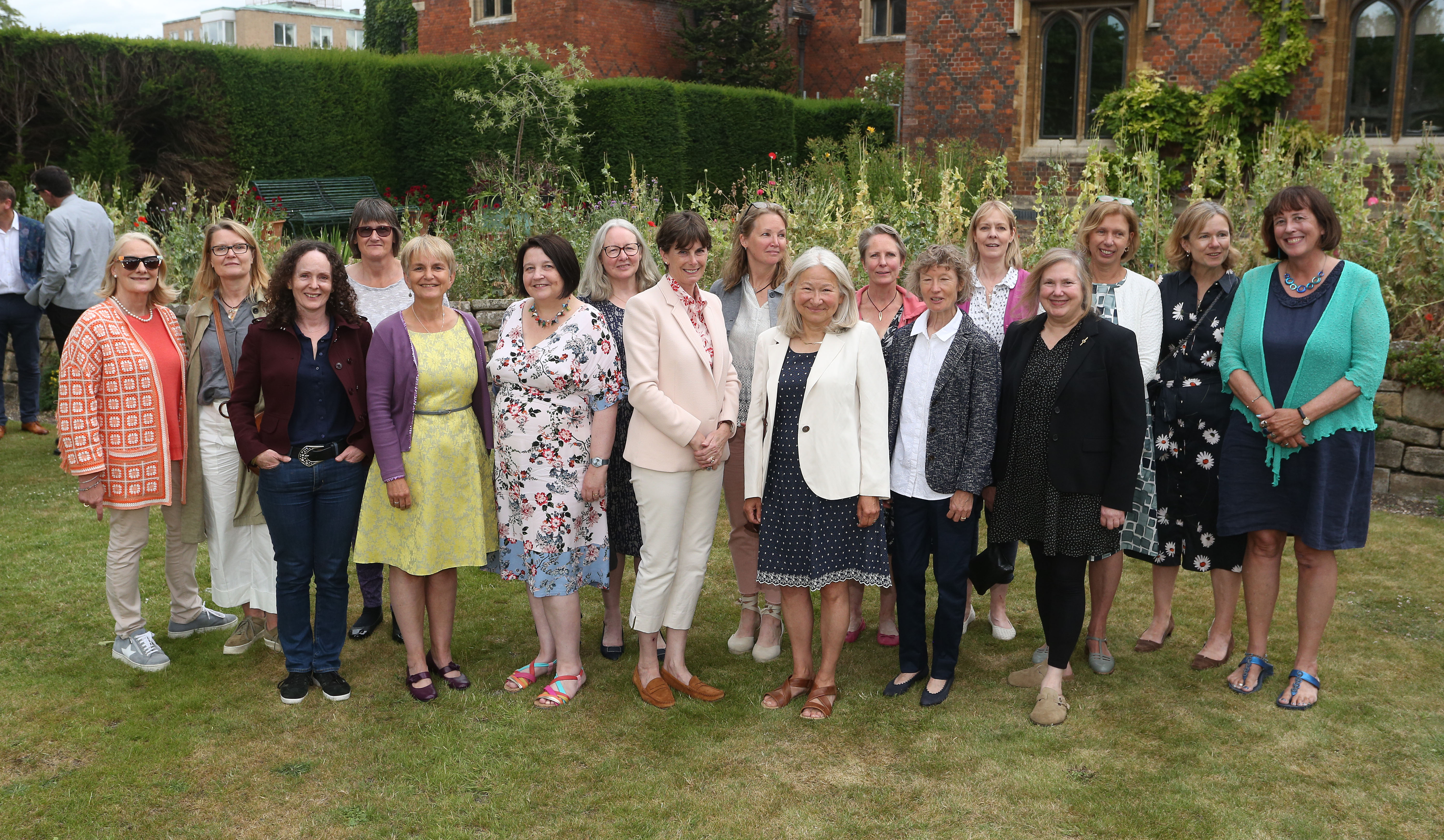 In 1983 Mary was elected as the first female President of the Samuel Butler Room, the postgraduate common room. After she completed her doctorate and graduated from Cambridge as Dr Mary Short she worked as a teacher and became head of history at St Paul's Girls' School. Later in her career she was deputy head at Haberdashers' Aske's School for Girls, before becoming Headmistress of St Helen's School. She retired shortly before the pandemic hit.
Mary remains firm friends with many of the other first female students, particularly Tami Davis who was the first woman to join the Lady Margaret Boat Club, and its first female cox. A self-described second-wave feminist, Mary didn't change her name when she married.
"We threw ourselves into College life and quite a few of us went through rigorous rowing training"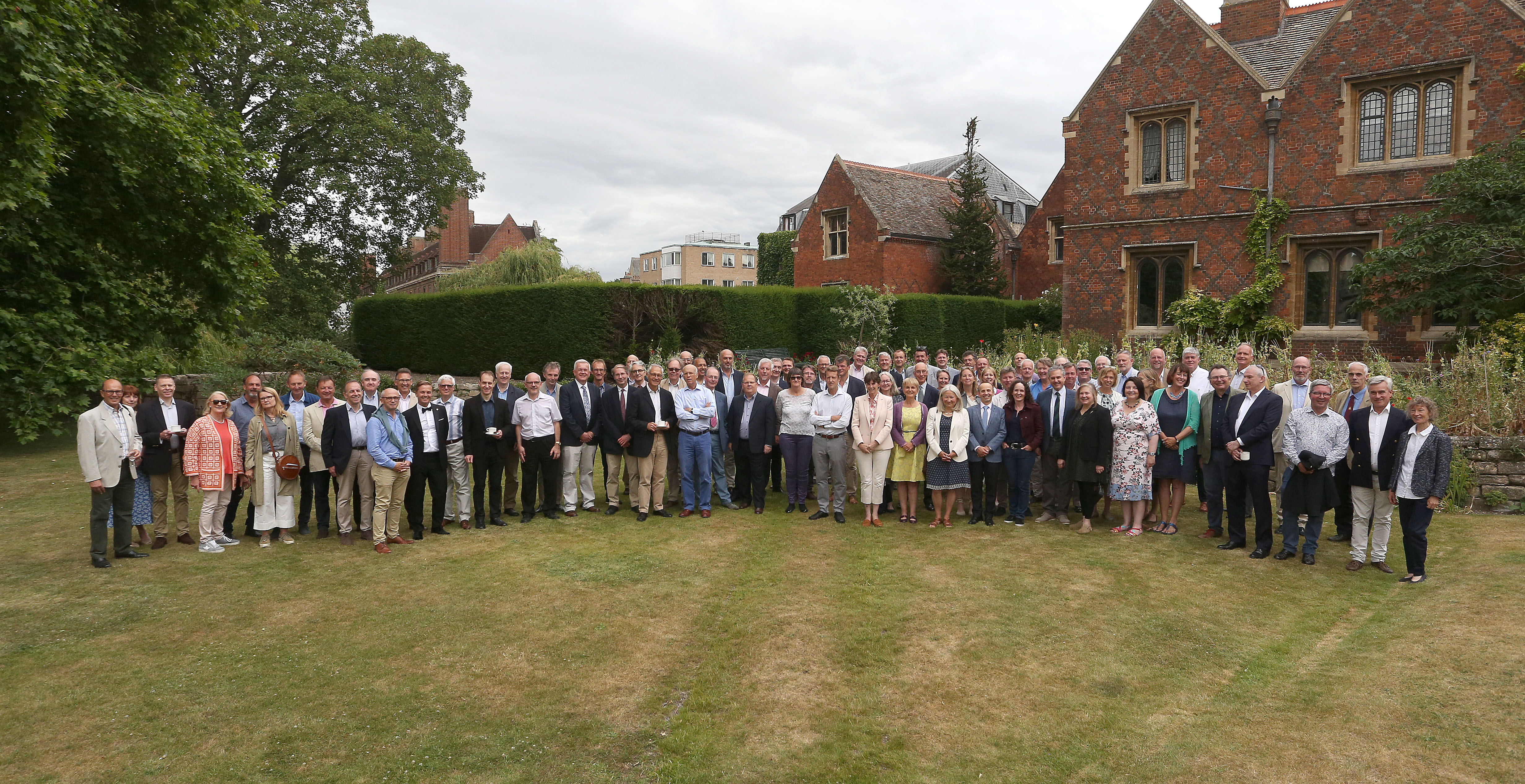 Mary was one of the large group of alumni who returned to St John's for a garden party in the Master's Lodge in July 2022 to mark the matriculation of those who arrived in Cambridge in the years 1981 and 1982. There was also a celebratory reunion dinner the same evening that coincided with this year's 40th anniversary of the admission of female students to the College.
The arrival of women at St John's could even be credited with creating a spike in applications from prospective male students. Paul Harrison, who studied Natural Sciences and matriculated in 1982, said: "I saw in the prospectus that St John's was a mixed College and that is how I decided where to apply! I didn't realise it was the first year that women were allowed to be students. I didn't become one of the many St John's husbands and wives."
A couple that did meet at St John's were Henrietta Butler, née Shaw, who was in the first cohort of female undergraduates, and Tom Butler, captain of the Lady Margaret Boat Club. Henrietta made history in 1985 when she became the first woman to cox the Cambridge men's Blue Boat – it took another 13 years before Jo Griffiths became the first woman to captain Lady Margaret Boat Club.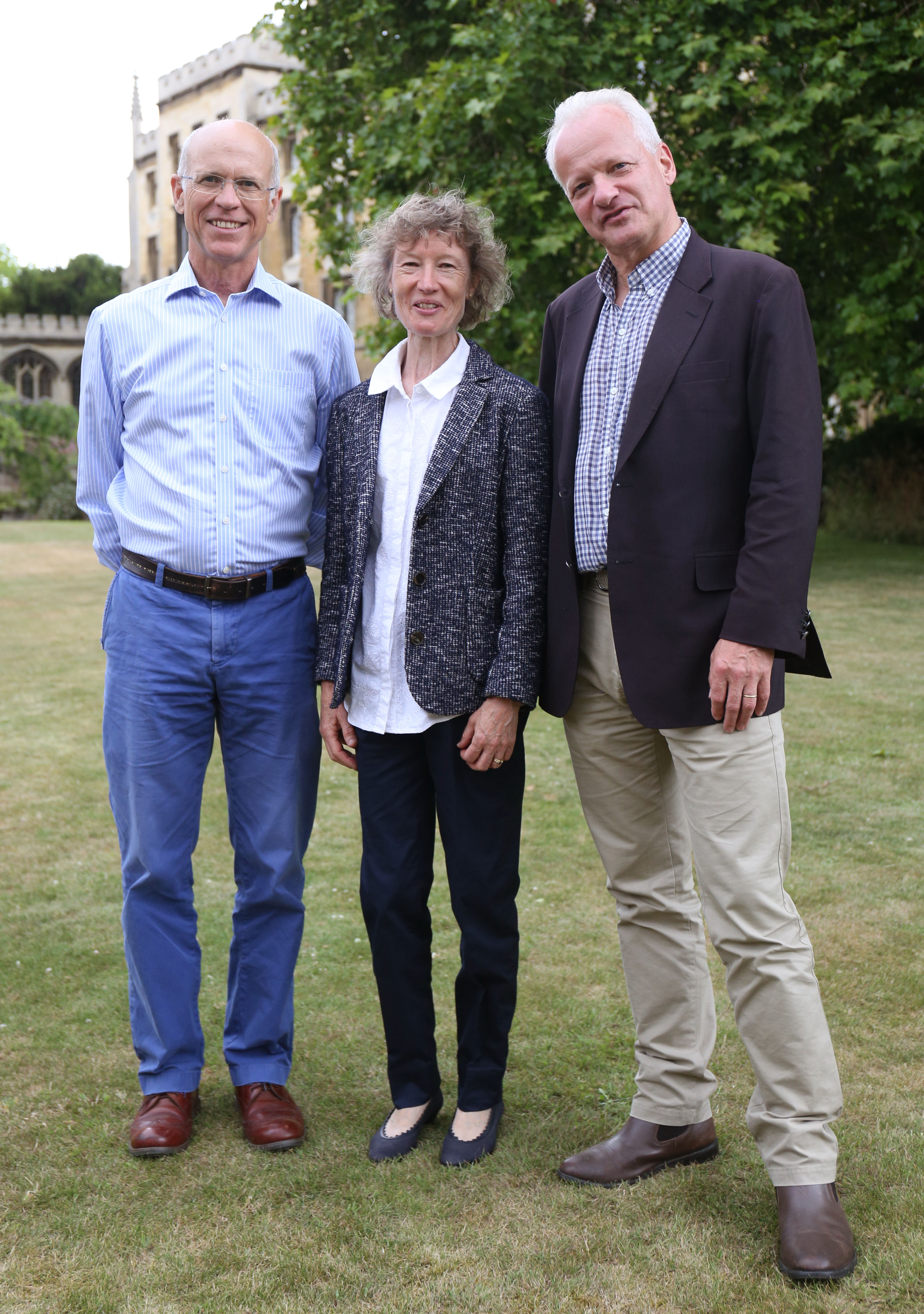 Henrietta, who studied Modern Languages, recalled: "We knew we were the first female undergraduates because the Daily Mail ran a big story about it and about Bob Fuller but despite the stories, he was actually great. We all took it in our stride and we threw ourselves into College life and quite a few of us went through rigorous rowing training. I was a cox from the start as I had an advantage being small – I only coxed men. In my final year, I coxed the Blue Boat – sadly Cambridge didn't win but it was the last loss in a 10-year losing streak so at least that was something! Lots of John's alumni made sure we were there when the Cambridge women rowed on the Tideway for the very first time in 2015."
The past 40 years have seen St John's women accumulate a broad range of achievements in a wide range of disciplines. Women such as Judith Slater (1983), British High Commissioner to Jamaica; Laura Bates (2004), founder of the Everyday Sexism Project and an Honorary Fellow of St John's, and Pulitzer prize-winning author Jennifer Egan (2012).
The alumni event earlier this month carried on into the evening and many of the alumni present were keen to meet the Master of St John's to find out what life has been like leading a College through and out of a global pandemic. 
Before Mary, one of the very first female students of St John's, headed off to chat to Heather Hancock, the first female Master in the history of St John's, she shared the advice she'd pass onto today's female students at St John's, 'stay true to yourself, always'.
Published 25/7/2022