William Wordsworth's life mask
Sitting serenely under the Oriel window of our beautiful Upper Library is William Wordsworth's life mask, as moulded by the artist Benjamin Robert Haydon on 12 June 1815. He is pictured here in the company of John Couch Adams, discoverer of the planet Neptune.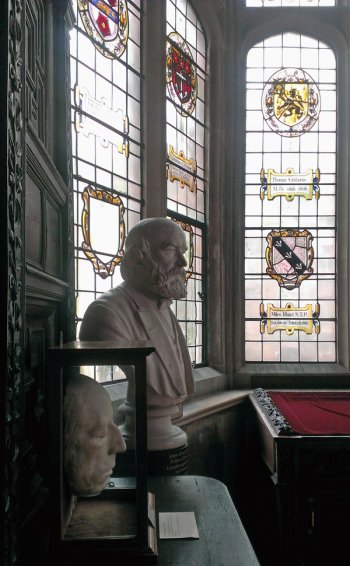 Throughout history, societies have sought to memorialise individuals through the creation of life and death masks, three-dimensional moulds capturing a person's likeness for posterity. These masks have long been used to aid painters and sculptors in their work, as well as playing an important role in the funeral rites of various ages. In the nineteenth century, the growing popularity of phrenology meant that these masks were also used for pseudo-scientific research.
Haydon recorded the experience of casting Wordsworth's features in his diary, giving us a uniquely comical insight into the life of the illustrious poet. Spare a thought for the great man sat with straws up his nose and paper mache on his face the next time you read one of his works!
I had a cast made yesterday of Wordsworth's face. He bore it like a philosopher. Scott (John Scott, editor of The Champion) was to meet him at Breakfast. Just as he came in the Plaister was covered over. Wordsworth was sitting in the other room in my dressing gown, with his hands folded, sedate, steady, & solemn. I stepped out to Scott & told him as a curiosity to take a peep, that he might say the first sight he ever had of so great a poet was such a singular one as this. I opened the door slowly, & there he sat innocent & unconscious of our plot against his dignity, unable to see or to speak, with all the mysterious silence of a spirit. When he was relieved he came into breakfast with his usual cheerfulness and delighted & awed us by his illustrations & bursts of inspiration.
This Special Collections Spotlight article was contributed by YiWen Hon, Library Graduate Trainee 2012-2013.