Travels around Ireland
This November, we travel to Ireland in the company of John Lee (born John Fiott). Lee graduated Fifth Wrangler from St John's in 1806, and from July that year embarked on a journey from London to Ireland, arriving in Dublin in March 1807. He kept a detailed diary of his travels, recording his impressions of each place he visited in five notebooks, accompanied by two sketchbooks full of drawings of the views, buildings, and situations he encountered en route. Lee's observations cover the weather conditions and travelling arrangements, the customs and food of the area, the state of the local economy, features of the natural landscape and architecture of note. Two additional sketchbooks illustrate more ambitious trips to Scandinavia later in 1807, and again in 1808-9. Lee's diaries and sketches collectively now make up manuscript U.30. 
On Thursday 27 November, Lee visited a mill at Limerick, which could only operate for 6 hours at a time, as the water level rose two thirds of the way up the wheels at high tide. He also took a tour of the 'House of Industry', which engaged his interest sufficiently to draw in his diary a small plan of the building's layout, careful labels indicating the locations for the quarters for male and female lunatics, hospital, women's spinning room, and men's weaving room.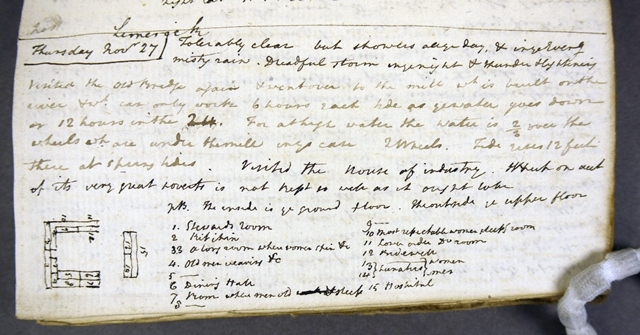 By the Saturday, Lee had reached Doneraile, where he described the grounds belonging to 'Lord D' overlooking the town with some enthusiasm:
one of the handsomest in Ireland, grounds laid out in the modern style. River runs through it.Well wooded fine parts walled in. Curious trees feathering down – chestnut or lime I forget which. Well stocked Leicester sheep and Devonshire cows. Ground all waving up and down. Pleasure grounds near the town. 3 fine ponds. Beautiful woods.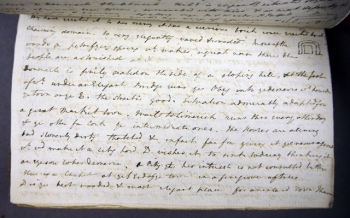 Lee observed that the town itself was finely situated for a market town, with a good street and an elegant bridge over the River Obeg. Mail ran on alternate days to Limerick and Cork. However he described the houses as 'very bad slovenly dirty' and noted that the local lord wished it to sink into decay, rather than develop into a city, as he considered it an 'eyesore'.
The weather clearly affected Lee's trip. His entry for Sunday 30 November began:
Sat rainy and wind blowing it about all day very uncomfortable to be out. Rain in drifts most of the day and when we were out all the time. Never clear from misty rain. Rain all night with wind.

Lee's sketches, in pencil or pen,  are a delight. These may possibly be preliminary drawings designed to be worked up later into more substantial studies, as Lee frequently labels features in pencil, indicating the crop that is growing in a field, whether a building is stone or brick, the species of tree.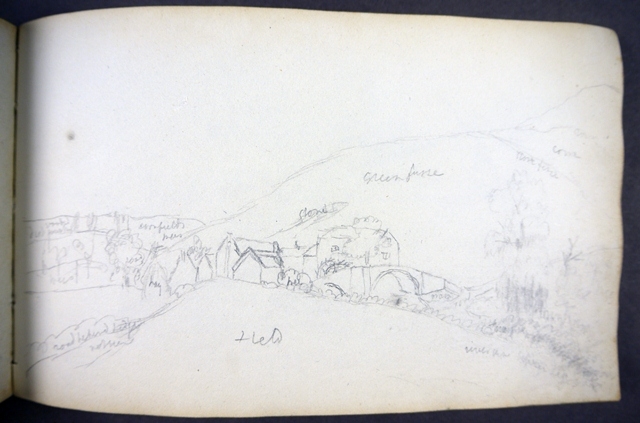 Pencil drawing, with labels indicating such features as a cornfield, a road behind a hedge, a stone fence, green furze and the river.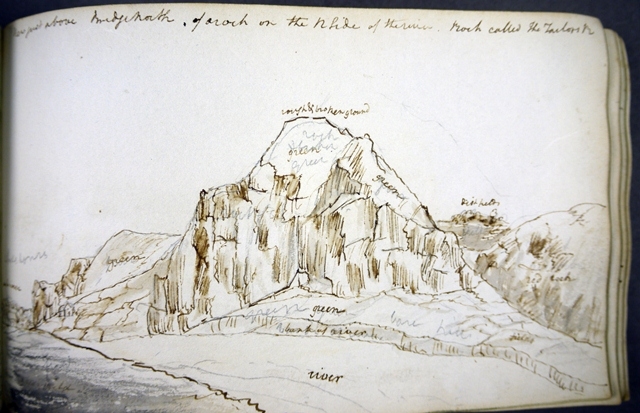 Pen sketch, similarly annotated.
This Special Collections Spotlight article was contributed on 25 November 2013 by Kathryn McKee, Special Collections Librarian.