Student life in the 1880s
The letters which Stephen Abbott Notcutt, undergraduate at St John's from 1883-86, wrote home to his mother give a fascinating insight into the life of a student in Victorian Cambridge. Notcutt studied Natural Sciences, though later became a solicitor. Although written over a century ago, his letters still show obvious similarities with undergraduates today, both in the topics which most interest him and his general attitude to student life. The letter featured here was written on the 8th of March 1885.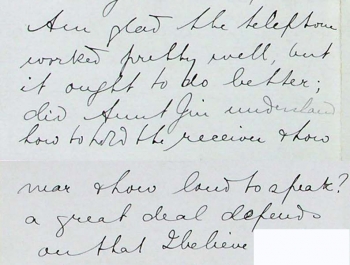 Like so many bright young students today, he is quick to advise his older relations on the use of the latest technology, in this case the telephone.
Notcutt was a keen sportsman, playing both football and cricket for the College. In this letter he tells his family about his latest team photo, not taken in the best of weather conditions. The Library has a copy of this photograph in its collections, and it did turn out 'pretty decent'.
Keeping up with the latest music and culture of the day is time-consuming. He wastes over three hours listening to Gilbert & Sullivan, and comments on the latest Mark Twain novel that is being published in serial form, though he hasn't had time to read it.
Money is always an issue, and basic living expenses come to more than expected. On receipt of his laundry bill, he is obliged to ask his mother for more money, commenting that he is getting through 'a beastly lot of coin'.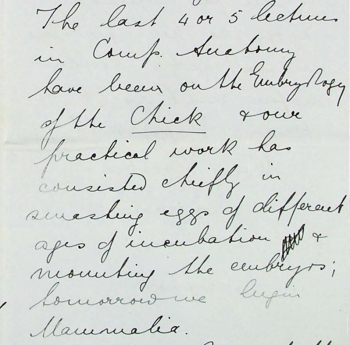 It is only towards the end of the letter, having discussed his social life rather more thoroughly, that he mentions how hard he is working at his studies. Even then he is amused by the nature of some of the practical work that they have been set in comparative anatomy. The study of the embryology of the chick involves much smashing of eggs; one wonders what 'Mammalia' will bring!
This Special Collections Spotlight article was contributed on 28 October 2014 by Kathryn McKee, Special Collections Librarian.