St John's launches fund to support new generation of historians
"In Peter's memory, St John's College is launching a fund to support a new generation of talented young academics with their research into the medieval Mediterranean world"
A fundraising campaign in memory of a 'legendary historian' has been launched to financially support students at Cambridge as they uncover the secrets of the past.
A historian of medieval Spain, Dr Peter Linehan, Fellow of St John's College, died peacefully at Addenbrooke's Hospital in Cambridge in July 2020 after several months of ill health. He was 76.
He arrived in Cambridge in 1961 to study History as an undergraduate at St John's College. He continued to postgraduate study, joined the Fellowship at St John's in 1966, and served as Director of Studies in History three times during his 54 years as a Fellow of St John's.
Dr Linehan was a scholar of international renown and earned great distinction for his research on the history of the medieval church, Spain, and Portugal. He wrote about a hundred books and articles on the topics, ranging from The Ladies of Zamora, an exercise in micro-history concerning scandalous goings-on in a thirteenth-century Spanish nunnery, to The Medieval World, a collaborative work on many aspects of the Middle Ages. Dr Linehan also edited and contributed to St John's College, Cambridge: A History, which marked the College's Quincentenary in 2011.
Now a 'Dr Peter Linehan Fund' has been launched in his memory to continue his legacy of supporting young historians.
Heather Hancock, Master of St John's College said: "I had the privilege of knowing the late Dr Peter Linehan. I know that Peter was an incredible friend and mentor to many – he was renowned not only for his world-leading research into medieval Spain but also for his generous support of promising students who were making tracks across the foothills of research. He was equally known for his engaging personality and ready wit, qualities which helped him to connect with the academic community across the College, the University and far beyond.
"In Peter's memory, and as we near the first anniversary of his passing, St John's College is launching a fund to support a new generation of talented young academics with their research into the medieval Mediterranean world.
"Peter cared deeply about the barriers in the way of talented young academics, particularly the lack of funding for research, and especially when set against the rising costs of getting to the places and the papers that hold the secrets of the past."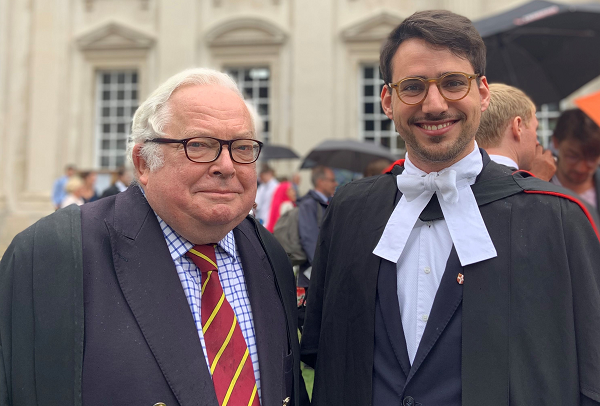 The fund will provide grants for doctoral students and post-doctoral research scholars to enable them to access important archives and share their research widely.  With enough support, St John's College hopes to create an endowed fund substantial enough to sustain these activities in perpetuity.
Heather added: "We hope that you will join us in helping to build on Peter's scholarly achievements, through a fund to support scholarship in medieval Mediterranean history. We know that Peter would be delighted to be the cause of such practical and enriching support for generations of scholars to come."
Dr Linehan is survived by his wife Christine and their three children, Gabriel, Frances and Samuel. 
Support the Dr Peter Linehan Fund
Published: 02/07/2021