St John's basketball club storm to victory in nail-biting Cuppers final
"By using skills that everyone on our team had in common we were able to outpace the opposition to get more baskets in every game"
The Yales beat a determined team from Darwin College 50-41 in a fast-paced Cuppers final to win the inaugural Madden Cup.
The St John's Men's Basketball Club, the Yales, had an up-and-down season which saw it relegated to Division 2, but they rallied with extra training sessions for their Cuppers run. Their confidence was boosted by the addition of two experienced University first team players.
The Cuppers competition is difficult because of the large influx of university players filling the ranks of college teams with some being able to put as much as five on the court at a time.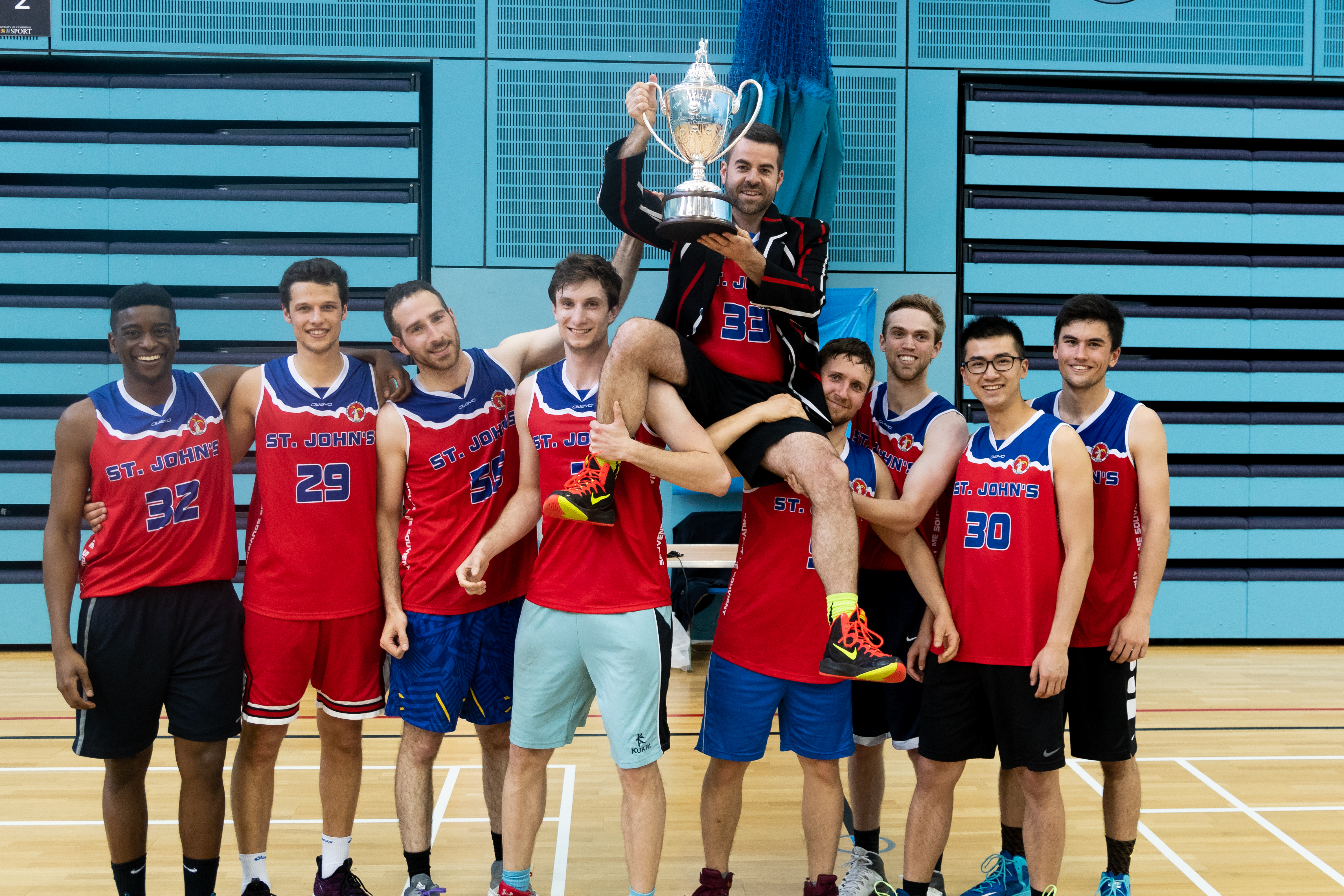 Photo credit: Sam Bedell, CUBbC
"We couldn't be prouder that St John's is the first name engraved on the Madden Cup"
With only two university players joining the Yales, the road was just as daunting as the previous unsuccessful years in the competition, but J.R. Lalancette, Captain, had a plan.
He explained: "The key was to successfully integrate our two newcomers into our team with extra training sessions and to create a strategy that didn't resort to solely relying on them.
"By using skills that everyone on our team had in common – speed, strong defensive skills, and determination – we were able to outpace and tire out the opposition to get more baskets in every game."
With their strategy in place, the Yales turned their season around by decisively beating St Edmunds, Hughes Hall, and Robinson College on their way to the final.
This Cuppers final, which took place on May 13, was particularly special because it was the first time that an actual trophy was awarded in the college league's history.
Pat Madden (Queens' 1985), a former player in the league and former Cuppers winner in the mid 1980s, generously made a large donation by giving the league a trophy, the Madden Cup.
Lalancette added: "I am incredibly pleased of the efforts that our boys put in all year and incredibly grateful to college, especially our former Domestic Bursar Mark Wells, for all the financial help for getting us the gym time and equipment we needed to bring home a trophy.
"One of the things that makes St John's so special is that we do have the great culture for sports in college and I'm incredibly pleased that our team contributed to it. I think I speak for both my team and college in saying that we couldn't be prouder that St John's is the first name engraved on the Madden Cup."
Pictured: Shama Ams, Sebastiano Cultrera, Adam Lerner, Luka Skorić, J.R. Lalancette (Captain), Markus Schober, Ryan Limbocker, Aaron Tam, and Cillian Leow. Absent: Reinis Irmej
Banner photo by Tom Pottiger on Unsplash
Published: 22/05/18