Skeletons in the Closet at St John's
The exhibition is part of the Science Festival and will take place on Saturday 23 March from 11am-5pm
The bones of men and women buried at a medieval cemetery found underneath the Old Divinity School will feature in a free exhibition held in College as part of the Cambridge Science Festival.
Skeletons in the Closet at St John's will explore the fascination we have had for centuries with human, animal and even insect skeletons. On display will be 15th century manuscripts including College founder Margaret Beaufort's book of hours, 'medicinal' animal bones and photographic studies for a painting by artist and novelist Samuel Butler which now hangs in the Tate Gallery.
The exhibition will be run in collaboration with the Department of Archaeology and will feature skeletons from the St John's Hospital cemetery – a medieval burial ground excavated by the Cambridge Archaeological Unit in 2010. The excavation, which uncovered more than 1,000 human remains, led to the four year multidisciplinary research project 'After the Plague: Health and History in Medieval Cambridge' which is funded by the Wellcome Trust.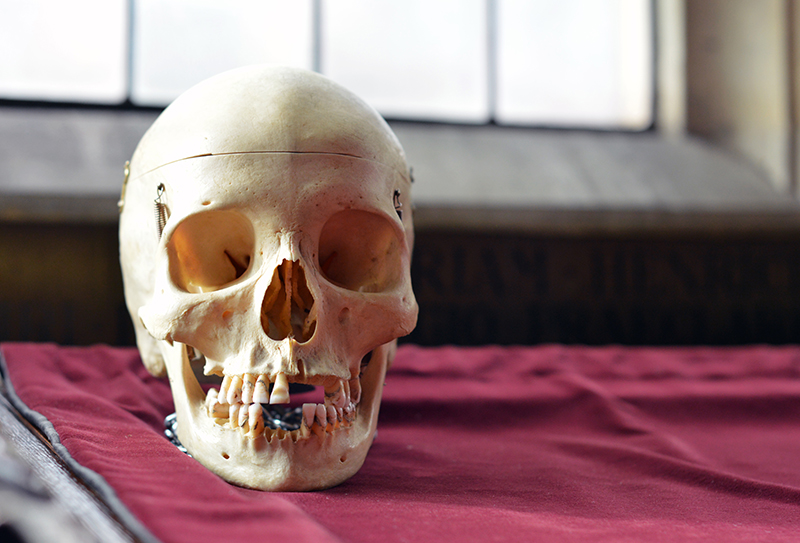 Visitors to the exhibition will be able to hear from Dr Sarah Inskip about the skeletons on display
Visitors to the exhibition will be able to hear from Dr Sarah Inskip, a St John's Research Associate and one of the project's archaeologists, about the findings so far and the skeletons on display. The team behind the project have been able to uncover personal stories behind many of the skeletons including details of their sex, age at death, cause of death and even their employment.
Inspired by this year's Science Festival theme of 'discovery', the exhibition also takes a look at the way our attitudes towards skeletons have changed – from fearing them to using them for scientific research.
Skeletons in the Closet at St John's begins with medieval manuscripts which often used skeletons as a symbol of death or to act as a reminder of our mortality. Visitors will be able to see this imagery in Margaret Beaufort's book of hours from the 15th century where Death, anthropomorphised as a skeleton, strikes a living human with a spear while demons and angels struggle for custody of the soul.
Also on display will be anatomical sketches and illustrations by Charles Estienne who, in the 16th century, controversially performed his own human dissections and printed his findings. His discoveries challenged the accepted wisdom of the time of a physician from Ancient Greece, Galen, whose understanding of human anatomy was based on dissections of pigs.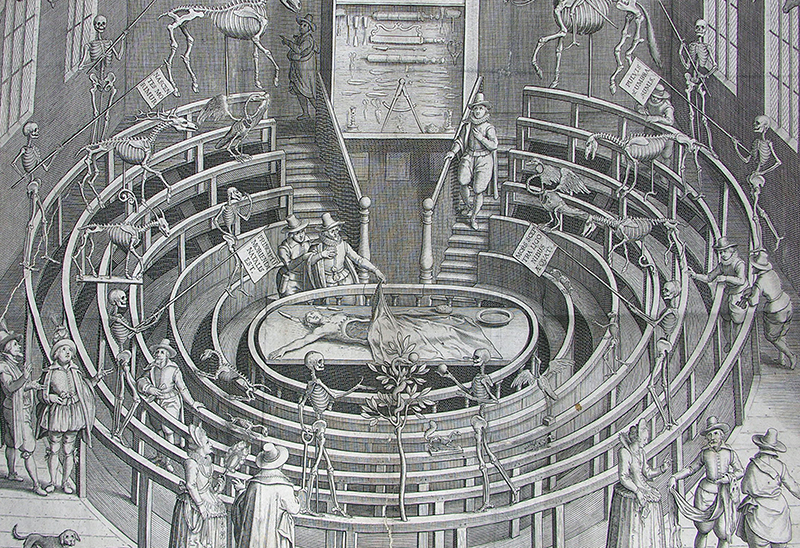 An illustration of the anatomical theatre in Leiden as appearing in Johannes van Meurs 'Icones', published in 1617
The exhibition also features Robert Hooke's detailed Micrographia depictions of insect exoskeletons, Samuel Butler's photos of studio owner Thomas Heatherley fixing a skeleton broken by too many dances with students, and 'medicinal' animal bones from the College archives once used for teaching medical history.
From metaphors for death to student doctors Skeletons in the Closet at St John's charts a long history of overcoming initial apprehensions about our bones and the beginnings of our discoveries about the skeleton's structure and function in the human body.
The exhibition will take place on Saturday 23 March from 11am-5pm. It is free and open to all.
Published: 15/3/19