Præmia primas accipiet: the first shall receive prizes
The Library's collections include a surprising number of medals, produced in a variety of circumstances. Sporting and academic achievements are rewarded with medals. Key events and their anniversaries are also celebrated with the striking of commemorative medals.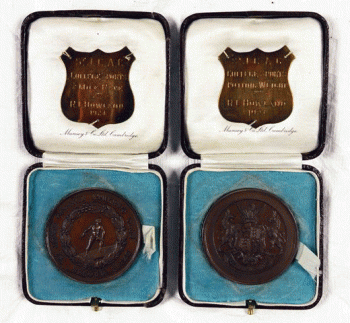 These St John's College Athletics Club medals were awarded to Robert Leslie Howland (BA 1928) in 1924 for achieving second prizes for putting the weight and the ¼ mile race. The medals were cast in bronze by Munsey of Cambridge and show the figure of a discus thrower in a laurel wreath on one side and the College coat of arms on the other. The following year Howland achieved first place in putting the weight and the 220 yard hurdles, and was awarded two more medals.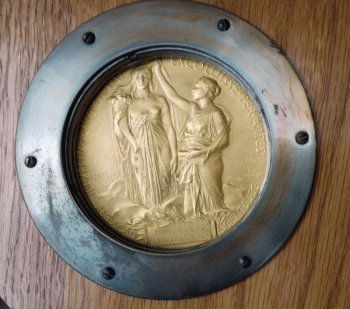 Perhaps the mostly highly regarded medal in the academic world, and certainly one of the most popularly celebrated, is the Nobel Prize. St John's alumni include eight Nobel prize-winners, and one of the medals is now in the Library's collections: that awarded to physicist Paul Adrien Maurice Dirac for his wave equation of the electron in 1933.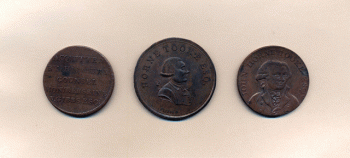 These medals were struck by the radical London Corresponding Society to commemorate the acquittal of John Horne Tooke (BA 1758) on a charge of High Treason in 1794. Copper medals were widespread in the 1790s. For the last two decades of the 18th century there was an extraordinary amount of copper token coinage issued in Britain, as virtually no low denomination copper coinage had been minted since the 1750s. Up until 1797 the production of such tokens was perfectly legal. Some were struck by businesses or shopkeepers, and could be used for advertising purposes or as trade cards, though some of these were also in general circulation as coinage. By the mid-1790s many thousands of such tokens had been produced, and a craze for collecting them developed, stimulating further production, including tokens issued as radical propaganda. Radical tokens were typically the size of a penny, halfpenny, or farthing. Known by collectors as medalets, these were struck in very large numbers, to commemorate victories in the courts by the radicals, imitating those issued to celebrate military triumphs. Of those acquitted in the show trials for treason and sedition in 1793 and 1794, there are four different medalets for John Horne Tooke, of which three are pictured here.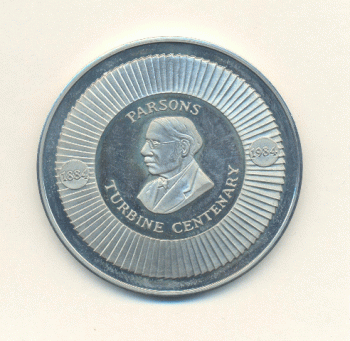 A commemorative medal from nearly two centuries later, this silver medal was struck to commemorate the centenary in 1984 of the invention of the turbine engine by Sir Charles Algernon Parsons (BA 1877). Parsons took out his first patents on a steam turbine engine in 1884 whilst still a junior partner in an engineering firm. His work transformed the efficiency of power generation in the propulsion of ships and in power stations.
More information about all the Library's medals may be found on our website at http://www.joh.cam.ac.uk/library/special_collections/artefacts/medals/
This Special Collections Spotlight article was contributed on 8 April 2013 by Kathryn McKee, Special Collections Librarian.