A Note from Benjamin Britten
We cannot let the year pass without waving a flag in celebration of Benjamin Britten's centenary, and once again the Cecil Beaton archive comes up trumps, supplying us with a note written by Britten to Beaton.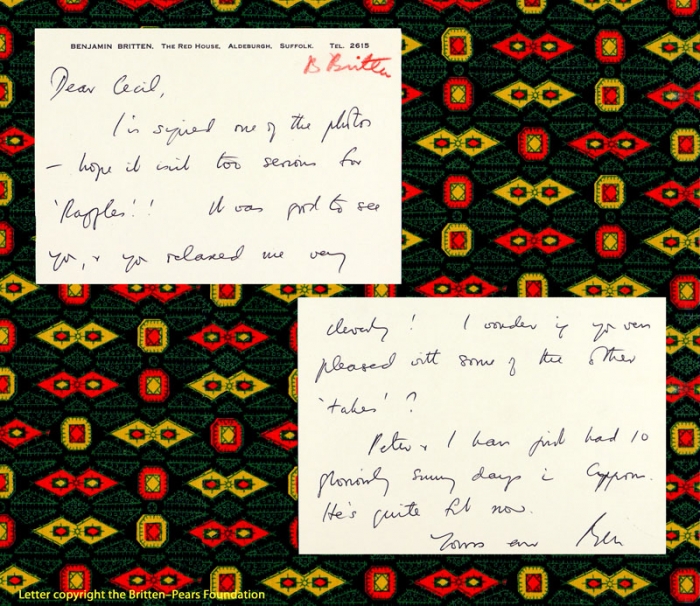 Dear Cecil,
                I've signed one of the photos—hope it isn't too serious for 'Raffles'!  It was good to see you, and you relaxed me very cleverly!  I wonder if you were pleased with some of the other 'takes'?
                Peter and I have just had 10 gloriously sunny days in Cyprus.  He's quite fit now.
                                                Yours ever           Ben
[SJC ref.: Beaton/A1/93/1]
Judging from the letterhead from The Red House, to which Britten and Peter Pears moved in 1957, in conjunction with dates of Beaton's portrait photographs of Britten at the National Portrait Gallery, the note can be dated to 1968.  The reference to 'Raffles' further narrows it to later in that year and, thanks to Britten's and Pears's informative diaries lodged in their archive at The Red House, we can estimate that it was written in the second half of October 1968; Britten's diary has a note of their flight from Cyprus on 12 October.
Benjamin Britten and Cecil Beaton by this point had known each other for a few decades; Hugo Vickers's biography of Beaton places them both in the early 1940s at the creative hothouse George Davis, the former Harper's Bazaar literary editor, presided over at 7 Middagh Street in Brooklyn—Britten and Pears among its residents—and Beaton's earlier photographs of Britten date from the same period. 
'Raffles' was the name of the new club at the Sherry-Netherland Hotel in New York City which, earlier in 1968, the Manhattan restaurateur Jerome Brody had commissioned Cecil Beaton to design.  From Britten's comment, it appears that Beaton asked him to sign one of the photos taken at the sitting for inclusion on the club's walls. 
A review by Mel Heimer in the 12 November 1968 edition of the Reading Eagle [Reading, Pennsylvania] mentions some of Beaton's photographs amongst the décor.  Heimer described Raffles as 'the latest and gaudiest of the private clubs around Manhattan', adding later that Beaton had originally wanted to call the club 'Dogs', as it '"would have been such fun to say 'I'm going to the Dogs tonight.'"'
 ----------------------------------------------------
With thanks to Dr Nicholas Clark, Librarian of the Britten-Pears Foundation, for his assistance and the kind permission of the Britten-Pears Foundation to reproduce the note.
The background on which it has been photographed is composed from the cover of one of Beaton's 1968 diaries. 
Links:
The Britten-Pears Foundation:  www.brittenpears.org.  Their archive holds a small file of correspondence between Britten and Beaton; the introductory page for the Foundation's very useful archive and library catalogues may be found at:  http://www.brittenpears.org/page.php?pageid=313.
To search the National Portrait Gallery collections: http://www.npg.org.uk/collections.php.
This Special Collections Spotlight article was contributed on 17 December 2013 by M. Marvin, Manuscripts Cataloguer.