Hartmann Schedel: Liber chronicarum
"What is the use of a book,"  thought Alice, "without pictures?"  - Lewis Carroll
Alice would have liked Hartmann Schedel's Liber chronicarum, also known as the Nuremberg Chronicle. Published in 1493 in Nuremberg by Europe's largest printer, Anton Koberger, this ambitious illustrated world history was commissioned by two of the town's merchants. Schedel, a  medical doctor, humanist, and book collector, assembled the text from a variety of classical and medieval sources, doubtless drawing on his own large personal library.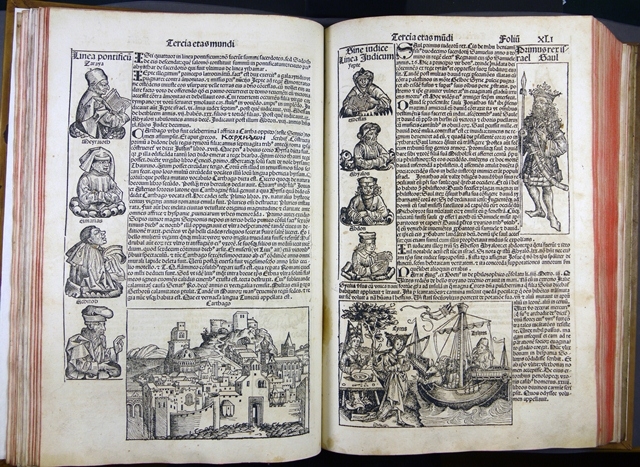 Michael Wolgemut and Wilhelm Pleydenwurff were brought in to design and illustrate the work, incorporating over 1800 images from over 600 individual woodcuts, more than any other previously published volume. A young Albert Dürer, who was apprenticed to Wolgemut whilst the book was in preparation, may have had a hand in some of the designs.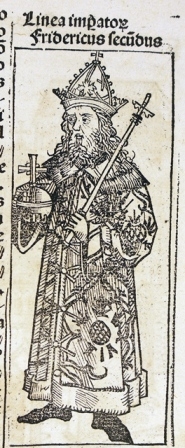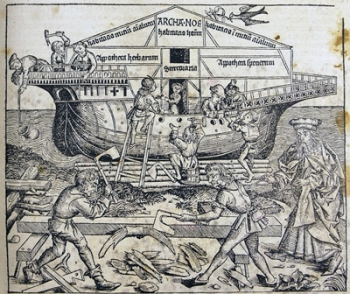 The work was revolutionary in its juxtaposition of related images with text. In a chronicle covering the whole span of history from the Creation to the time of publication, with a look forward to the Last Judgment, the woodcuts include depictions of Biblical characters, legendary scenes, European cityscapes, and portraits of rulers and popes.
Many of the larger illustrations were sold separately as prints, often water-coloured. Some copies of the book also had their illustrations hand-coloured. As was often the case with books of this period, many of the woodcuts appear in the text more than once, with just the captions changed.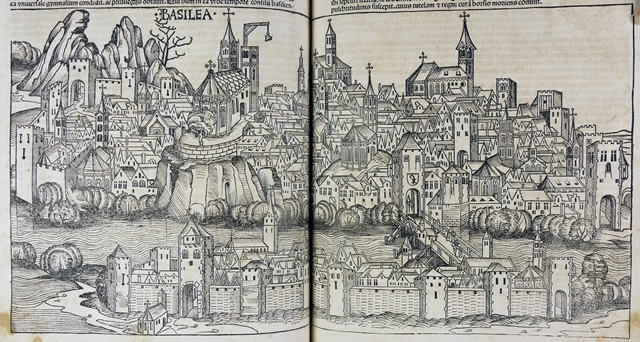 The Library's copy is the Latin edition, published in June 1493, produced for the religious and political elites. A slightly shorter, vernacular German edition followed in December of the same year aimed at the literate upper-middle classes.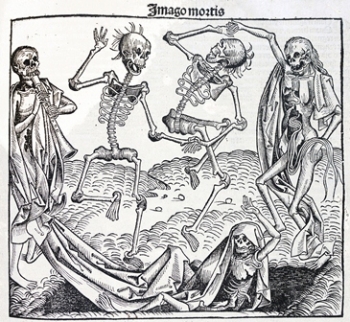 Besides occupying a key place in the history of book illustration, the Nuremberg Chronicle provides a wonderful insight into Renaissance knowledge and the fifteenth-century humanist understanding of the world.
This Special Collections Spotlight article was contributed on 30 May 2013 by Kathryn McKee, Special Collections Librarian.