Going to the polls
Those casting votes in the general election on 8 June this year will have a reasonable expectation that their vote is confidential, but this has not always been the case. It was not until the Ballot Act of 1872 that parliamentary and local government elections were conducted by secret ballot. Until that date, votes were cast openly, with potential for intimidation and bribery of voters. Public polls made it possible for poll books to be published, listing the electors within a constituency by name and indicating which way they cast their vote. Several such poll books survive in the Library's collections, and they provide a fascinating insight into the politics of the day.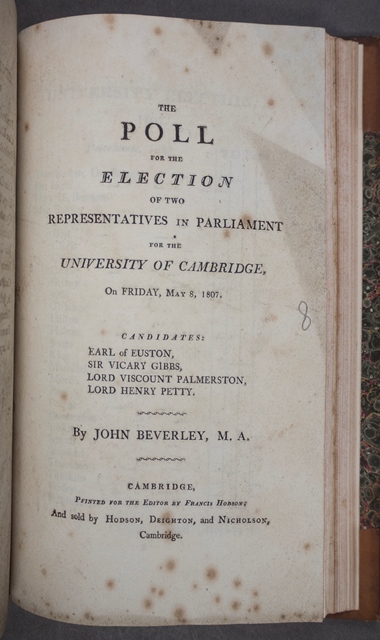 From 1603 until 1950 Cambridge University had its own parliamentary constituency, whose electorate consisted of the graduates of the University. Before 1918, only male graduates with a PhD or MA could vote. The University was entitled to return two Members of Parliament.
The poll book featured here is from the collections of James Wood, who was Master of the College 1815-1839. Wood had a particular interest in this election, not just because it was a constituency in which he had a vote himself, but his recent former pupil, Viscount Palmerston (later to become Prime Minister), was a candidate. Having already studied at Edinburgh for three years, Palmerston entered St John's as an undergraduate in October 1803. He spent eighteen months at Cambridge, receiving his MA three years later without examination as was the privilege of noblemen. He first stood for the University seat unsuccessfully in the by-election of 1806 following Pitt's death.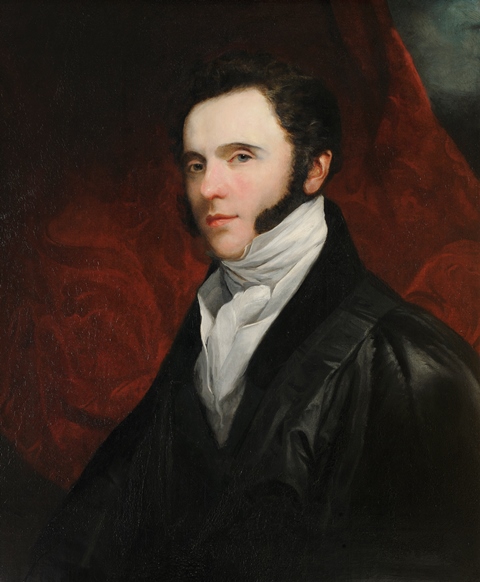 In the general election of 8 May 1807 Palmerston and Sir Vicary Gibbs were the Tory candidates, while the Earl of Euston and Lord Henry Petty stood for the Whigs. The poll book for the University constituency is organized by College, and gives a clear picture of the political preferences of each. It is no surprise to see Palmerston as the most popular candidate amongst members of his own College, particularly as St John's tended to lean more towards a Tory position. Euston and Petty were both Trinity men, while Gibbs had been a Fellow of King's until his marriage.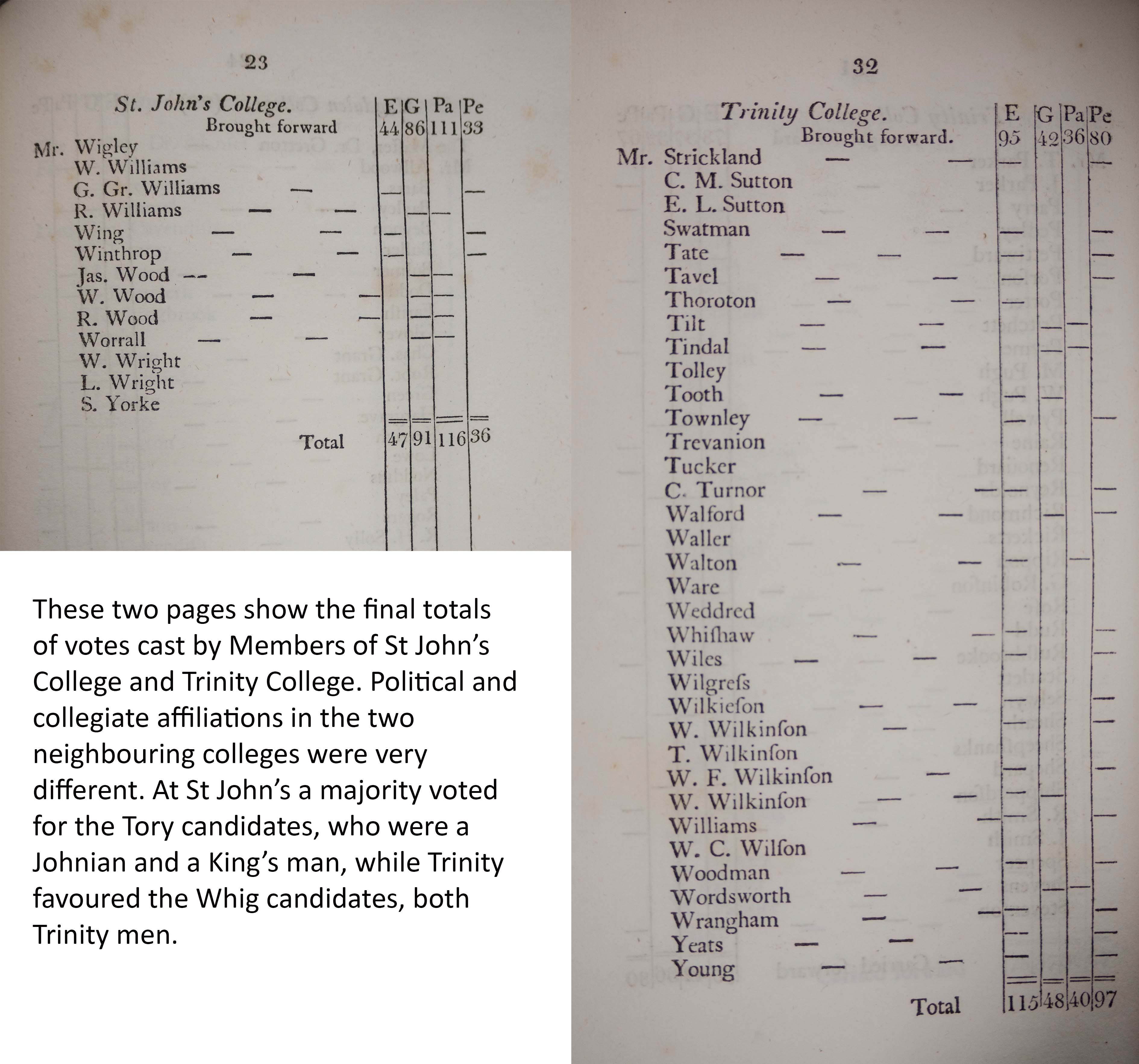 It was to be a very close contest. The electorate appears small by modern standards, though was by no means unusual for the time, members of the University Senate comprising 983 individuals, 631 of whom participated in the election, casting a total of 1211 votes in all. Euston received 324 votes, Gibbs 312, Palmerston 310 and Petty 265.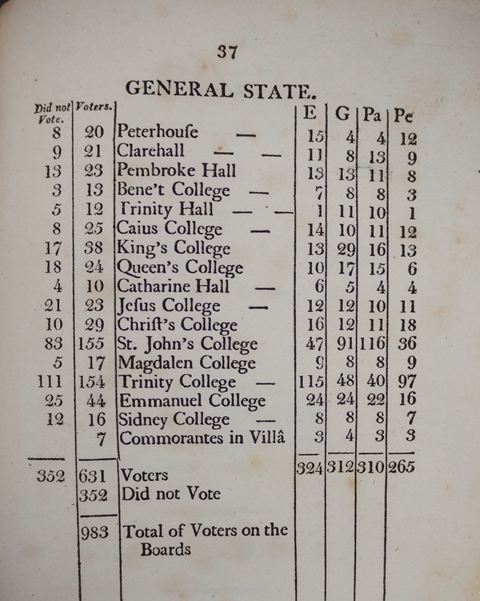 The results of the election: the University returned one Whig and one Tory MP in 1807. 
Postscript:  Having so narrowly failed to secure one of the University seats, Palmerston was returned the following day for Newport on the Isle of Wight, a pocket borough whose electorate of 11 aldermen and 12 burgesses could readily be persuaded to support a recommended candidate as one of their two Members of Parliament. 
This Special Collections Spotlight article was contributed on 24 April 2017 by the Special Collections Librarian.