A fine line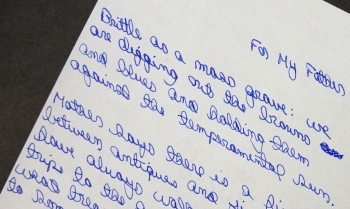 While serving as Librarian of St John's, the classicist Guy Lee arranged for the Library to receive manuscripts and worksheets from contemporary poets, most notably his fellow librarian Philip Larkin, whose handwritten 'A Study of Reading Habits' is frequently exhibited in the Old Library (despite Larkin's tongue-in-cheek request that it be displayed no more than once every fifty years). Guy Lee, who died in 2005 and whose personal collection of contemporary poetry is now held in, and borrowable from, the Library, left his post in 1984. But this did not mark an end to the addition of poetry manuscripts to the Special Collections.


Highlighted here are signed manuscripts of Paul Muldoon's 'Why Brownlee Left' and Jean Hanff Korelitz's 'Bottles': the poems are in copyright and so not reproduced in their entirety, but a sense of the physicality of the objects is, one hopes, apparent from the detail provided. Muldoon, from Co. Armagh, wrote this copy of an old poem (first collected in 1980's Why Brownlee Left) during his time as Judith E. Wilson Visiting Fellow at Fitzwilliam College in 1986. Korelitz, from New York, was Harper-Wood Student 1985-86 (and is, as such, a Johnian); her poem was collected in The Properties of Breath in 1989, by which time she and Muldoon had been married for two years. Muldoon's reputation as a poet and editor has continued to grow, while Korelitz has made her way primarily as a novelist, with the rare privilege of having had Tina Fey and Paul Rudd star in a film adaptation of one of her books (Admission, dir. Paul Weitz, 2013; inevitably available to borrow from the Library's AV Room).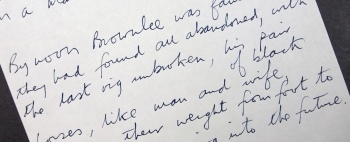 These poems' concerns are their own, and there is little thematic or linguistic overlap, as endearing as that would have been. Yet it is worth noting that both pieces have about them the air of the mission statement. Korelitz's describes searching through a neighbour's rubbish for bottles, 'with a reverence | for that perhaps-old glass': this digging is different from the 'Digging' with which Seamus Heaney opened his first collection, but no less effective or affecting as a parallel to the artist's walking the 'fine line | between antiques and junk'. Meanwhile, the ending of Muldoon's poem, about the mysterious disappearance of a farmer, takes on (and possibly took on at the time) additional resonance when considering the imminence in 1986 of the couple's marriage and their departure from England: the poem leaves the reader with the image of two horses, 'like man and wife, | shifting their weight from foot to | foot, and gazing into the future.' Coincidence, perhaps; but coincidences are not nothing, and there is some charm in these single-sheet manuscripts sharing an archive box and being, by virtue of alphabetical order, barely separate.
(It may, though, take a particularly sheltered Muldoon enthusiast to care that, while the lines of 'Why Brownlee Left' all have initial capitals in the original print publication, the practice is not carried over into this later manuscript; this is in line with Muldoon having changed his approach to capitalisation as of 1983's Quoof, and arguably does somewhat alter the dynamics of the poem in a manner that is best discussed at length but elsewhere.)
This Special Collections Spotlight article was contributed on 11 July 2014 by Adam Crothers, Library Assistant, who also writes about the literary vestiges of St John's for PN Review and thinks the capitalisation thing is pretty interesting.