Computer donations help pandemic-hit families access remote learning
"We started working with the Red Hen Project, Cambridge Aid and Cambridge Housing Society at the start of the pandemic, getting IT equipment to the families they support"
Old computer hardware from St John's College has been recycled to support families and children in need during the pandemic.
The hardware was donated in January last year to Emmaus Cambridge, a charity supporting people to work their way out of homelessness. Following an upgrade to College staff machines, almost 100 desktop computers were among the donated items, as well as printers, monitors, cables, laptops, network switches and keyboards that were no longer needed. This was the third batch of hardware to be collected by Emmaus, with more than 200 College computers being donated in total between October 2019 and January 2020.
Donated computer equipment is refurbished by Emmaus Reboot, the tech recycling arm of Emmaus Cambridge, and sold at low prices from its social enterprise in Landbeach to help its formerly homeless residents rebuild their lives.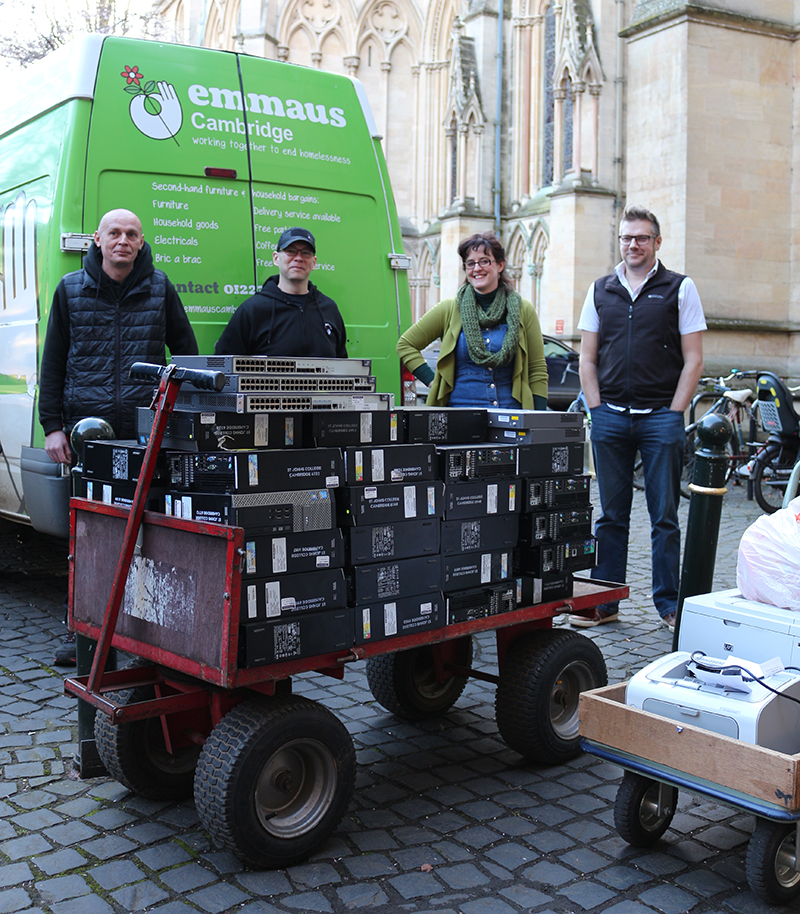 With many of the poorest families struggling to homeschool their children during the Covid-19 crisis due to a lack of resources, nearly half of the IT equipment from St John's has found a new lease of life in the hands of Cambridge youngsters who had no access to digital devices, so they can learn remotely. The scheme is thanks to a partnership between several Cambridge charities supporting families in need.
Ian Docherty, from the Operations team at Emmaus, said: "The past 12 months has been tough for everyone, at Emmaus we are always looking for ways that we can help those in need and rely on donations to support our community in Landbeach, and help those less fortunate than ourselves.
"We have been able to recycle the hardware that was kindly donated from St John's to families and children in need. To do this, we started working with the Red Hen Project, Cambridge Aid and CHS Group (Cambridge Housing Society) at the start of the pandemic supporting their work in getting IT equipment to the families they support."
About 40% of donations from the College have been used in this way in the past year. Ian added: "During the times we have been able to open in last 12 months we have sold most of the rest of the St John's donations to people who needed IT to enable them to work from home.
"All units have been securely wiped and cleaned and installed with a fresh operating system before being given a new home."
Emmaus returned to the College on Wednesday 17 March to collect its fourth batch of donated hardware, including access points (routers for large spaces), laptops, printers, network switches and computer monitors.
Amy Leung, College IT Administrator, is on the College's Sustainability Committee and came up with the idea of donating computer equipment to Emmaus in 2019. She said: "The pandemic has highlighted how challenging it can be for some families in Cambridge to access the technology needed for remote learning. We are very happy to have played a small role in helping children to continue to receive an education during the disruption Covid-19 has caused.
"We're delighted to have donated more hardware items to Emmaus to help its vital work continue in the future."
Published: 25/3/21