College Baths
Once situated behind New Court, the St John's College Baths were a welcome addition to the College when they first opened in Michaelmas Term 1922 – though they were by no means appreciated by all. For some Fellows, such as physicist and mathematician Sir Joseph Larmor (1857-1942), a bathhouse seemed an unnecessary expense and luxury for students when the shortness of the eight-week university terms was considered. Initial resistance to the idea of a bathhouse certainly appears to have been strong enough to cause some delay in obtaining the approval for them. In his memoirs, G. G. Coulton remembers how, at a College dinner one evening shortly before the Baths were completed, the Master remarked how well the Honorary Fellow, George Downing Liveing (1827-1924), had done in having lived long enough to have "witnessed the introduction of railways, electric telegraph, motors, aeroplanes", adding that it was now hoped that he also would "'live to see the baths at St John's'". (Coulton, G.G. [1943], Fourscore Years: An Autobiography, Cambridge University Press, pp. 97-98.) Liveing did indeed live long enough to witness the construction of the bathhouse on the site of his old Chemical Laboratory (originally constructed in 1853), though history does not record whether he had any opportunity to visit the Baths himself!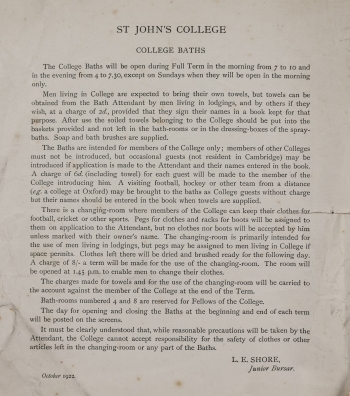 The circular shown here, issued by the Junior Bursar and dated October 1922, indicates the rules and regulations which must be observed by visitors to the Baths. Crucially, the bathhouse should be used members of the College only. Members of other colleges were not permitted, though occasional visiting guests from outside of Cambridge could be introduced by special application to the Bath Attendant for a charge of 6d. (including towel). The exception to this restriction was in the case of a visiting sports team from Oxford or elsewhere, who could enter the baths without charge. Opening hours during Full Term were from seven o'clock to ten o'clock in the morning and from four o'clock to half past seven in the evening, with the exception of Sundays, when only morning opening hours applied.
Once inside the Baths, guests would receive complimentary soap and bath brushes. While men living in College were expected to bring their own towels, those living in lodgings could obtain a towel from the Attendant for a charge of 2d. Perhaps anticipating some level of untidiness, the circular stresses that soiled towels should not be left in the bath-rooms or in the dressing-boxes of the spray-baths (showers), but placed in the appropriate basket. Bath-rooms 4 and 8 were reserved for Fellows' use only. A changing-room for members to keep their sports clothes was also available and open daily from 1.45pm. Each member would receive an allocated peg and shoe rack on application to the Attendant, and any clothes left overnight would be "dried and brushed ready for the following day". Use of this changing-room cost 8/- a term.
In his memoirs, the theologian and Master of St John's College, 1959-1969, John Sandwith Boys Smith (1901-1991) recollects that the new bathhouse was "a well-designed building", accessed via B Staircase, New Court, with "both baths in cubicles (two reserved for Fellows) and showers with dressing cubicles". An undergraduate at St John's from 1919 to 1922, Boys Smith himself narrowly pre-dated the bathhouse, and yet struggles to recall what most students did in its absence. For his own part, Boys Smith "regularly had a cold bath in a flat circular bath in my bedroom", since he had
[…] grown accustomed to cold showers at school at Sherbourne, and had grown up in a country vicarage where there was no hot water system and hot water had to be carried upstairs. But the [College] Kitchen would, at a cost of 6d., send up a large can of hot water to rooms. (J.S. Boys Smith [1983], Memories of St John's College, Cambridge: 1919-1969, Oxford University Press, p.17)
Sadly, very few images of the College Baths remain. Following the increase in student numbers post-1945, the bathhouse was demolished in the early 1960s along with the collection of workshops, storerooms and squash courts which formerly stood at the back of New Court to accommodate the construction of the Cripps Building (1966-1967). Nevertheless, the above circular helps us to imagine what a trip to the College Baths might have been like and offers an insight into a small but significant part of mid-twentieth century College life.
(Back of New Court, with the College bathhouse on the far left-hand side.)
This Special Collections Spotlight article was contributed on 19 May 2016 by Eleanor Swire, Information Services Graduate Trainee 2015-2016.