Christmas letters from a POW camp
Christmas is a time traditionally passed with friends and family. Separation from those whom we love can thus prove hugely difficult, especially in the midst of armed conflict, as the wartime letters of John Anthony Crook (1921–2007) reflect. Crook began his studies at St John's College, Cambridge, in 1939, before enlisting with the 9th Royal Fusiliers in 1942. Captured as a prisoner of war at Salerno in September 1943, during the allied landings in Italy, he was sent to Stalag Luft VIII-B at Larnsdorf in Silesia, where he remained for the next two years until Russian forces liberated the camp in 1945.
Crook's Christmas letters for 1943 and 1944 present a vivid picture of life in the camp. They describe the plays and concerts organised by the men (Crook was himself a keen clarinettist), and offer reassurance to Crook's parents that they should not worry about him. Crook was especially active during the Christmas period, allowing himself "no time to pine away". In his letter dated 12th December, 1943, he records performances of "Carols, 'Messiah', a Band Concert, Cabaret, Pantomime [and] decorating our barrack with paper-chains".  A letter dated 20th December, 1943 explains that he has been:
"So intensely busy about rehearsals and writing parts, teaching Greek, cooking gelatine-and-chips, planning a chamber-music concert and acting as usual as a general confidant and receiver of everyone's troubles".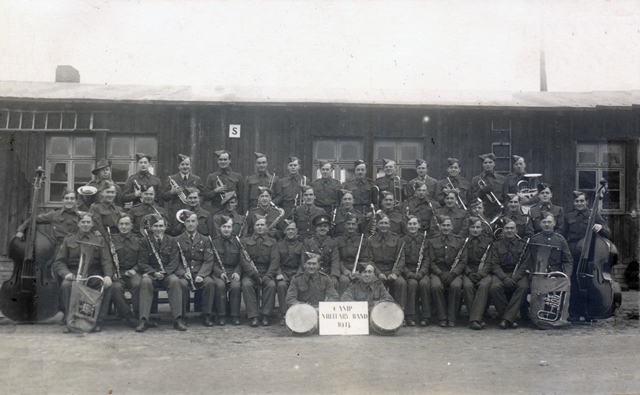 With a supply of Red Cross parcels, plenty of fuel and ample entertainment, Crook optimistically predicts that they "shall do all right" over the festive season.
Yet despite their resolved optimism, Crook's letters also reflect the difficulties of living in a POW camp, particularly during the winter months. His reference to the "very Xmassy weather – snow and ice" hints at the perishing cold temperatures and challenging conditions experienced by the men. Life as a prisoner-of-war meant learning to live without certain things as well. While Crook instructs his parents not to send any clothes to him, he requests cigarettes, because, he explains, "they are currency here, and one can obtain for them anything from a banjo to a tin of porridge".
Crook's letter to his parents on Christmas Day, 1944, is particularly moving, and reveals the determination of the men in the camp to remain brave, despite missing friends and family. He writes that, notwithstanding the cakes and the atimo and whatever good cheer can be put into a prison camp on Christmas Day, and even with the perfect cold, crisp, sunny weather, all that he and the other men can think of are their loved ones at home. The dances and concerts and parties are a brave effort, with everyone in their best khaki slacks, but Crook can't help but wish he was at home and longs to see the faces of his parents again.
This Special Collections Spotlight article was contributed on 7 December 2015 by Eleanor Swire, Information Services Graduate Trainee 2015-2016.