Academic to head to United Nations in USA to showcase interfaith work in fighting hate speech online
"These young people are already contesting terrorist ideologies on these new communication platforms and sharing messages of peace"
A Junior Research Fellow at St John's is due to travel to the United Nations in New York in February to showcase the results of a year-long interfaith initiative to fight hate speech, fake news and the stoking of interreligious violence online.
In January last year, Dr Marie Chabbert was chosen as an Interfaith Ambassador for the United Nation's Alliance of Civilizations (UNAOC) and United Nations Office for Counter-Terrorism (UNOCT).
Next month she will be heading to the UN headquarters in the Big Apple to take part in an international symposium celebrating the work of the Empowering Dialogue and Interfaith Networks (EDIN) programme, with 17 fellow UN Interfaith Ambassadors from across Europe and the Middle East. The participants, who are aged between 20 and 35 and are from different denominations of Christianity, Islam and Judaism, will be taking part in the final event of the programme on 17 and 18 February.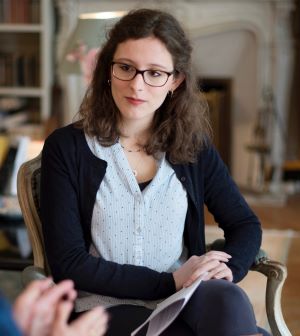 The EDIN project saw the 18 young religious leaders and media makers attend workshops focused on using religion and interfaith dialogue on social media to defuse sectarian tensions, and to counter extremist and hateful narratives and fake news. The training covered digital storytelling – learning how to develop narratives from the three religions on topics related to peace, mediation and conflict resolution.
The aim is to provide young social media users with religious literacy and competencies to debunk terrorist propaganda and promote religious understanding as a key to social cohesion.
Over the past year, Dr Chabbert and her fellow ambassadors have spoken with experts in interfaith dialogue, journalists, media professionals, religious scholars and representatives from interfaith leadership to learn more about community engagement and intercultural mediation, violent extremism and online radicalisation. They then developed their own social media campaigns. With two colleagues from the programme, Dr Chabbert launched the 'Faithfully Public' art-essay social media campaign that sought 'to literally redraw the role of faith in public life and social cohesion'.
The group is now developing a digital toolkit to help improve religious media literacy of policy makers, media professionals and religious leaders.
Of the experience, Dr Chabbert said: "One of the greatest outcomes for me has been the creation of interfaith bridges. I have had the chance to meet, to train and engage in extended discussion with brilliant young minds - young religious leaders, internet activists and media makers from all over Europe and across the Middle East.
"I realised that these young people were essentially trying to do the exact same thing as I was doing in my own corner of the world, so it is clear that we will be stronger together, joining forces in trying to build respect and mutual understanding between religious communities."
According to a 2018 Pew Research Centre study almost a third of the world's countries are experiencing high levels of hostility motivated by religion. Social media has become central to the spread of violent and extremist ideologies.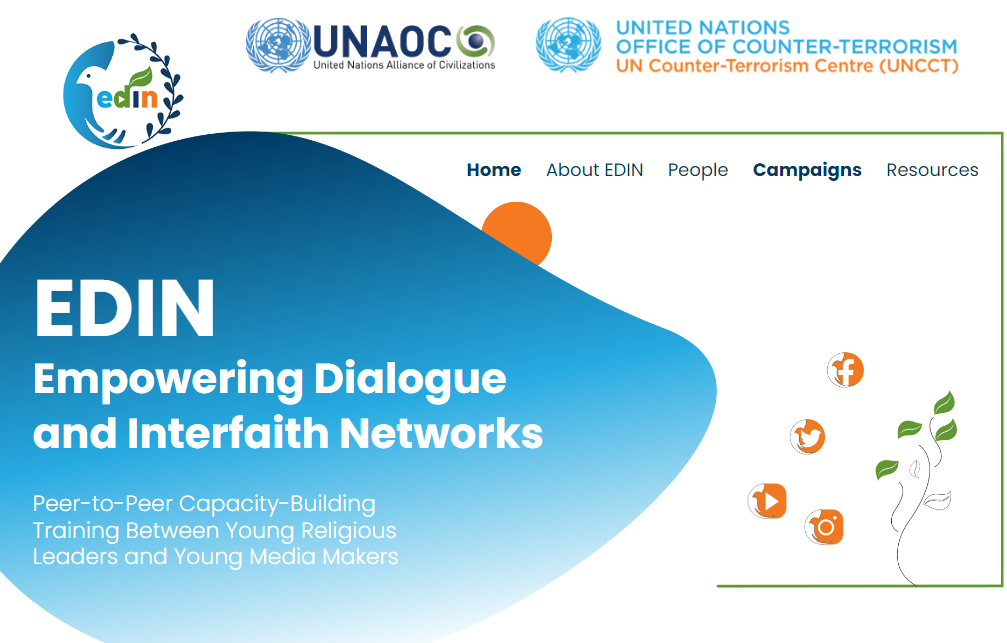 At the symposium, Dr Chabbert and her colleagues will be showcasing the results of their social media campaigns, discuss good practices and lessons learned and share their recommendations with representatives of governments, media, social media and UN offices. Miguel Ángel Moratinos, Under-Secretary-General and High Representative for UNAOC, and Vladimir Voronkov, UNOCT Under-Secretary-General, are both due to be in attendance.
Mr Voronkov said: "These young people are already contesting terrorist ideologies on these new communication platforms and sharing messages of peace. They are building coalitions and communities of young people online and offline to provide alternatives to terrorist narratives of hate and division. We have much to learn from their experience."
An affiliate of the Cambridge Interfaith Programme and the French Department of the University of Cambridge, Dr Chabbert's research sits at the crossroads between French philosophy and Religious Studies. It draws on 20th- and 21st-century French thought to focus on the so-called 'return of religion' at the forefront of international preoccupations, how it affects traditional categories of thought and the definitions used in social sciences, as well as the impact it has on our way of relating to the world and to each other.
She joined St John's College in Michaelmas Term from Oriel College, Oxford, where she was a lecturer.
Since 2016, Dr Chabbert has been an elected member of the Executive Committee of the European Interfaith Youth Network of Religions for Peace, the largest international coalition of interfaith leaders. She is also a member of the French interfaith youth network, Coexister, and founded the London Chapter in 2015. She is a regular contributor to the Religion section of French publications Le Monde and Esprit.
When the EDIN programme ends, the participants are expected to continue to serve as Interfaith Ambassadors for UNAOC and UNOCT/UNCCT, sharing their experience and good practices in major international events.
Published 28/01/2022