Fifteenth-century antiphoner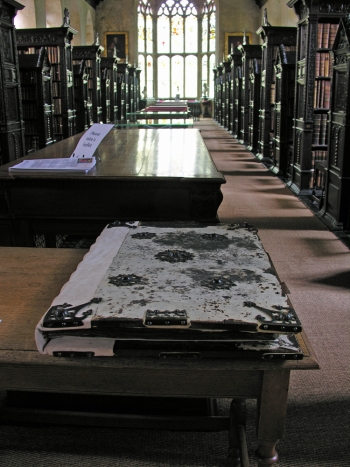 Every year, thousands of visitors come to the Old Library here at St John's as part of our programme of outreach and education events. Of the rich and varied selection of items from our Special Collections that we exhibit, this medieval antiphoner never fails to attract the attention of our guests; measuring 47 by 70 cm, it is the largest book in our Library and has astounded visitors to St John's College for at least 350 years. John Evelyn, the 17th century diarist, mentions the antiphoner in his entry for 31st August 1654:
This evening, to Cambridge; and went first to St. John's College, well built of brick, and library, which I think is the fairest of that University … a table and one piece of perspective is very fine; other trifles there also be of no great value, besides a vast old song-book, or Service, and some fair manuscripts. There hangs in the library the picture of John Williams, Archbishop of York, sometime Lord Keeper, my kinsman, and their great benefactor.

Not much is known about how the antiphoner came to be a part of our collections. It is a very sturdy piece of craftsmanship – the binding is made of wooden boards covered with skin, and large metal ornaments serve to both reinforce and decorate the covers. Its vellum pages are decorated with elaborate penwork in a Spanish style. Interesting details pictured below include a scribal correction to the manuscript, and small letters hidden within certain initials.
Because the manuscript is highly decorated and unusually large, this antiphoner was probably not intended for everyday use. Instead, it might have played a more decorative or ceremonial role in the monastery in which it was housed. It contains dozens of chants, each assigned to a particular service of the Divine Office. The chants would have been sung by a choir of men and boys in unison. You can listen to a recording of a chant from the Antiphoner below; it was performed for us by John Clapham, a member of the St John's College Choir.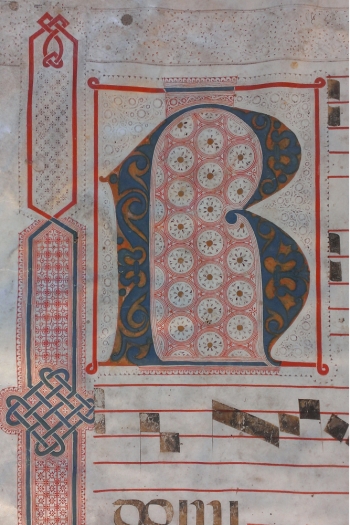 My thanks go to Giovanni Varelli, PhD student at St John's College, for his help and advice.
This Special Collections Spotlight article was contributed on 9 July 2013 by YiWen Hon, Graduate Library Trainee 2012-2013.