Tributes paid to 'unrelentingly kind' former student who has died
"We will be true to his values as we learn how to live without him"
A 'legendary' former captain of St John's Rugby Club has died from a rare cancer age 23.
Sam Fitzsimmons died at home in Cheshire, surrounded by his family on 16 May 2020 - less than two years after he was diagnosed with Ewing sarcoma, a cancer that affects bones, or the tissue around bones, in children and young people.
His beloved family and friends have paid tribute to the St John's graduate who, as a teenager affected by the suicide of a friend, wrote a list saying everyone should 'smile, laugh, and be happy as if it were your last day and the only day that counts'.
Sam leaves behind his parents Catherine and Dominic, and his younger sister Rachel.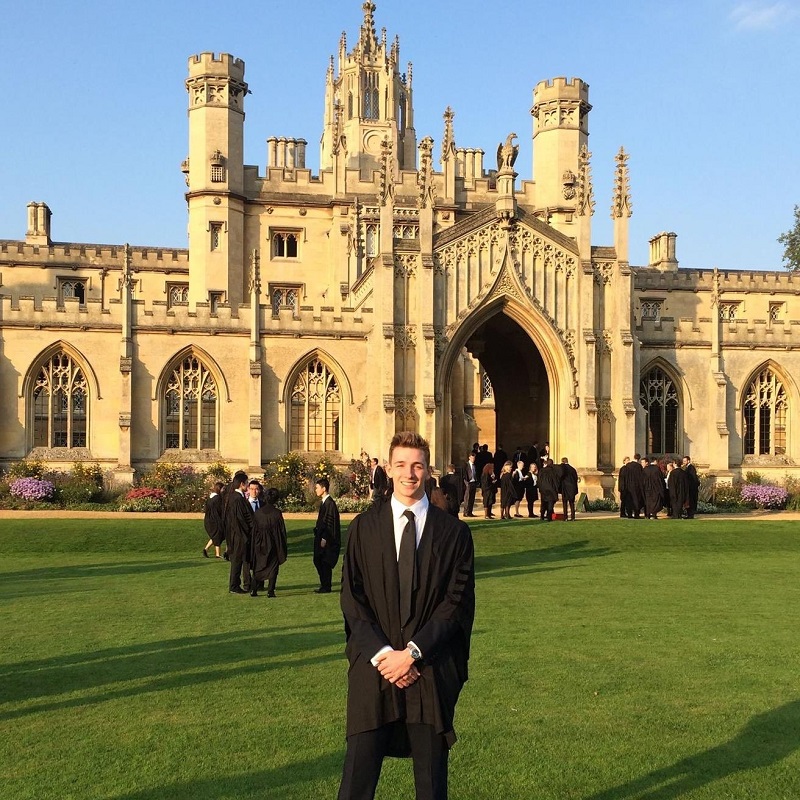 Catherine said: "Sam was so lovely. He was good fun and constantly looked for ways to make other people's lives better - we are so grateful to have had him. He always faced life with determination, courage and bravery. After he was diagnosed with cancer, he used to say 'why not me?' We are still at the 'why him?' stage. He would always try and see the beauty in everything. Even towards the end of his life, he would find something worthwhile in every day. We will be true to his values as we learn how to live without him. It has always been an absolute privilege to call Sam our son."
Rachel, who had a very close relationship with her older brother, said: "Sam was the kindest person I've ever known and he inspired me to be a better person. If I was ever upset, he would be the one getting the ice cream out. When he was diagnosed with cancer he was more worried about me than he was about himself. We never argued, we were always cracking jokes together and if I had a problem, we were in it together. He was very protective and always wanted the best for me."
His family describe him as a 'determined and independent' boy who, age 14, decided he wanted to study Russian at GCSE so he instigated a move to Manchester Grammar School.
Dominic said: "He was always very bright and even from a very young age when other children were monosyllabic he wasn't afraid to talk to adults. He was outgoing, confident and absolutely loved sport. He did karate, rugby, football, and cross-country running. He was a very gifted linguist and scientist and settled in quickly at Manchester Grammar. He made a phenomenal group of friends there and kept in touch with his friends from his old school."
"Sam never stopped being a captain; he never stopped leading by example"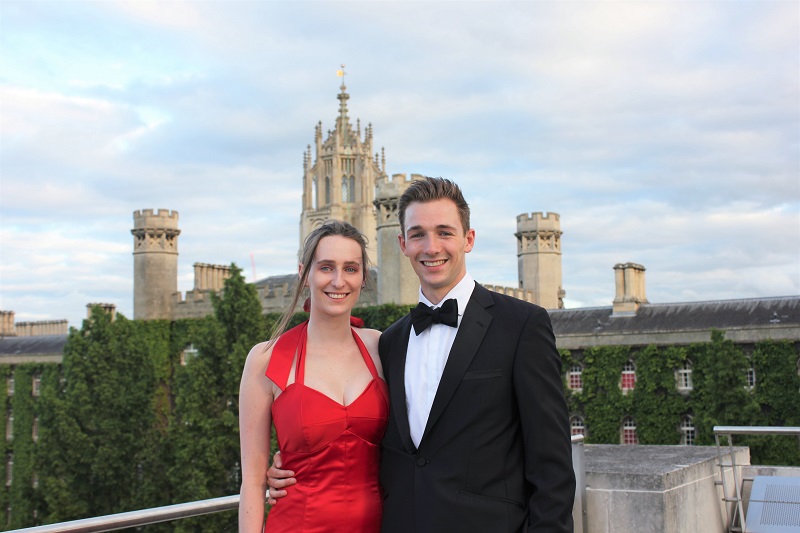 On A-level results day, even when he knew his offer of a place at Cambridge depended on his results, he was relaxed about finding out his grades.
Catherine recalled: "Despite the fact that he really hoping to get into Cambridge, he didn't want to get up early to go to school to find out his results! He told his friends – 'We will go when we are ready, it won't make a difference, we have either got the grades or we haven't!'"
His hard work paid off – he achieved 4A*'s at A-level in Biology, Chemistry, Maths and Russian – he was on his way to St John's to study Natural Sciences.
Sam made friends quickly and easily at Cambridge, Catherine remembers him talking about his Cripps staircase friends, friends from his course and his rugby friends.
The family enjoyed visiting him at St John's and laughed when they remembered one story involving Sam and a group of tourists visiting the College.
Catherine explained: "In his first year Sam lived in a room on the first floor of Cripps. When we arrived to visit him, he saw us out of his big window. He wasn't wearing a shirt and he started waving at us and shouted that we should come straight up. There was a group of tourists directly ahead of us who got very excited because they thought he was talking to them!"
Sam threw himself into life at Cambridge and played rugby for St John's throughout his degree, a highlight was being elected captain of the Redboys, the men's team of St John's Rugby Club, in his final year. He was instrumental in introducing The Good Lad Initiative at St John's, a project which works to transform the behaviour and attitudes of men and boys to 'motivate them to become agents of positive change within their communities'. He also actively supported and encouraged female students at St John's as they worked to launch more women's sports teams.
Charlie Smith, his friend and fellow St John's student and rugby player, said: ""During his illness, Sam and I often reminisced about our time playing rugby for St John's. The first time we met was when we both tentatively approached the pavilion, awaiting the first training session of the year as innocent and earnest freshers. We talked about all those great away victories at Jesus and Downing, and all those greater nights in the bar that followed. We reflected on lifting the Cuppers trophy with a truly outstanding team - a team Sam had devoted his undivided attention and energy to.
"He loved the club, and everyone associated with it. This was never more clearly demonstrated than in his unwavering support for all those who played for the College. Whether in assisting the creation of a women's team in his final year, or in stoically standing on the touchline to cheer on his friends during the middle of his exhausting treatment, Sam propelled us to achieve. Sam never stopped being a captain; he never stopped leading by example."
"He was genuinely interested in people and social justice, it is incredibly sad that we won't get to see what else he would have gone on to achieve"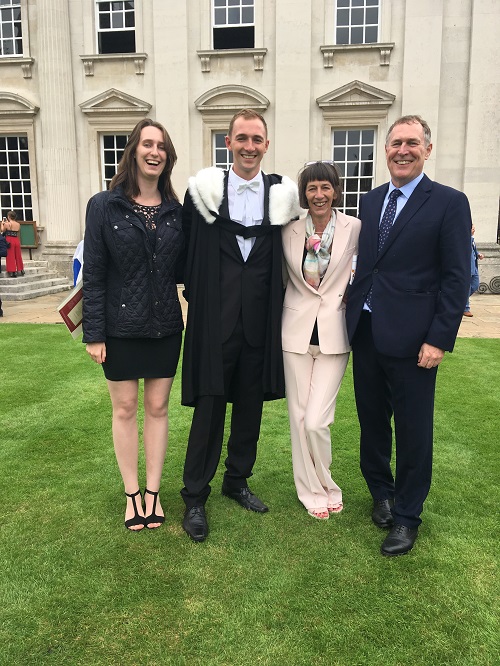 Sam began to experience severe pain during his last year at St John's and he was very ill during his final exams and had to miss his original graduation ceremony. He was eventually diagnosed with Ewing Sarcoma in July 2018 and although he initially responded well to treatment, the outlook was bleak.
He had several rounds of chemotherapy at The Christie Hospital and Dr Sam Crawshaw, Sam's former biology teacher and Head of Year at Manchester Grammar School, was one of the many people who visited him during his illness.
He said: "I thought the world of Sam, he was always thinking about other people and was very, very special. Even after he was diagnosed with cancer he showed us how to deal with it by being very calm and rational – a typical scientist. He got full marks in his A-level biology exam; he was brighter than me, I just had 20 years of reading and learning on him.
"He was genuinely interested in people and social justice, it is incredibly sad that we won't get to see what else he would have gone on to achieve – he would have been so good for the world. I talk about him often at school and l will still remember him when I am an old man."
Despite having a fractured back because of the condition, Sam enjoyed spending some time working at his graduate job in London at OC&C Strategy Consultants and he even spent two weeks volunteering in Calais feeding people in refugee camps.
Catherine said: "I was worried about him going to Calais but Sam was adamant. He always used his influence to make a difference whenever he could."
Dominic added: "He loved living with five friends in a hostel together in his third year. He said his final year at St John's was the best year of his life. His Cambridge friends and his friends from home were all very supportive during his illness. They have continued to be a big support to us after his death. They visited him from all over the country which meant so much to him and to us.
"People didn't always realise how ill he was because he tried to manage everyone's feelings. Even when he was told there was nothing more that could be done, he only described it as a 'set back'. He is still helping people after his death as a podcast he was interviewed on is now being used to help train medical staff who deliver palliative care."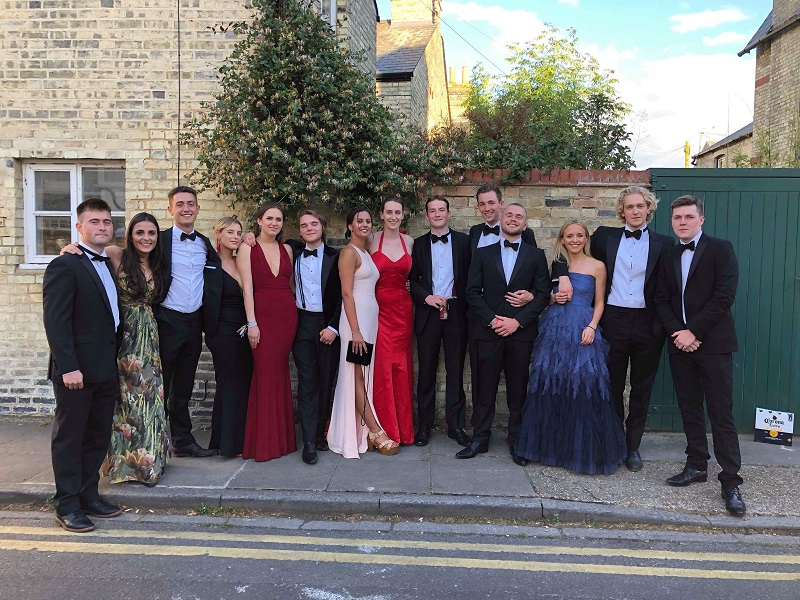 Dr David Stuart, Sam's Tutor at St John's, said: "Gregarious by nature, Sam was both an excellent student and a keen and successful sportsman who rose to be Captain of the College Rugby club. Outside of College he was an adventurous hiker, who walked long mountain trails in the Himalayas and in Europe.
"Sam was personable, always fun and interesting to talk with, and formed strong friendships with a large number of students in College and developed good enduring relationships with Fellows and staff in the College. A dominant impression he left on many was of a very strong and confident young man, who could do whatever he set his mind to, and would achieve many things in life. He will be greatly missed by many."
"We will always carry him with us in everything we do"
Sam's strength and bravery has been widely admired, and his dry sense of humour brought laughter into people's lives when they needed it most.
Catherine said: "When one of his friends commented about a girl chatting to Sam at a party when he was undergoing chemotherapy, Sam had joked that even though he looked like Voldemort she was chatting to him because he had batted his final eyelash at her!"
Noah Stevenson, a former student at St John's, became best friends with Sam after they met on their first day at Cambridge. The pair lived together in their second year, and enjoyed both the ordinary and extraordinary aspects of College life, from afternoons drinking cups of tea in Cripps kitchens to Varsity skiing trips and the St John's May Ball. Noah described how, even during the most challenging days of his illness, Sam continued to value what he cherished as most precious in life- his family, friends, and making people smile.
He said: "Sam was the perfect mix of deeply thoughtful, rigorously intelligent, and unrelentingly kind while also embracing a boisterous and deep love for life in all its unpredictability. Sam confronted his cancer with great dignity and immense strength of spirit. It is a testament to Sam and his family the wonderful memories we continued to have over the past two years - they generously welcomed us into their home and we had some of the best years of our lives with Sam.
"He always made us laugh, and in true character, throughout his illness, Sam supported us, not the other way round. I know I speak for the countless friends that love Sam, when I say we will always carry him with us in everything we do."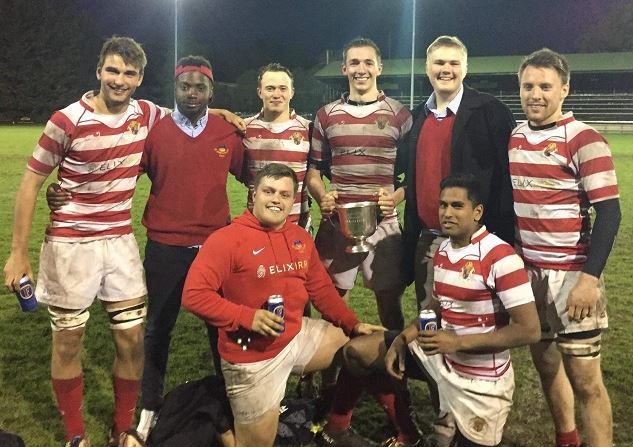 Before he died, Sam collaborated with St John's to establish the Sam Fitzsimmons Fund to support at least one state-school educated student a year who participates in sport at St John's. The fund will also support a travel grant to encourage St John's students to explore the world through trekking, hiking, or other forms of physical courage and endeavour.
Fundraising for The Sam Fitzsimmons Fund has now begun in his memory. 
Listen to the Naked Student Podcasts featuring Sam. 
In line with his wishes, Sam is buried in Adlington Memorial Park, a former deer park, in Cheshire because he loved nature. His wide circle of friends couldn't attend his funeral because of the Covid-19 global pandemic, but Sam's family will organise a celebration of his life and a tree planting gathering when numbers aren't restricted.
Published: 17/7/2020