Inside the NHS with St John's medics
"The model of medicine really hadn't changed for hundreds of years, until Covid hit"
The University's clinical medical students are on the front line of the pandemic, working in placements across an NHS in the grip of Covid. Karen Clare caught up with three students from St John's to ask them about the challenges they face.
Ashwin Venkatesh is a sixth year medical student from Leeds who in February finished his final exams and began a work placement on a respiratory ward at West Suffolk NHS Foundation Trust in Bury St Edmunds. The ward includes Covid patients being treated in two specialist isolation bays.
Clinical training begins in the fourth year of a medical degree at Cambridge, so Ashwin has experienced life as a medic pre-pandemic as well as now, during the greatest crisis in National Health Service history. For student medics, the changes are stark.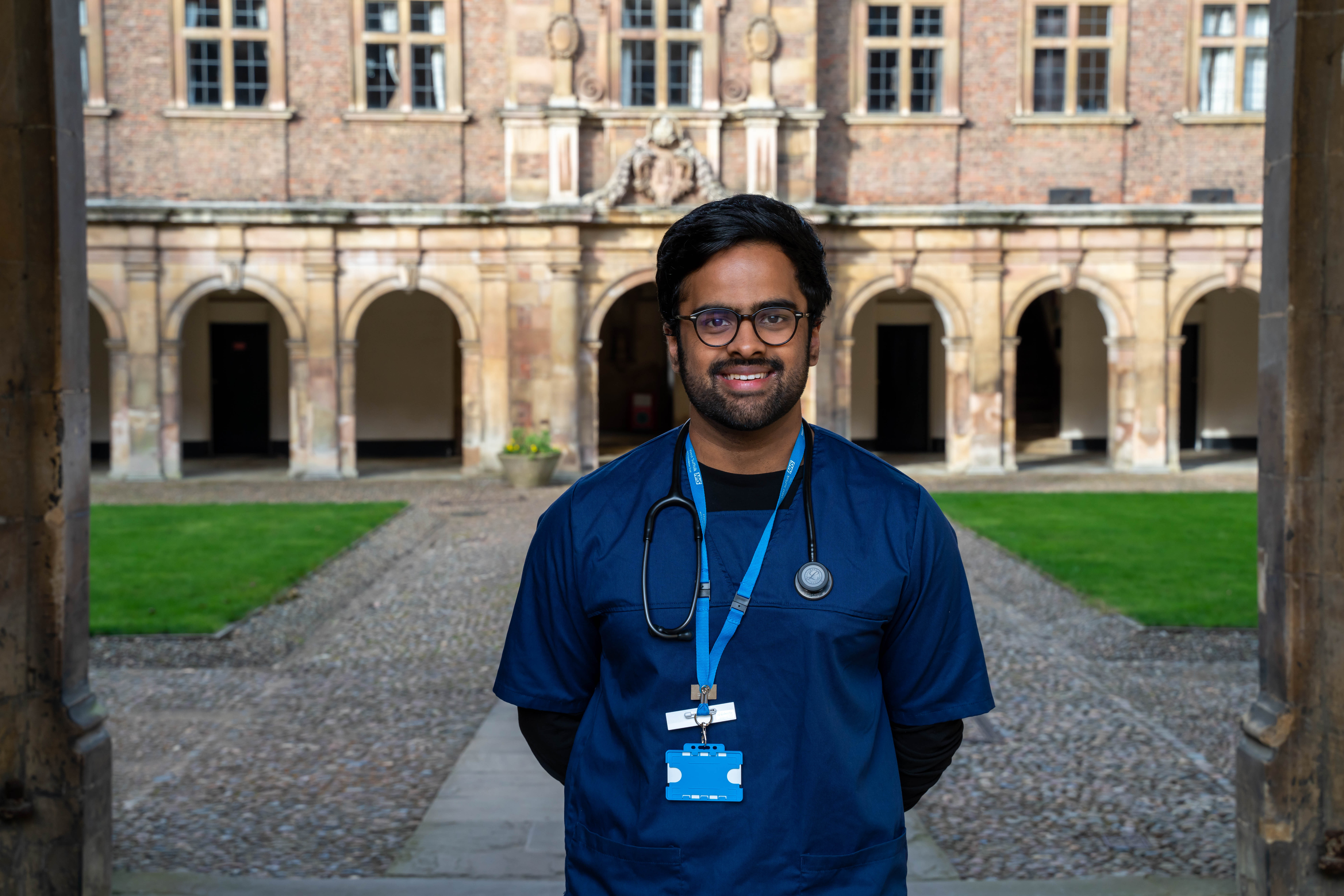 The 24-year-old said: "It's a very different setup in hospitals now, and a very different learning experience to before. Obviously, there are lots more infection control measures around the hospital, we're trying to limit numbers where possible. So wherever GPs can take care of patients without needing them to come into hospital, that's ideal.
"In respiratory, they've been trialling what is called a virtual ward round; this is for patients who are well enough to be at home, but still need to be monitored frequently. We can now send remote monitoring equipment to their house to check in virtually with them after we've done the physical ward round in hospital. It is a dynamic setup, which is very different to what we used to do. The model of medicine really hadn't changed for hundreds of years, until Covid hit. Suddenly we are using technology to be innovative."
Stories of hospital patients dying without their loved ones by their side, because of the Covid-19 restrictions, have been plentiful - and poignant. During Ashwin's first week working in palliative care since Covid, he provided end-of-life care for an 85-year-old woman. The patient had advanced dementia, worsened by a bleed on her brain caused by a fall, and no longer recognised her daughter, who sat beside her.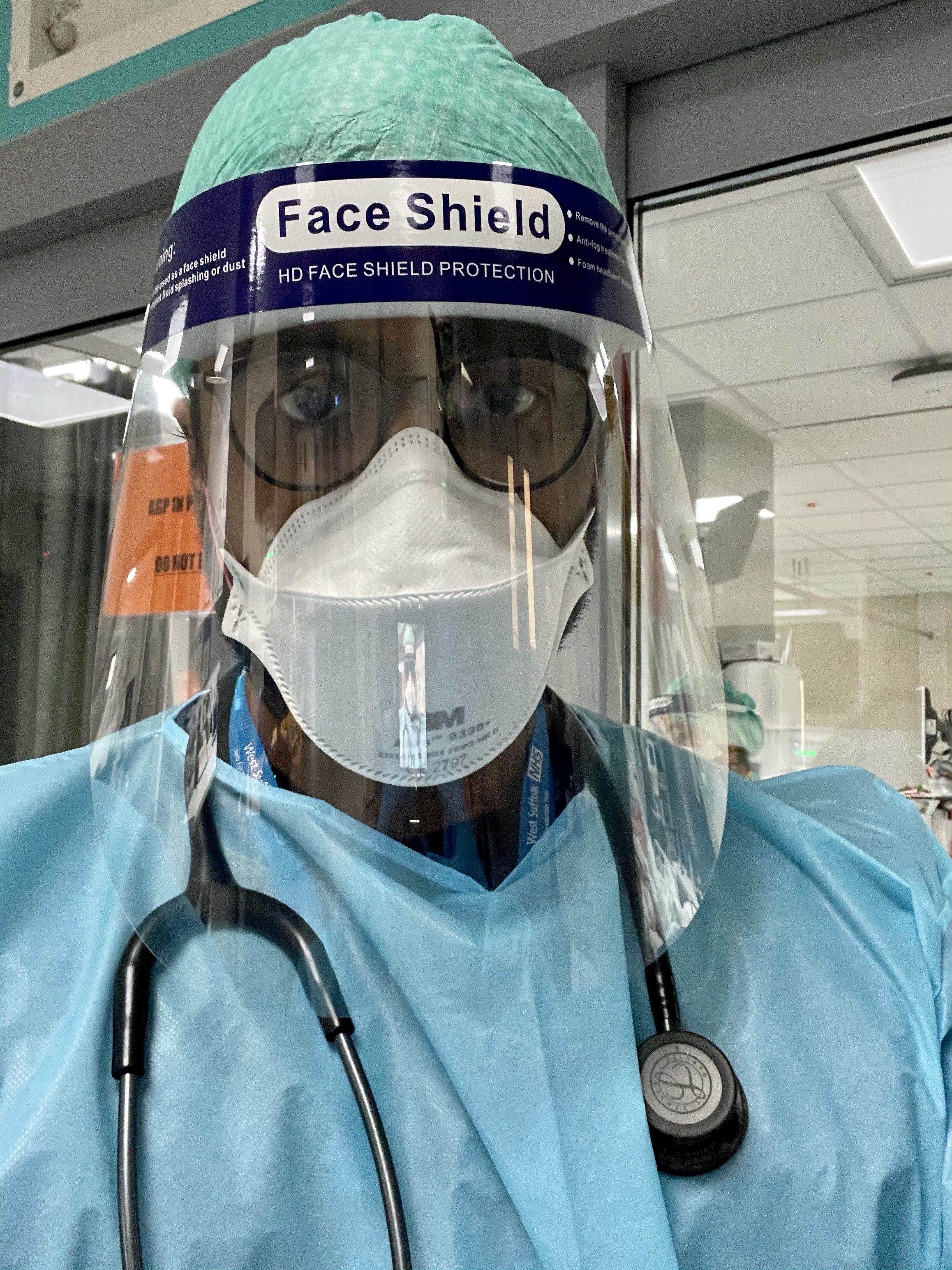 "The challenging thing is that under the current restrictions, only one person or family member is allowed in the hospital at any one time. No one wants to die alone and, in an ideal circumstance, you'd be surrounded by the people that you want to be with you," said Ashwin.
"The daughter was with her mother, and she was telling us about their life and her relationship with her mum, and how she's got siblings who unfortunately couldn't be there because of Covid.
"For a doctor, it's a holistic picture, it is about addressing the needs of everyone in the scenario, not just the person who's dying. With a death comes a whole process of grieving for the family, and for a medical student, a lot of communication skills are required so you know how to deal with these kind of situations. Usually we're trained to preserve life, but in this case, it's just about dying with dignity and in peace. And that's something that you don't really learn or appreciate too much when you're a young doctor who just wants to cure people or save people. It's a different mindset. That's something I appreciate is a lot more difficult, but you've got to experience the whole range of things to become a good doctor."
"Vaccination is a key weapon in our fight against this deadly pandemic"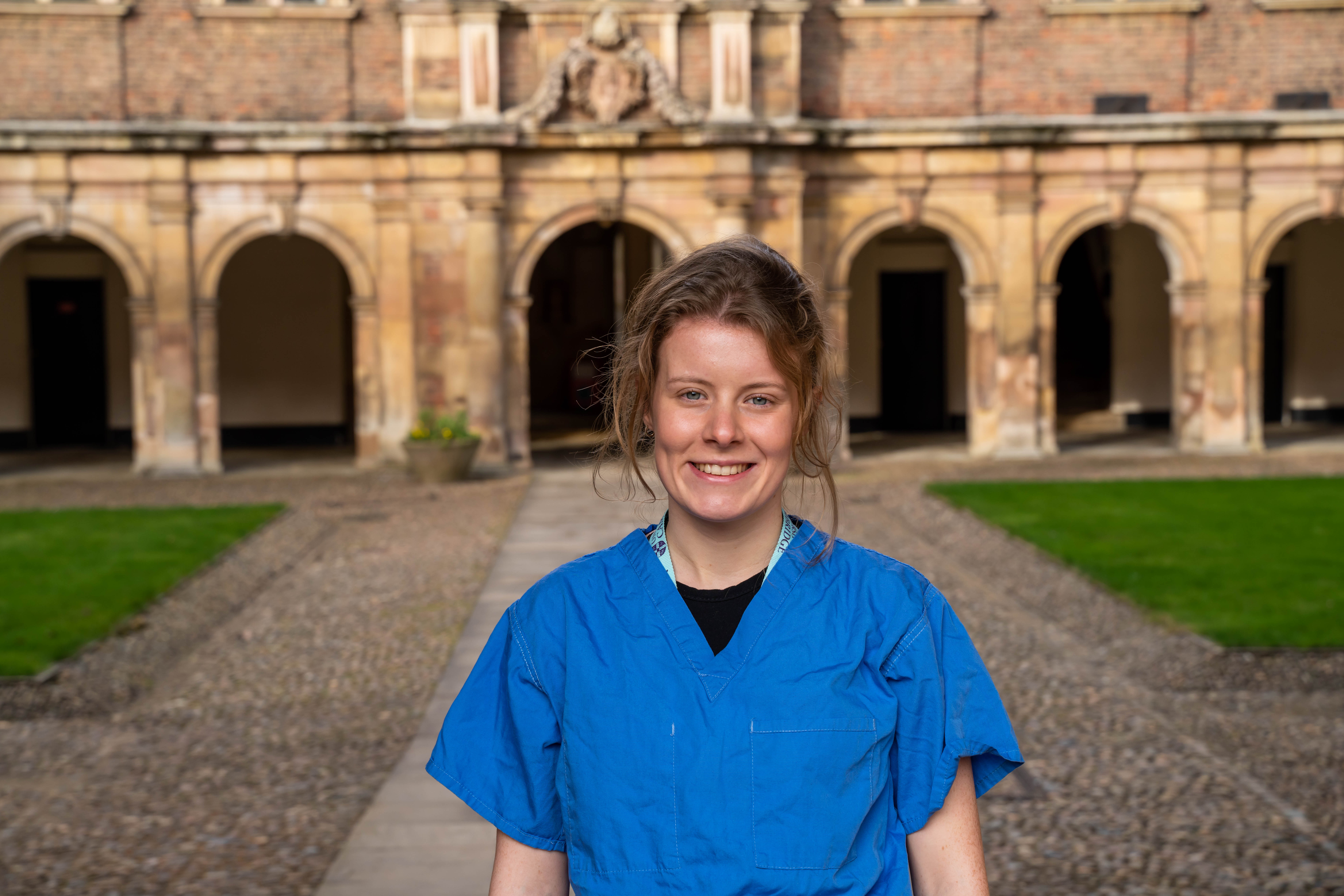 Lucy Chinnery, who is 21 and originally from Newcastle, is in her fourth year studying medicine at St John's and, when we spoke, she was on placement at the Queen Elizabeth Hospital Emergency department in King's Lynn, Norfolk. Living in hospital staff accommodation four days a week, returning to Cambridge on Fridays. Twice weekly since December, she has also been working as a steward at the Addenbrooke's vaccination centre, helping more than 600 people a day through the doors. She still has to pinch herself when she considers what a success story the Covid-19 vaccination programme has been. She said: "When we started back at St John's in September, the vaccine was a distant dream, the scientists were still in the process of developing them. Now I think it's amazing what they're doing and the numbers of people getting their jabs every day is incredible.
"Vaccination is a key weapon in our fight against this deadly pandemic; it helps to protect the most vulnerable at both an individual and population level. The rate at which the Covid vaccines have been developed and implemented is astonishing and a testament to the hard work put in by millions of researchers, healthcare workers and supporting staff across the country. However, we all must continue to abide by social distancing and other regulations until the programme is complete to ensure the effort is not in vain.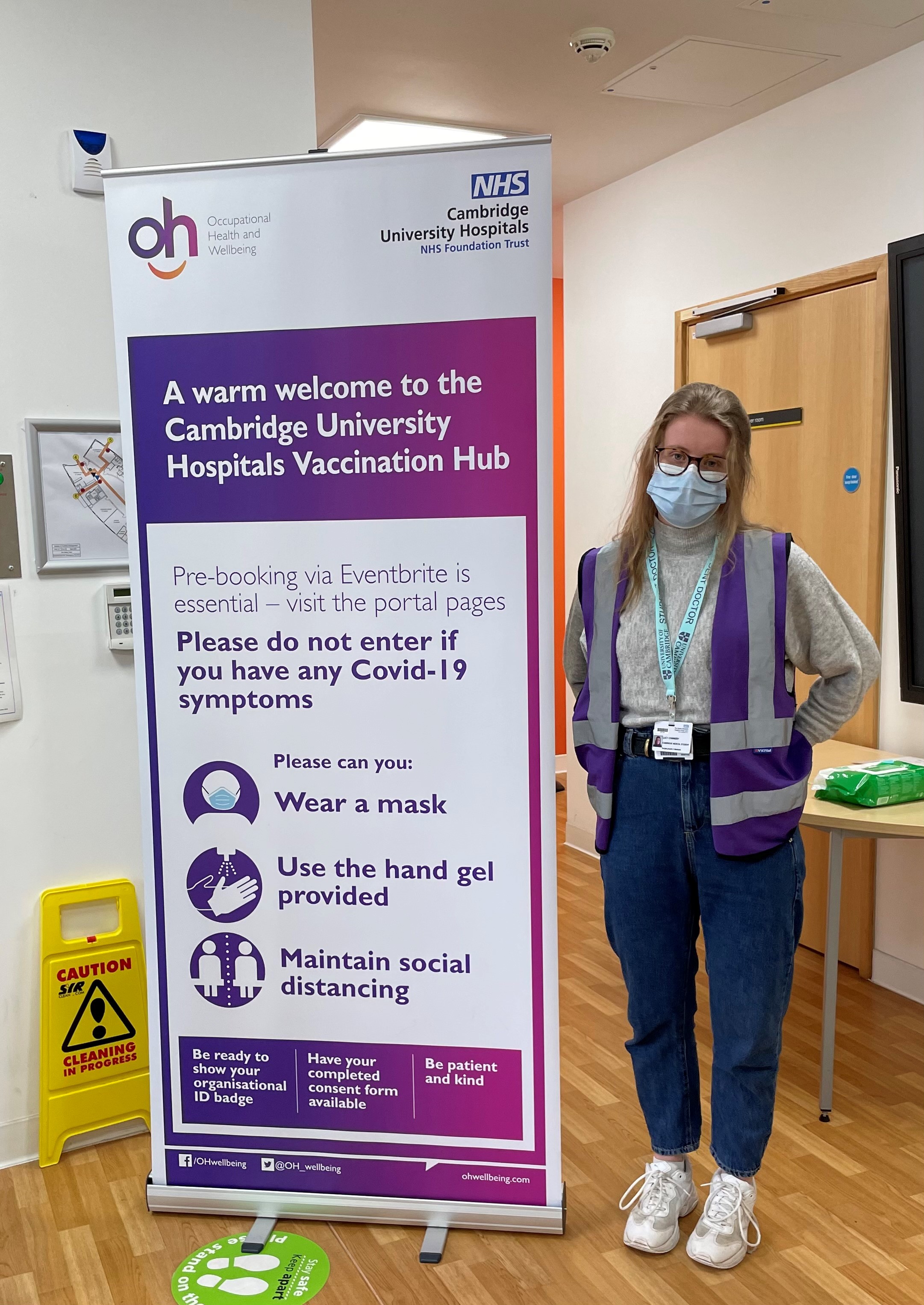 "Everyone has heard this innumerable times, but it is important to remember: Stay Home, Protect the NHS, Save Lives."
The week before we spoke, Lucy had spent a Saturday afternoon assisting in the Intensive Care Unit at Addenbrooke's. "I was acting as a runner, assisting the doctors and nurses as they care for the most critically ill patients. Being able to help and work alongside the doctors and nurses was incredibly fulfilling. The unwavering compassion and dedication they show, despite the immense emotional and physical strain working in ICU can have, is truly inspiring."
"I can't wait to get more clinical experience and to be very active in tackling this kind of disease"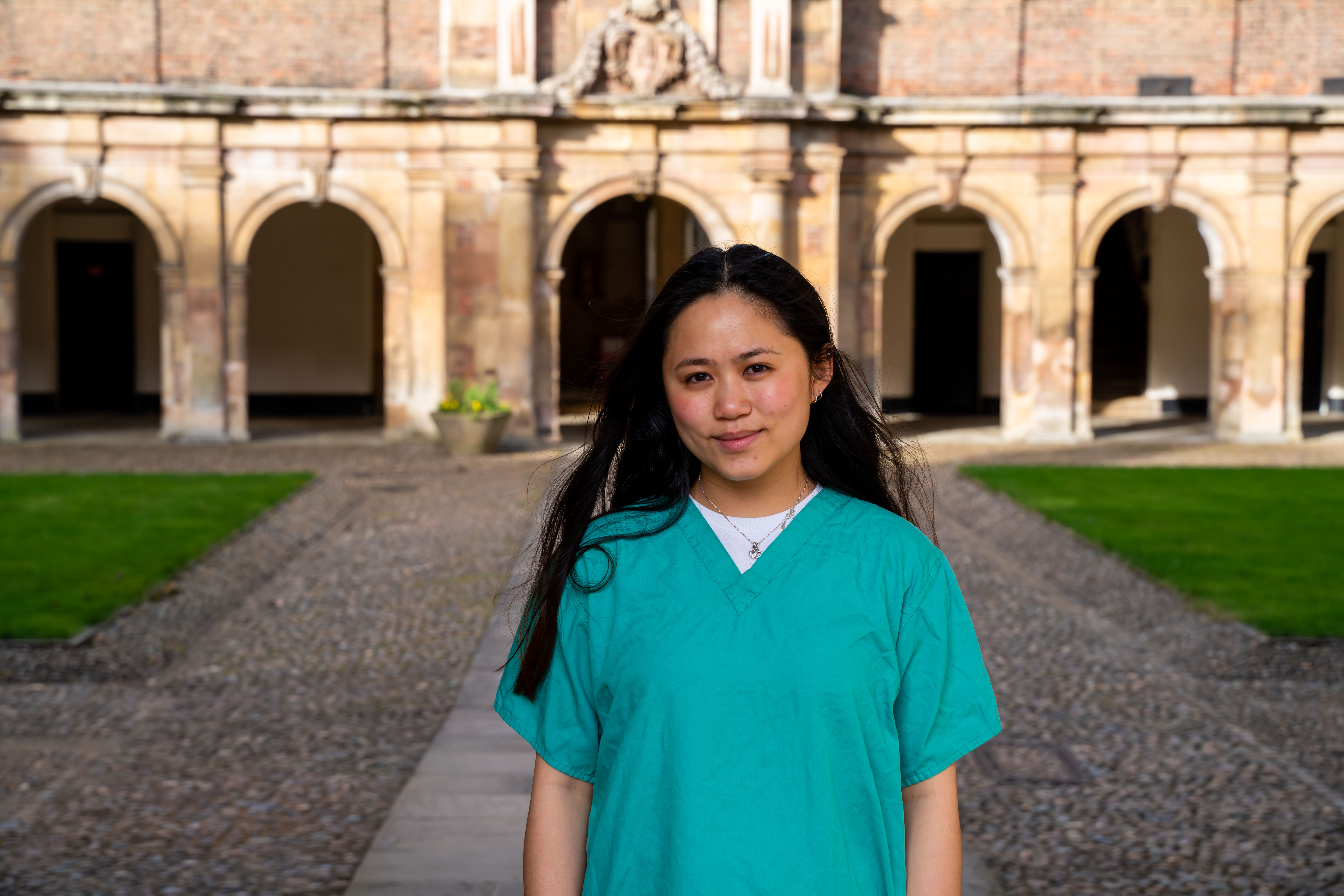 Fellow fourth year Claudia Tam, 21, from Southampton, got her first taste of clinical training at Hinchingbrooke Hospital in Huntingdon last term and recently finished a two-week General Practice placement. She said: "Even though, because of Covid, it was all done by telephone or video call, it was great to talk to patients one-to-one, that's when I really felt for the first time that I am going to be a doctor."
Now working on a six-week project for her student selected component, based at Paediatric A&E at Addenbrooke's, the stringent hospital restrictions in a Covid world are all she has ever known. "It has been hard because of all the measures in place, but I suppose it has been less weird for us than for the fifth and sixth years because they had a taste of what it was like before Covid," said Claudia. Her first few months of clinical training have made her even more determined to achieve her dream. "Being a doctor right now is a very tough job. I can't wait to get more clinical experience and to be very active in tackling this kind of disease."
For Ashwin, who is looking forward to taking up his first junior doctor post at Royal London hospital in August, human connection is also what he loves best about medicine. This can be particularly difficult on the Covid ward, with the medical staff head-to-toe in PPE and patients short of breath or hooked up to oxygen masks and other life-saving equipment. "You've just got to be very patient and have the right team with you that can help you in certain ways to aid that communication," said Ashwin.
"What I really enjoy about being a doctor is having the tangible impact on someone's life. There's not many jobs that you get to ask someone questions that really dig into the depths of who they are, so you really feel a connection with your patients. For example, in people who've got acute conditions where something's immediately gone wrong, and it needs fixing, say, for example, a road traffic accident, you can take them from where their life has gone from a high to being dropped off a cliff, and you can bring them back to roughly where they were before, which is just amazing.
"For people who've got more chronic conditions, it's about helping them to live a good quality of life that they want, and really connecting with them and learning about and understanding their priorities in life. That helps you connect with humans to a much deeper level."
"St John's clinical medical students have more than risen to the challenges created by these unprecedented circumstances"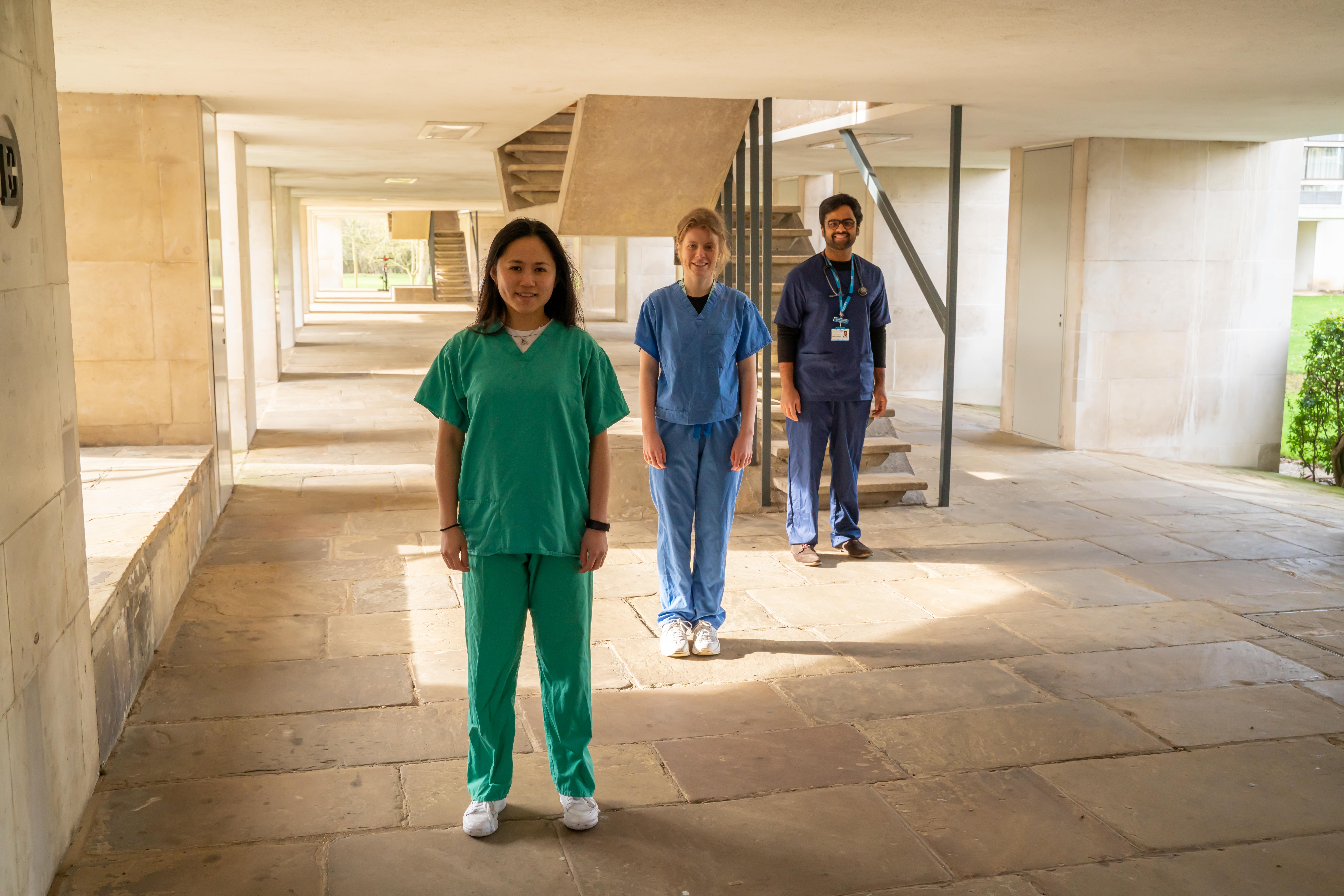 Dr Tim Sadler and Dr Fleur Kilburn-Toppin, Clinical Director of Studies for Medicine, paid tribute to the hardworking medics of St John's. In a joint statement they said: "As a College community we should all be immensely proud of the St John's clinical medical students. They have had a difficult time with disruption to their training as well as their examinations. However, they have more than risen to the challenges created by these unprecedented circumstances, the hospitals relying on them more than ever to provide much needed support to the NHS during this pandemic.
"They have worked extremely hard to make a real difference to the care of their patients, and we are very lucky to have them as our future doctors."
Claudia and Lucy both applied to study at St John's because of the large, friendly cohort of medics in each year group. Lucy, who lives with other medical students, said: "There's always someone to talk to. Everyone is super-friendly and wants to help each other." Ashwin was attracted to St John's because of the support and facilities on offer for the student community. "There is also a diverse range of medical Fellows with broad research interests, and the College offers specific grants and travel opportunities for medical students," he said.
The Covid-19 crisis may not have given medical students the usual clinical training experience, but it has offered different kinds of lessons.
"I've had exposure to things that I probably wouldn't have had if it weren't for the pandemic," said Lucy. "I've seen what the real NHS is, how it can respond to disasters, and what works where.
"On the news you see a glimpse of what's going on, but actually being in it and being a part of it is really special - and I can tell my grandchildren that I helped during the pandemic."
*An edited version of this article appears in the Lent Term 2021 edition of Eagle Eye.
Published: 15/3/21