Mostly Harmless: Douglas Adams's personal belongings go on display at St John's
Douglas Adams: Life in the Universe
A radio script for an episode of The Hitchhiker's Guide to the Galaxy, notes for an episode of Doctor Who, and a letter from Graham Chapman: a new exhibition at St John's College showcases over seventy of Douglas Adams's personal items.
The exhibition, entitled Douglas Adams: Life in the Universe, features scripts and notes from his most famous projects including The Hitchhiker's Guide to the Galaxy, Doctor Who and Dirk Gently, along with items relating to his non-fiction work, rejected ideas, and his time as an undergraduate at St John's College.
Visitors will also be able to explore Adams's childhood and influences, including the first writing of his to be published, which he wrote when he was only twelve years old.
This Saturday (24 March), as part of the Cambridge Science Festival, Douglas Adams: Life in the Universe will be exhibited in the Old Library of St John's College from 11am to 5pm. The exhibition is free and open to all.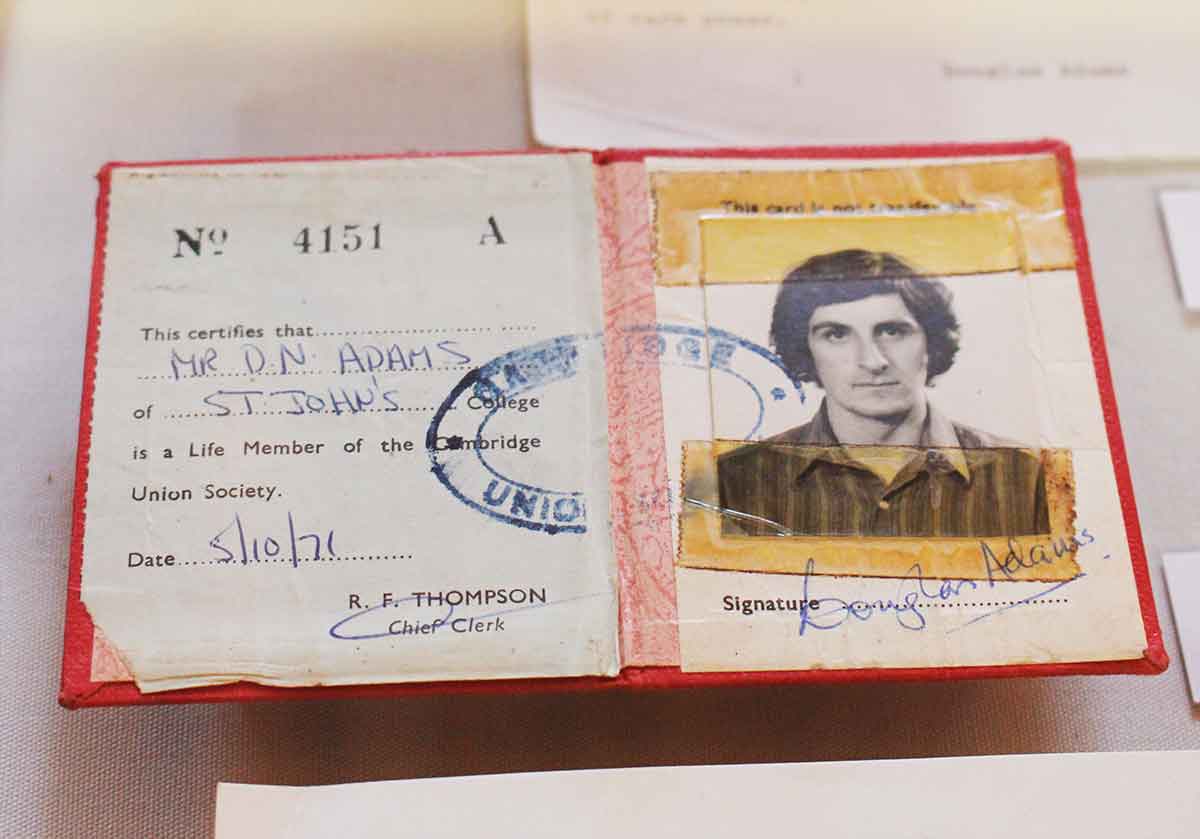 Adams's membership card for the Cambridge Union Society, 1971.
It Begins with a House
Douglas Adams was born in Cambridge in 1952, and by the age of twelve had already started to distinguish himself in creative writing. One of his English teachers at Brentwood School, Frank Halford, recalled giving him an unprecedented and unrepeated 10/10 for a creative writing assignment. This short story is sadly lost, but a poem entitled 'Tramp's Eye View', written when Adams was twelve years old, was kept, and is on display in the exhibition. It is showcased alongside his first ever published pieces of writing, letters sent in to the comic Eagle and Boy's World, which were published in two issues of the comic and earned their author ten shillings apiece.
Further on in his education, Douglas Adams applied to read English at Cambridge; more specifically at St John's College where his father Christopher had studied. Visitors to the exhibition will be able to see not only one of his entrance exams, 'Practical Criticism', but also his congratulatory telegram from the St John's College Senior Tutor, and his 1971 copy of A Compendium of Information and Regulations for the Use of Junior Members of the University of Cambridge.
Although he claims to have only written three essays in his time at St John's, his surviving papers demonstrate that he was putting in a great deal more work than he liked to admit. In the exhibition you can see his undergraduate essays on Ted Hughes' Crow: From the Life and Songs of the Crow and E.M Forster's Howards End. His Part I dissertation (also on display) discusses 'Patterns of Creation in Christopher Smart's Jubilate Agno' suggests that he was at least reading a wide variety of texts even if he wasn't always writing essays.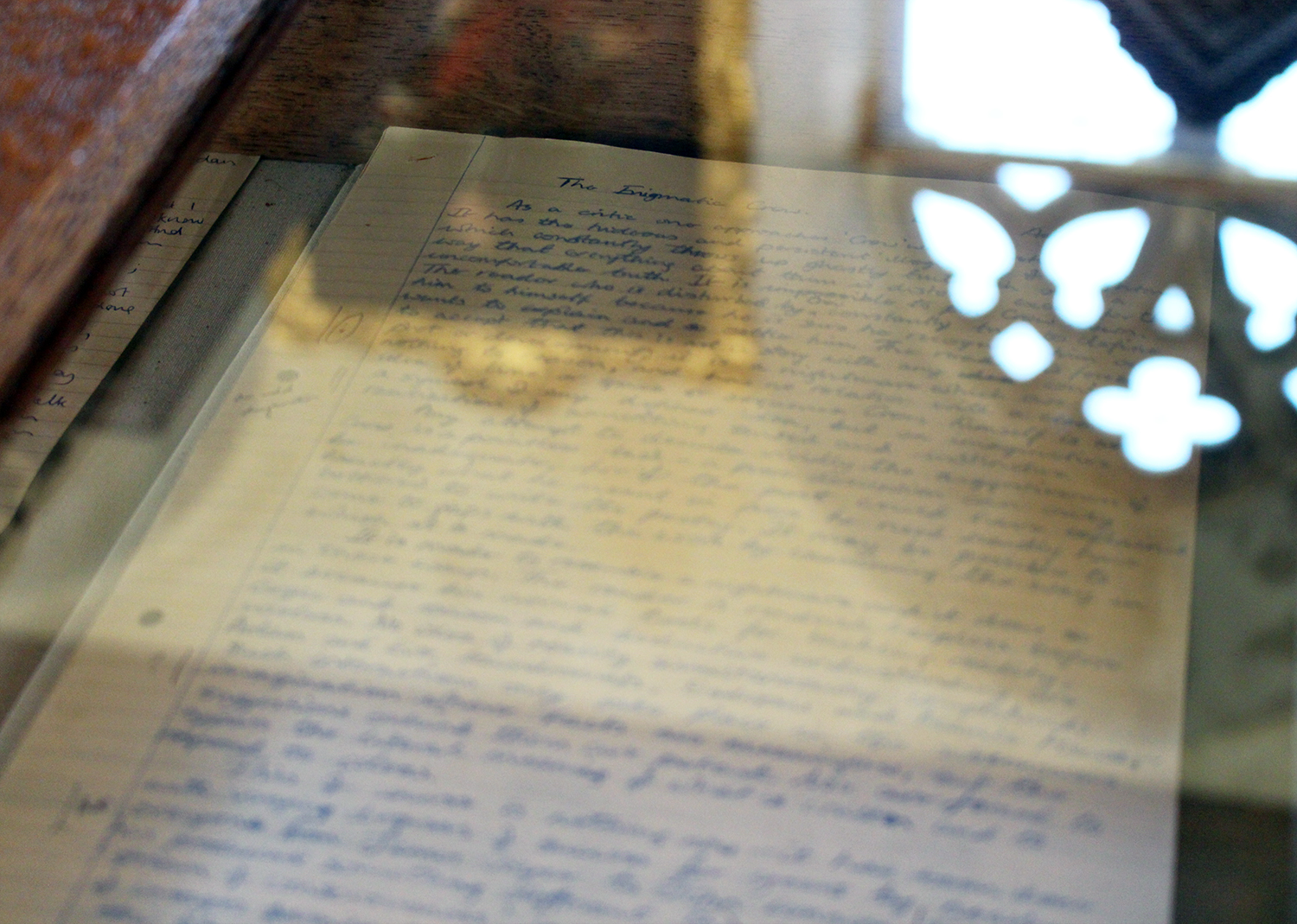 Adams's essay on Ted Hughes' Crow: From the Life and Songs of the Crow. Circa 1971-74.
St John's as a deep-sea squid
The College was an important part of Adams's life and appeared (albeit thinly veiled) in a few of his works later on. After graduating he stayed in touch with at least one of his supervisors, George Watson, who took the Vogon poetry scene in The Hitchhiker's Guide to the Galaxy to be a parody of one of his classes. St John's also appears in Dirk Gently's Holistic Detective Agency, which is partly set in a version of the College.
During his time at St John's, Adams participated in a wide variety of extra-curricular activities. He was a member of the Cambridge Union Society and spoke in a number of debates and wrote articles about College politics, such as his exhibited essay 'JCR Election: The Important Issue' in which he discusses St John's being a deep-sea squid. However, it was sketch comedy which was his main focus, as he wanted to follow in the footsteps of the Monty Python team and use his university experience to establish himself as a comedy writer and performer.
Adams formed a comedy team with two other Cambridge students, Will Adams (no relation to Douglas) and Martin Smith. Adams-Smith-Adams, as they were known, produced a large quantity of sketches and performed several shows. One of their flyers shown in the exhibition advertises a performance at the School of Pythagoras, which now houses the College Archives. Douglas Adams also joined Footlights, through which he met Simon Jones, who went on to play Arthur Dent in The Hitchhiker's Guide to the Galaxy on both radio and television.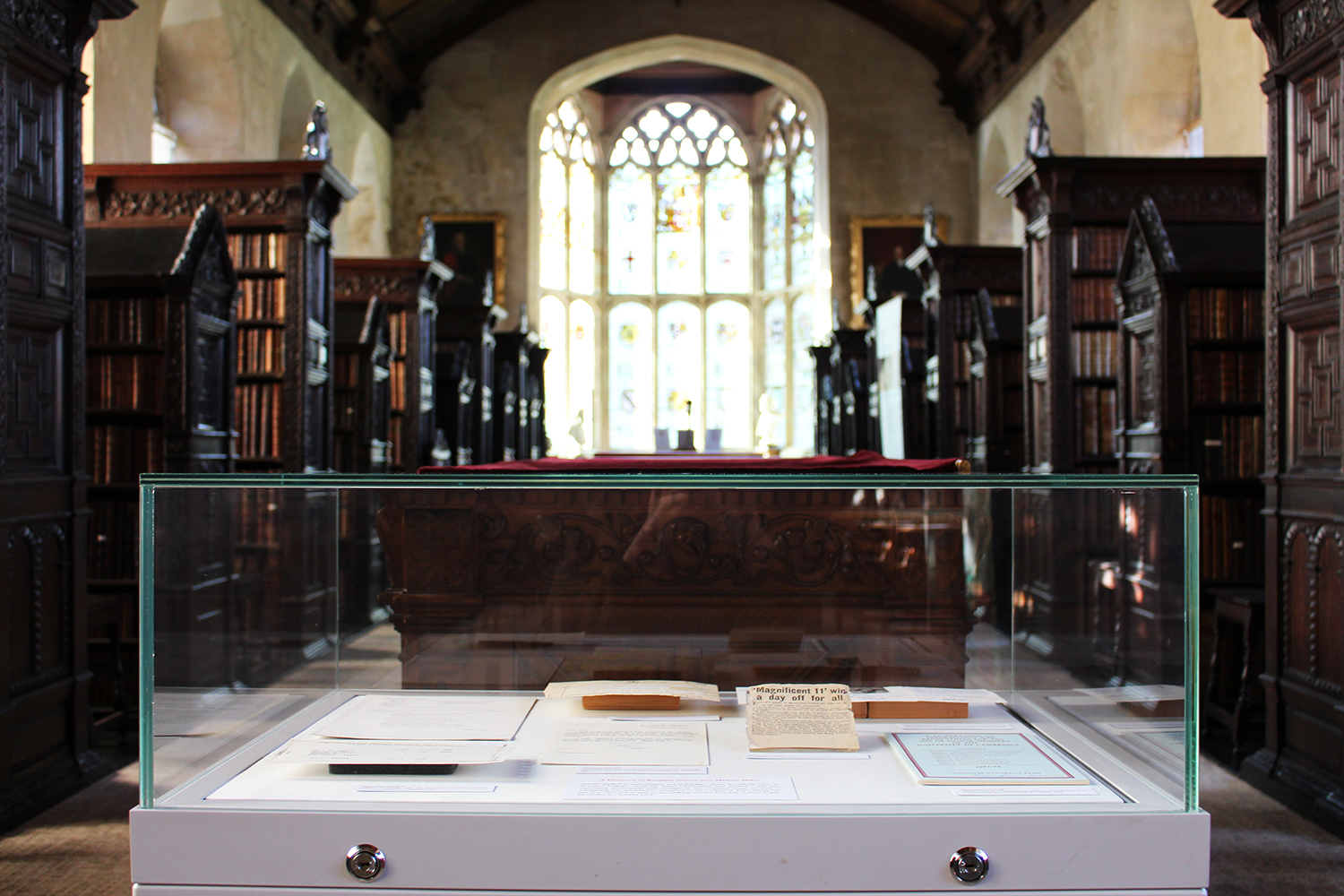 "There's a radio programme I'm writing which might interest you"
Another highlight of the exhibition pertains to Adams's life post-university. He managed to secure an agent when he graduated, Jill Foster, who also represented some members of the Monty Python team including Graham Chapman. Adams and Chapman became friends and collaborators but after some small successes together Adams decided to move on. As a semi-official way of severing their working relationship Chapman wrote a sharp letter to Adams acknowledging his wish to end it. The letter on display is the letter Adams received, which is, rather unusually, a photocopy of the original, which Chapman needed to keep because it was "being used in the book".
The Hitchhiker's Guide to the Galaxy was an idea that started percolating during Adams's gap year in 1970-71, during which he hitchhiked around Europe. He carried with him Ken Welsh's Hitch-hiker's Guide to Europe and a copy of International Youth Hostel Handbook Volume 1, the latter of which can be seen in the exhibition. Visitors can also see an excerpt from a letter to Adams from Andrew Marshall, who was the inspiration for the character Marvin, some 'raw material' for Hitchhiker's and a letter to David Pirie talking about "a radio programme I'm writing which might interest you".
The fan culture surrounding Adams and Hitchhiker's was devoted and vocal, and Adams received so much fan mail that by the early 1980s he had to compose a form letter with which to reply. One of those fan letters was from a Mr Frood thanking him for the compliment to his name which is defined in Hitchhiker's as "a really amazingly together guy". Fanzines like the one displayed, Mostly Harmless, were an essential way for fans around the pre-internet world to stay informed on Adams's projects.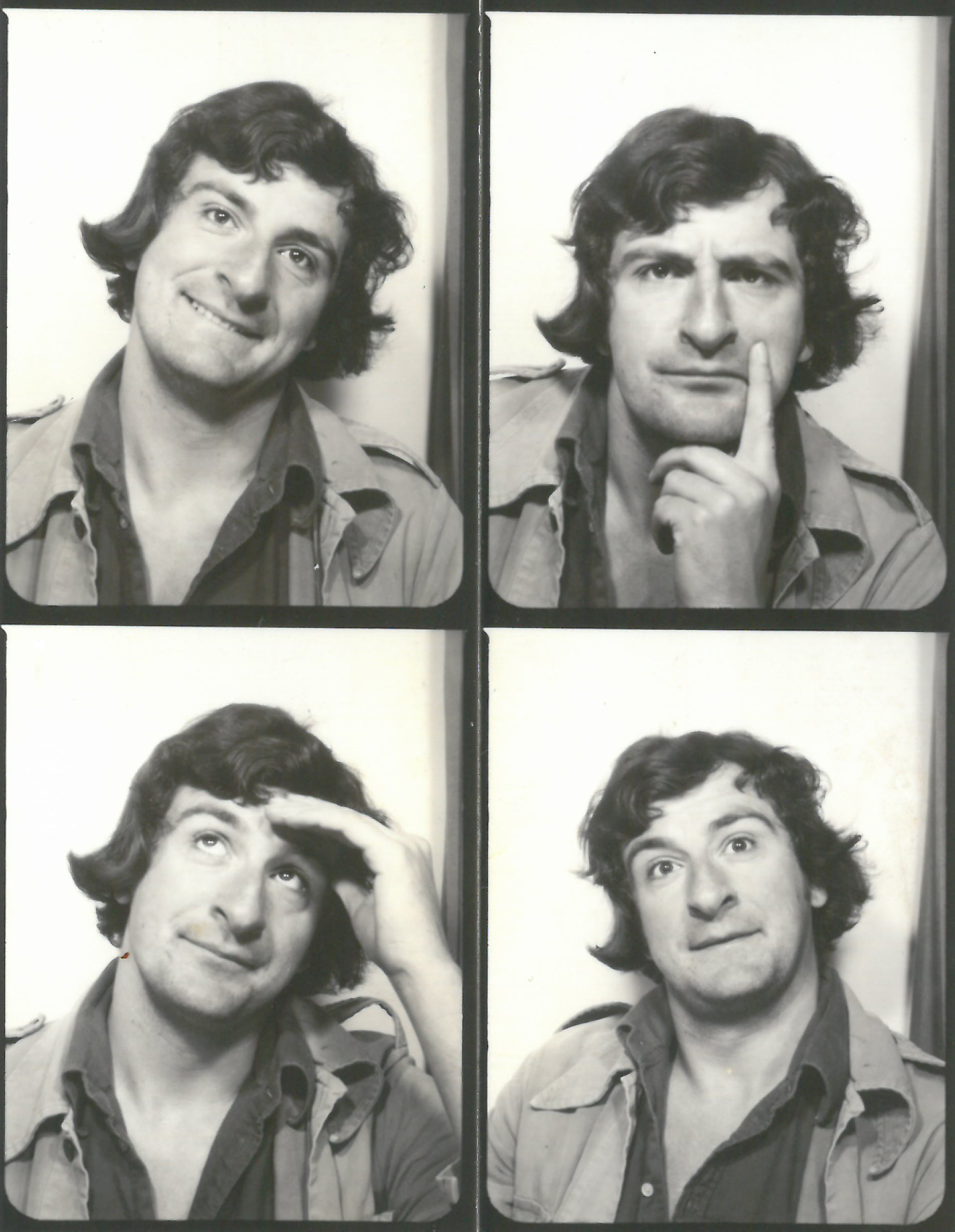 Is there an Artificial God?
Douglas Adams: Life in the Universe explores a wide range of Adams's interests outside of his most famous work. It is not his only venture into science fiction, as visitors will be able to see by his notes towards the Doctor Who story The Pirate Planet which was broadcast in 1978. Also on display is a transcript of his extemporised lecture 'Is There an Artificial God?', given at Magdalene College in 1998.
Adams also teamed up with photographer Mark Carwardine for Last Chance to See, a project exploring endangered species around the world. which was a BBC Radio series before appearing as a book in 1990. A transcript from an interview Adams conducted with an expert on venomous animals, Struan Sutherland, is particularly enjoyable, as it's hard to know whether the interviewer or the interviewee is the better humourist. In 2009 the BBC broadcast a follow-up series of the same name, with Stephen Fry following in Douglas Adams's footsteps.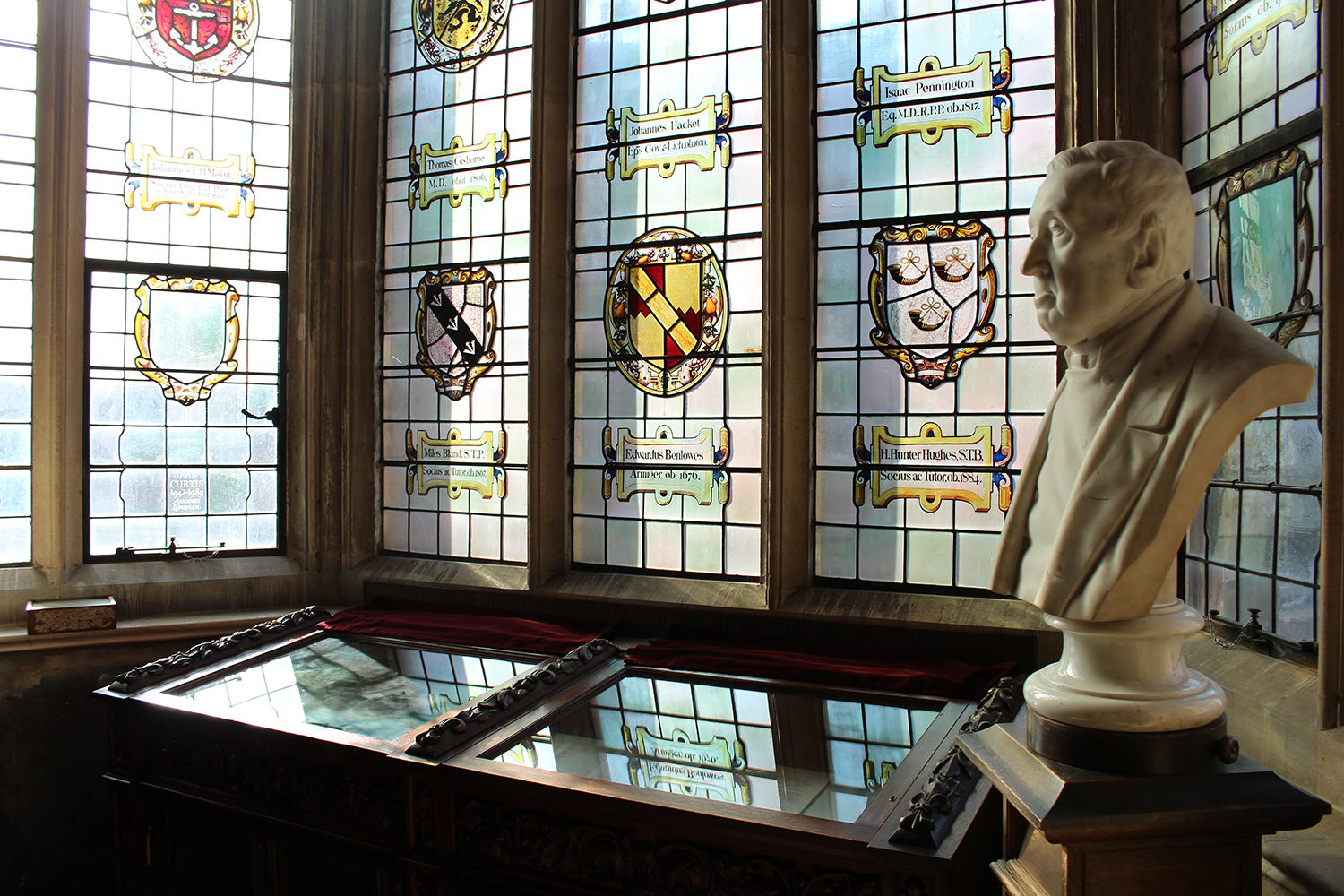 The exhibition showcases many stages in Adams' life and career, and reveals fascinating insights into the processes that went on behind so much of his creative work. The universes he created were very much based on the universe as he experienced it, which is why this collection of his notes and belongings feels very much like being in some of his writing.
Douglas Adams: Life in the Universe is on display on Saturday 24 March from 11am-5pm in the Old Library at St John's College. The entrance to the Old Library is on E staircase, Second Court, which will be signposted and which you can find on the College map here