From digging up news to putting down new roots
"The setting at St John's is something else – the river, the buildings, the Courts, the history and the space"
As David Austrin takes on his new job as College Head Gardener, he tells Karen Clare how his passion for plants saw him divert to the career path that has brought him to St John's.
David Austrin calls himself 'a classic career changer'. "I was a journalist for 10 years. I was a radio producer at the BBC in a previous life, but I got green fingers in the mid-noughties and started studying horticulture as an evening course."
Shift patterns at the BBC meant he had time off during the week to volunteer at Osterley Park and House, a Georgian estate owned by the National Trust near his home in West London – and gardening quickly turned from a pastime into a passion. In 2008, David took the plunge and left the BBC to do a one-year apprenticeship at Kew Gardens. A year's further traineeship at Cambridge University Botanic Garden followed, after which he'd planned to return to Kew to study for a diploma – but Mother Nature had other ideas.
"I'm East Anglian by birth – I'm from Ipswich originally – and it felt like I was almost coming home after living in London for a decade. This was 2009-10 and I fell in love with Cambridge, fell in love with someone in Cambridge, and decided to stay, so I never made it back to Kew."
A commutable job as head gardener at a country house in Hertfordshire followed for five years, before David returned to Cambridge Botanic Garden in 2015 to work on the demonstration and display section, developing the Winter Garden, Mediterranean beds and entrance areas into an ornamental feast for the eyes.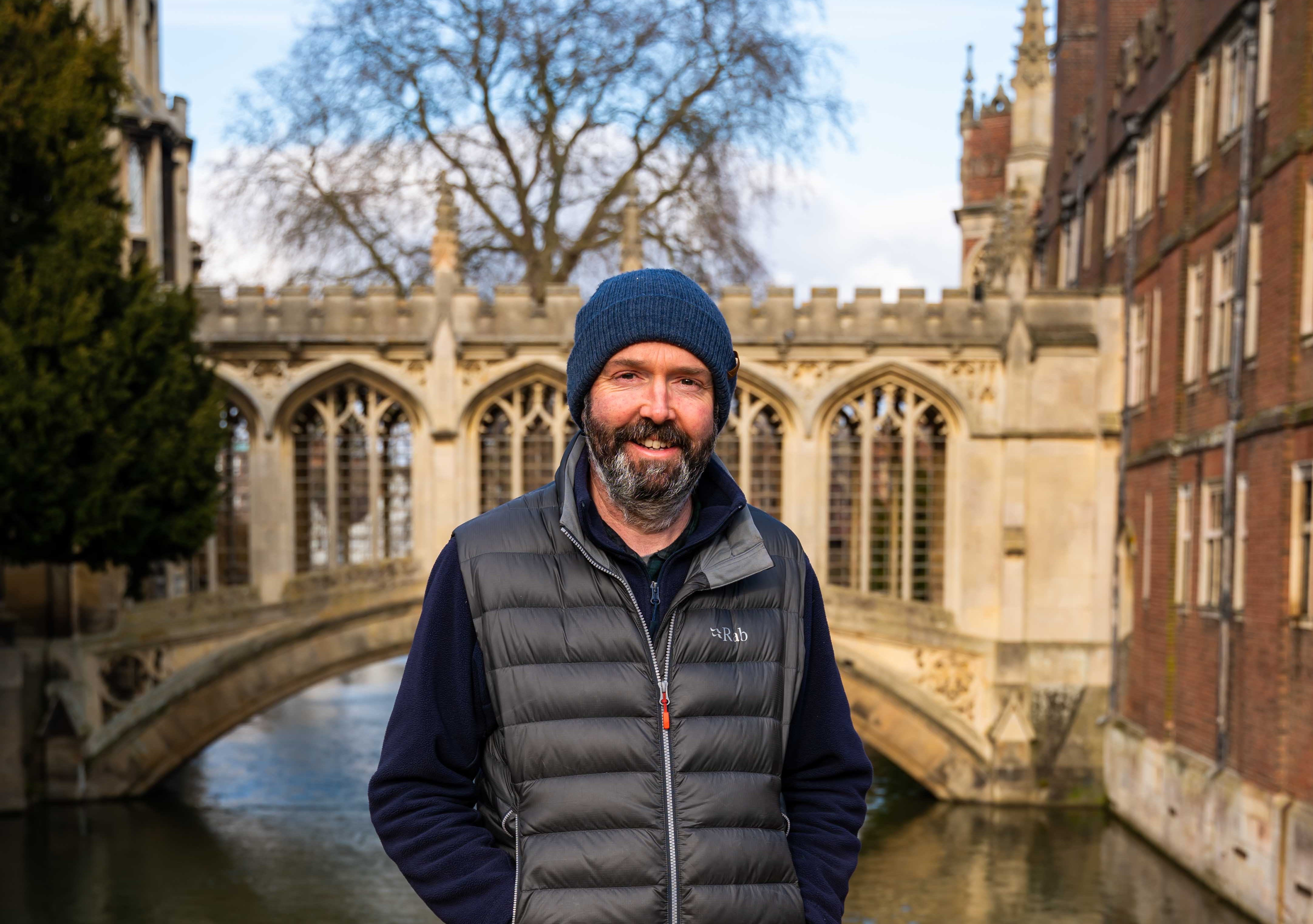 David worked at the Botanic Garden until February this year, when he filled the shoes left by Adam Green, who retired as Head Gardener in January after 35 years. Beginning a new job in a pandemic brings its own challenges and, as we speak, David is sharing the responsibility of home-schooling seven-year-old son Ellis with his partner Nathalie, while their three-year-old, Lucas, attends nursery. Until children return to school, he is working in College part-time: on Mondays, Wednesdays and Fridays. Where his creativity was once in wealding the pen, it is now in wealding the spade.
"I like the creative side of this job, and I like the physicality. I get my kicks from playing around with plants, essentially. I'm not a great artist, I'm not a painter, I'm not a musician, but I like creating combinations of plants and seeing how they look."
After leaving journalism to retrain at Kew, David lost several stone in just six months working in the Princess of Wales Conservatory, where it was 25 degrees every day and 85% humidity. "That winter was the first time they'd had a serious snowfall in London in goodness knows how many years, and I was still going to work in shorts, it was a real luxury," he recalls.
"Gardening keeps me pretty fit – it's cheaper than joining a gym – though I will have to watch those puddings in the Buttery!"
"When I found horticulture and plants, it was a revelatory moment where I realised I had a calling in life"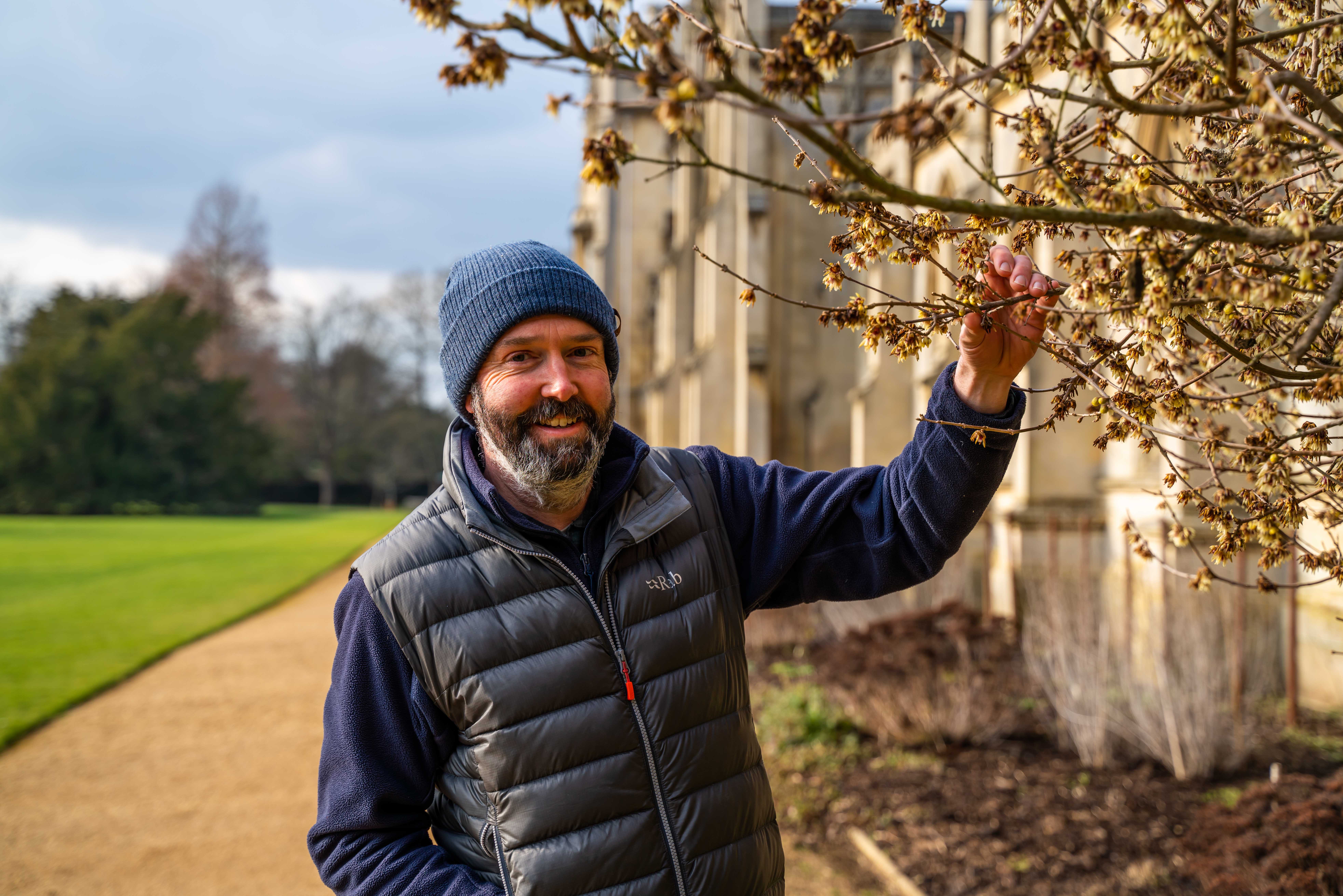 David is a great believer in gardening being good for mental health, too, which is especially important during the Covid-19 lockdowns. He wants to encourage students, Fellows and staff to use the outdoor spaces as much as they can.
With Heather Hancock, the Master, being an enthusiastic gardener herself, plans are afoot to develop a more drought-friendly planting scheme near the Lodge, while David has plenty of ideas for new plantings in and around the Courts, with lots of colourful displays.
"The setting at St John's is just something else  –  the river, the buildings, the Courts, the history and the space," he said. "I love the wilderness in the Fellows' Garden, it's a pocket of countryside in the middle of the city. I've heard all about the spring bulbs and bluebells and I can't wait to see the displays. The winter aconites look great, and some of the early daffodils are getting going, it already looks lovely. There's great potential as well, especially with the new Master being so passionate about gardens."
David relished adrenaline-inducing times and travel in his previous career, from finding himself in midst of a football riot at the 2006 World Cup in Germany – protected in his BBC hard hat as chairs and bottles flew past  –  to covering the Tour de France and major news in Nigeria. But his journey from journalism to St John's has brought him to a new happy place.
"I don't get the edge-of-the-seat thrills I used to have in live radio, where I could have been editing the midday news, and had five different stories all breaking at 11.55am. I loved it, but I was always moving on to the next live programme," he said.
"When I found horticulture and plants, it was a revelatory moment where I realised I had a calling in life, so I've never looked back.
"I grew green fingers and that was that. What I do now has much more lasting rewards."
*This article appeared in the Lent Term 2021 edition of Eagle Eye.
Published: 5/3/21