Is it worse to sell your soul to the devil or fail your exams? A spine-chilling tale at St John's finds out
"As a historian I love the idea of nonlinear time – that somehow, just occasionally, history might fold back on itself, allowing us a glimpse into past centuries"
The legend of a St John's student who surrendered his soul to the devil in exchange for the knowledge to pass his exams was the inspiration behind an eerie ghost story. 
Art historian Dr Christina J Faraday's spooky short story The Advent Visitor has been published in Ghosts and Scholars Magazine.
Christina, who was an undergraduate and a postgraduate student at St John's, said: "I don't think anyone could fail to be impressed by the feeling of the presence of many past centuries in the College, and that, for me, is what ghosts are all about."
At the heart of The Advent Visitor is the legend of a student of St John's who was recorded in a 1647 pamphlet by a gentleman called James Dalton, of Worcestershire. Christina discovered it online while involved in the 'Curate a Shelf' initiative organised by St John's Library, which allowed students to create a small exhibition for the College community. 
"I made a display called 'St John's College in Fact and Fiction'. While researching the display I found a pamphlet, called 'A strange and true relation of a young woman possest with the Devill. ... Also a letter from Cambridge, wherein is related the late conference between the Devil (in the shape of a Mr. of Arts) and one Ashbourner a scholler of S. Johns Colledge…', which reports the unfortunate (and supposedly 'true') story of a student who made a pact with the devil, exchanging his soul for the knowledge needed to pass his exams. As a student I thought Ashbourner's desperation was very relatable, even if his actions were a little extreme!"
A 15th century notebook in St John's Old Library written by Thomas Betson also provided some inspiration. "He was a very religious author and would probably be horrified to think he was the model for something so ungodly!" Christina said. "But besides sky diagrams, legal matters and lists of herbs his notebook does contain some practical jokes or 'deceptions' to imitate the effects of magic for fun - like hollowing out an apple and hiding a beetle inside it, so it would start rocking about by itself and make people think it's possessed." 
Christina has been a fan of scary stories from a young age, her favourites include books like The Children of Greene Knowe which is set in The Manor at Hemingford Grey, and as a teenager she began reading stories by MR James and Susan Hill and loved the 1970s' classic Ghost Stories for Christmas. She attended an after-school writers' club as a schoolchild. 
"When I started my graduate studies at St John's I was delighted to find out about the annual ghost stories evening, organised by Professor Patrick Boyde, the Graduate Liaison Officer, when spooky stories are told around the fire in a wood panelled, candlelit room – it's the perfect setting!" explained Christina.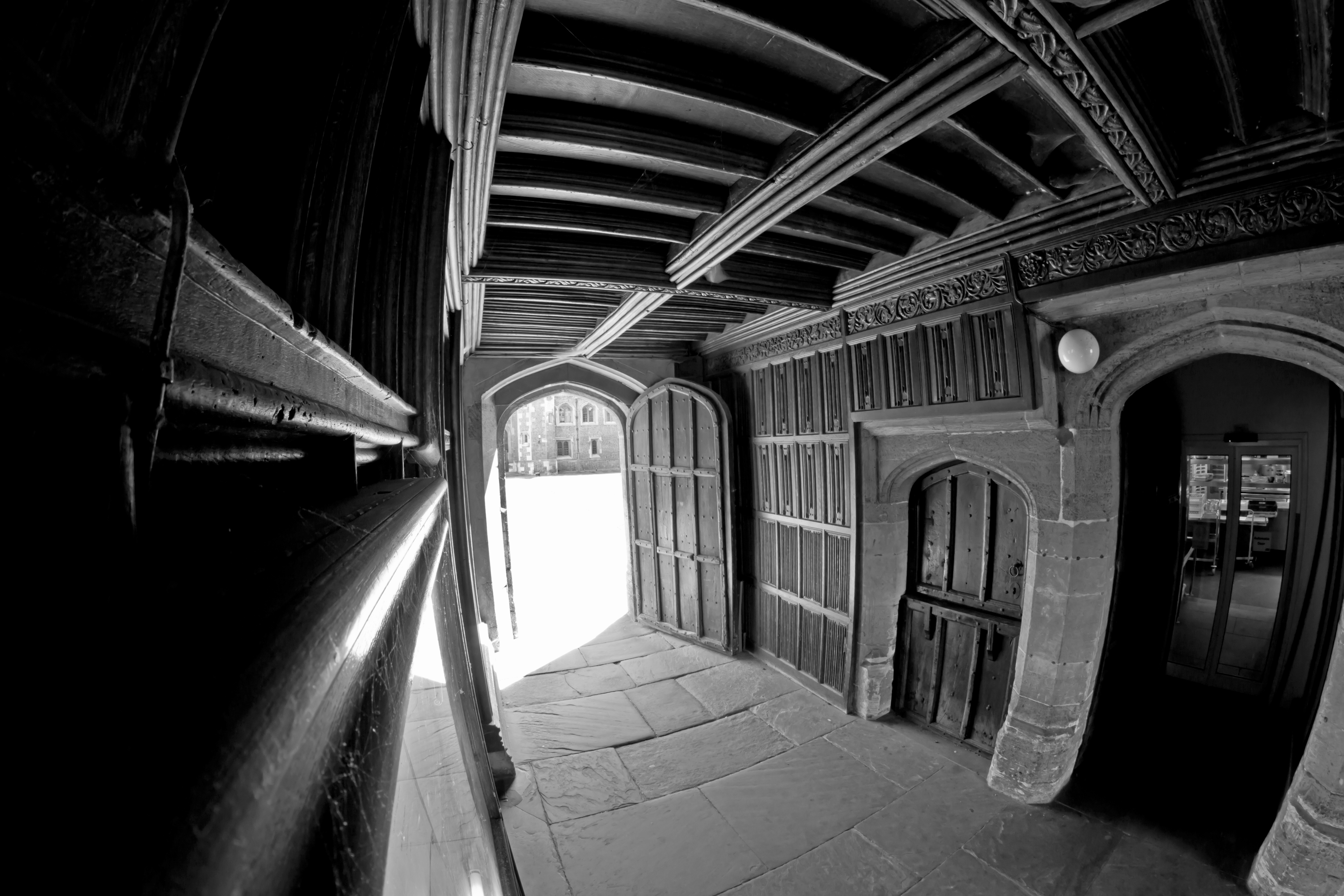 She has written a few macabre tales before, sometimes sharing them for fireside "eerie entertainment" with friends from the History of Art Department, where she is now an Affiliated Lecturer. 
"I like weaving in references historical ideas from their research – so much of what we study as art historians lends itself to sinister stories – not least objects with shadowy pasts and intimate associations with people long dead," said Christina.
But it was St John's Librarian and historian Dr Mark Nicholls who encouraged her to send The Advent Visitor off for publication. "It's very exciting to think that stories written mainly for my own amusement will now find their way to a wider audience!"
Christina, who is a past recipient of the College's prestigious Larmor Awards for exceptional students, has fond memories of life at St John's. "I loved being a student at St John's – it's such a beautiful place, with many layers of history embedded in it. My favourite place in College is the Old Library. Sometimes if I got stuck on an essay I'd go there for a few minutes, to see if the spirits of past Johnians would lend me a few ideas. I never saw them though…"
Now specialising in Tudor art, Christina is  one of the BBC New Generation Thinkers for 2019, which gives her the chance to develop programmes about her research for broadcast on the BBC, particularly Radio 3. "This experience has made me think about storytelling, and the stories our research can tell, from a different perspective," said Christina. From next year she will be a Research Fellow at Gonville & Caius College, where she plans to publish a book on Tudor art and research Elizabethan art and music. She is still writing fiction, aiming for enough stories for a collection and to finish off a children's book.
Despite her aptitude for penning spine-chilling tales, Christina said she doesn't really believe in ghosts that jump out and say 'Boo!', but added: "As a historian I love the idea of nonlinear time – that somehow, just occasionally, history might fold back on itself, allowing us a glimpse into past centuries. But I think ghost stories are as much about the darkness that lurks in our own psyche – personal ghosts – which can be just as haunting as a ghoul in a white sheet…"
Read Christina's spine-tingling ghost story The Advent Visitor
For subscription enquiries for Ghosts and Scholars Magazine, where the ghost story was published, contact Mark and Jo Valentine on lostclub@btopenworld.com
Published: 17/05/2020