Shada: Doctor Who comes to St John's
To mark the recent 50th anniversary of the first Doctor Who broadcast we have scoured the Archives and found records relating to the Doctor's visit to St John's in 1979. Tom Baker (the Doctor) and the BBC came to Cambridge in the summer of 1979 to film a series of episodes entitled 'Shada'. The series was penned by Douglas Adams (who matriculated in 1971 at St John's); it was Adams's final contribution to Doctor Who.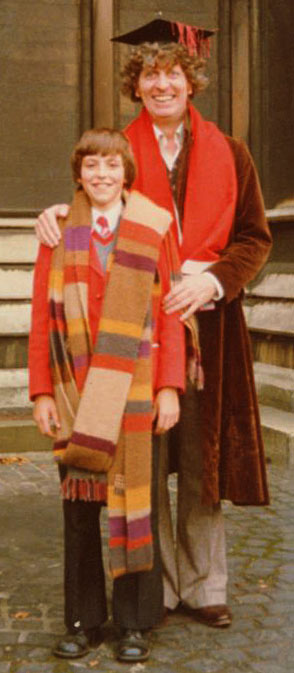 Simon Martindale and Tom Baker in St John's Forecourt (1979)
The series of episodes were filmed extensively in Cambridge and included a sequence in which the Doctor was pursued all over the city on a bicycle, during which, somewhat incongruously, he cycles past the Gents (The Gentlemen of St John's), huddled together in Senate House Passage for an impromptu rendition of 'Chattanooga Choo Choo'. Unfortunately the episode was never broadcast on BBC1 owing to industrial action at the BBC; however, it can now be seen on YouTube if you search for 'The Might of Skagra'. (The Gents appear in Part 5 at 4:26.) A version of the story was released in 1992 on video with Tom Baker providing a narration for missing scenes which had never been filmed owing to Shada's official cancellation in June 1980.
This Special Collections Spotlight article was contributed on 3 December 2013 by Svetlana Paterson (Archive volunteer).