The medical student who is a real high-flyer
"I love the aerobatics, the adrenaline rush of going upside down and pulling 5G and the technical skill and concentration required at every landing"
Meet final-year St John's student doctor Adil Lakha, who is an RAF Officer Cadet with Cambridge University Air Squadron.
What brought you to St John's?
I'm from a working-class background in Lancashire. No-one in my family had been to university and I didn't really consider Cambridge, but my chemistry teacher suggested I apply. So I did and managed to get in; six years later, here I am. I chose Cambridge because of the prestige and the research output and funding facilities. The sport facilities drew me towards St John's, the playing fields that Keith and his family and the grounds team very kindly look after for us. The funding for students from underprivileged backgrounds attracted me too, I wouldn't have been able to do some of what I've done without that funding. For example, I went to New York in 2018 for a research placement – we were looking for a new treatment for brain cancers. John's very kindly funded the trip with a combination of the studentship, summer bursary and travel funds.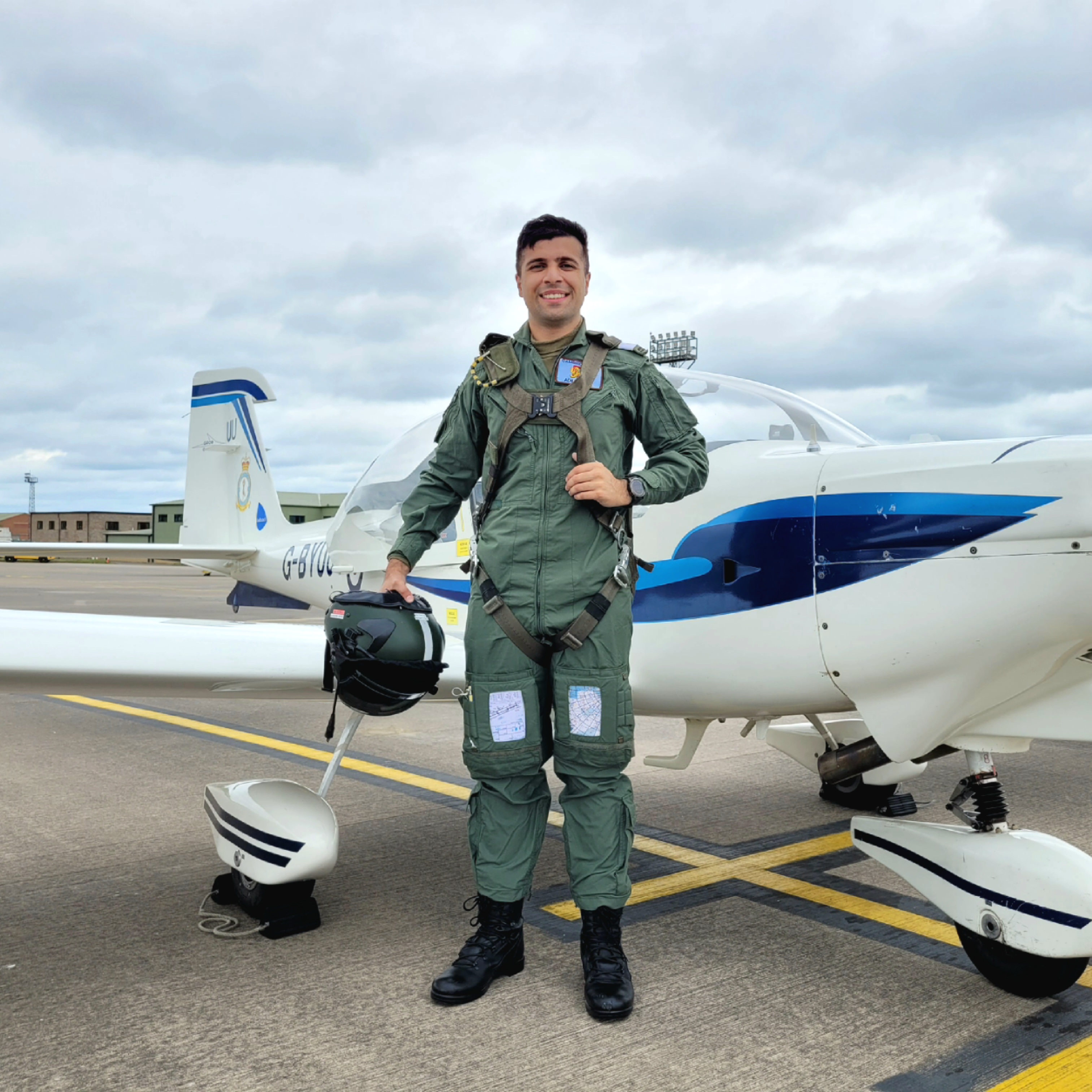 What do you like about Medicine?
I'm a problem solver, I like to fix things and I like to do things based on evidence, in terms of research trials. If something is proven to be beneficial for a patient, then it will be implemented, especially in something like emergency medicine. I want to do something that makes a difference.
You are an RAF reservist, tell us about that.
I've been an RAF Officer Cadet with the Cambridge University Air Squadron since 2019. I have wanted to be a pilot since I was small so I thought, maybe it is something I could do alongside Medicine – I like to keep myself busy. The aviation has been the main motivating factor, I fly from RAF Wittering near Peterborough once or twice a week. I love the aerobatics, the adrenaline rush of going upside down and pulling 5G and the technical skill and concentration required at every landing. The RAF has also given me opportunities for adventure training, like skiing in France with the Army and Navy.
Are there parallels between flying and Medicine?
There are lots of similarities. Both require skills such as leadership, resilience and communication, alongside the technical skills. RAF pilots are seasoned pros and I enjoy going on that journey and trying to apply what I have learned in aviation to medicine. A book medical students often read is The Checklist Manifesto by American surgeon Atul Gawande. He looked at how aviation is very procedural, with lots of checklists to make sure nothing is missed; a proper safety culture has existed for decades. In medicine, there wasn't that level of procedure in terms of having checklists for everything you do – and to an extent there shouldn't be, there should be clinical judgement. But Gawande pioneered the implementation of checklists in medicine to the point where the World Health Organisation introduced a surgical safety checklist. Emergency drills come from aviation too. There are parallels in emergencies where there is clear preparation for the worst case scenario.
You also have your feet firmly on the ground, captaining the SBR Football Team to victory in the MCR Cup this term. How do you feel?
I was elected Captain in summer 2020, soon after Covid hit. We were fighting relegation but stayed up with goal difference. This season we've been challenging the top of the league and finished second, a couple of points off the top. It's a great team, I'm really proud of them. Without doubt, the highlight has been lifting the MCR Cup in my final game for the club.
What's next, do you plan to stay in the military?
I'll be officially discharged this summer as I leave Cambridge and John's. I will be prioritising medicine for now, although I will probably be a reservist still and I'd like to get my civilian pilot's licence. The RAF don't really take medical reservists until you're more senior in your career, but the Army do, and I will look into that because I want to go into trauma and emergency medicine. I've got a job in Oxford starting in July, but I've got my fair share of John's stash, which I'll be wearing proudly for sure.
This article appears in the Easter Term 2022 issue of the College magazine, Eagle Eye
Published 24/6/2022