innocent smoothie entrepreneurs talk to students after innovation pilot success
"I saw the workshop as an opportunity to expand my knowledge of entrepreneurship"
The brains behind innocent smoothies came back to St John's to share the secrets of their success with the next generation of Johnian entrepreneurs.
Jon Wright and Richard Reed, two of the three Johnian founders of innocent, talked to students about how they developed the company into a global brand that eventually sold for more than £500m. 
The founders were invited to the College by Entrepreneur-in Residence Dr Sam Cohen and Johnian investor Julian Mash, following a successful pilot 'Innovation & Development' workshop that took place in the College this autumn designed to inspire budding student entrepreneurs.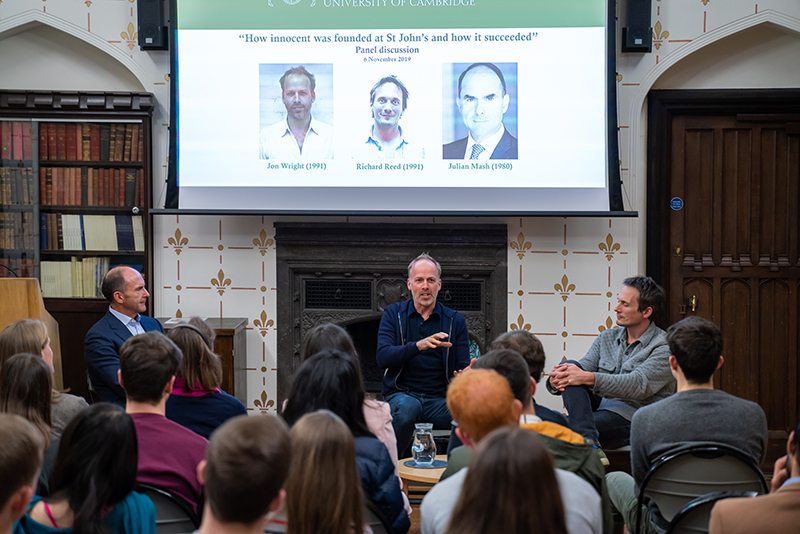 Innocent panel discussion. Credit: Nordin Catic.
St John's has a long history of innovation. The College established the St John's Innovation Centre back in 1987 to support and accelerate the growth of innovative firms in Cambridge. More recently the role of Entrepreneur-in-Residence was created to empower College members to develop their entrepreneurial skills, and the Johnian Entrepreneurs Club was created to support and mentor future student innovators.
As well as innocent, the College has many other entrepreneurs to its name: Dr Cohen founded Wren Therapeutics, a company that develops new treatments for neurological disorders including Alzheimer's disease, Johnians Eben Upton and Dr Robert Mullins founded the Raspberry Pi Foundation, and recently, alumna Ruth Nicholls founded Churchill Gowns with Oliver Atkins, and received an investment of £60,000 from Dragon's Den investors Deborah Meaden.
The five-day pilot 'Innovation and Development' workshop which inspired the young entrepreneurs was organised and run by alumna Dr Liisa van Vliet – the founder of the Johnian Entrepreneurs Club – and former Domestic Bursar and Chair of the Johnian Society, Mark Wells. The aim of the workshop was to teach students about themselves, how to approach problems and develop sustainable solutions, how to work in a team, and how to pitch a business idea. The workshop was financed by the College Annual Fund, which supports new and innovative projects at St John's each year.
The students took part in six workshops, which included tasks such as the 'egg-drop challenge', when the teams had to devise two devices to protect a raw egg when it was dropped from the top the Chapel. At the end of the week the students pitched a business idea to a panel of entrepreneurs in a Johnian version of The Apprentice.
Mark said: "With so many Johnians becoming successful entrepreneurs, the newly formed Johnian Entrepreneurs Committee wanted to put together an education programme to help current students assess this as a potential career option. Liisa and I offered to run the first residential programme and with the support of Matthias Dörrzapf, we applied to the Annual Fund for financial support. We had a great response with 13 enterprising students signing up for the one week programme.
"We had a really positive and dynamic group and the start-up pitches the teams made at the end of the week were terrific. Feedback from the students has been universally positive and we are hoping to run the workshop again next year for another group of prospective entrepreneurs."
Philosophy undergraduate Attila Kaplan, who attended the innovation workshop, said: "I saw it as an opportunity to expand my knowledge of entrepreneurship – I had always been interested in this topic and to learn about it in a structured setting sounded exciting. 
"Mark and Liisa showed us ways of structuring and overcoming problems in any kind of situation, in either a corporate, academic or creative setting. Even more importantly, they taught us about the structure of team dynamics. We learned how to understand each other's strengths so that they could best complement each other."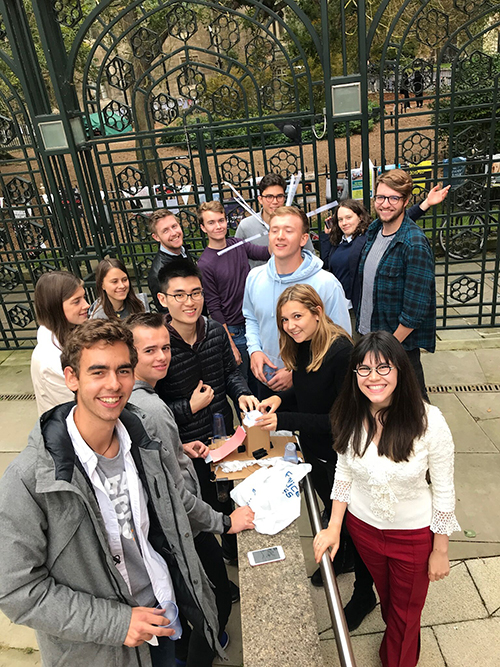 The Innovation & Development workshop attendees. Credit: Mark Wells
Mary Letey, a Mathematics undergraduate who also took part, said: "The prospect of collaborating with like-minded people motivated me to apply, and it didn't disappoint. 
"Employing our distinctive leadership skills, we kicked off a competitive scaled-down version of BBC One's The Apprentice, showcasing my peers' different talents and obvious grit. Lord Sugar has nothing on Dr Liisa van Vliet and Mark Wells when it comes to supervising contestants!"
The workshop and innocent talk motivated Attila, Mary, and other attendees to revitalise the Johnian Entrepreneurs Club – Attila is President and there is now a committee of ten members.
The club offers talks, workshops and personal mentoring for current students from entrepreneurial alumni. The members have organised several events on the theme of innovation which take place at the end of this month and during Lent Term, including how to tackle global challenges, an opportunity to meet St John's alumnus Colin Burrows, film director and CEO of Special Treats Productions, and a judged business plan competition.
More information about the Johnian Entrepreneurs Club and their forthcoming events.
Published: 20/11/2019