A few may yet be saved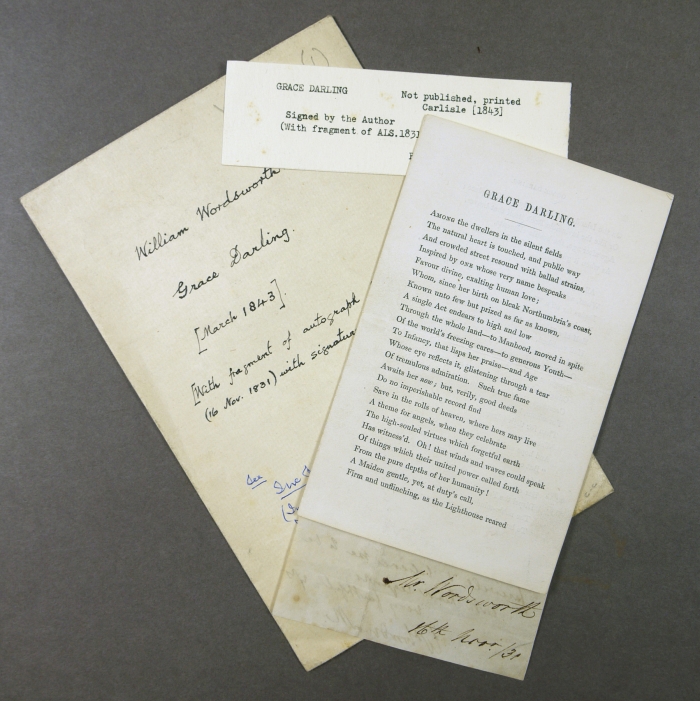 On the morning of 7 September 1838, 22-year-old Grace Darling and her father William contributed to the rescue of nine survivors of the S.S. Forfarshire, wrecked off the Farne Islands where the Darlings maintained a lighthouse. Grace in particular was the object of much admiration and formal commendation in the aftermath of the rescue, which involved the father and daughter rowing a four-man boat, at haste, almost a mile through rough water; and her death from tuberculosis four years later added (as if this were necessary in the matter of a largely fatal shipwreck) a tragic flavour to the story.
A brave, doomed young woman weathering a literal storm with figurative potential was bound to draw the attention of 19th-century poets. Algernon Charles Swinburne sings Grace's praises with his usual acoustic overspill, declaring: 'Not till earth be sunless, not till death strike blind the skies, | May the deathless love that waits on deathless deeds be dead'. William McGonagall's effort, meanwhile, is less abrasively incompetent than much of his famously bad writing: one might wonder at the relevance of Grace's being 'a comely lass, with long, fair floating hair', but when McGonagall states that 'high on the big waves the boat did float' there is little arguing with his perceptiveness; more seriously, one is no more inclined than usual to doubt his sincerity.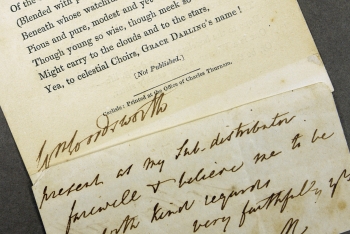 The Johnian poet William Wordsworth also composed a tribute, and the Library holds a private printing of 'Grace Darling' from 1843, the year following that of her death. The poem is not especially long and fits onto the four sides of a simple folded sheet, but the rather modest object, not intended to be visually staggering, is noteworthy for bearing Wordsworth's signature, and for being attached to a fragment of a letter composed by the poet in 1831.
Wordsworth acknowledges early in his poem that he is inserting himself into the swiftly-established subgenre of Grace Darling writing to which Swinburne and McGonagall would later contribute, observing that 'public way | And crowded street resound with ballad strains | Inspired by' her story; this does not stop him rehearsing the narrative, but demonstrates an awareness that it will not be sufficient merely to rephrase newspaper reports into metrical lines. He even asks:
                               But why prolong the tale,
Casting weak words amid a host of thoughts
Armed to repel them?
While it is never encouraging to read that poets consider their words insufficient or 'weak' (why are we bothering?), such hollow self-deprecation does at least temper the effusions of what might risk being too straightforward a poem.
Indeed, Wordsworth does not shy away from enthusing over Grace's achievement, focusing in particular on matters of her faith and piety as they contribute to the 'fulfilment of God's mercy', and suggesting that even the hazardous winds and waves might join in acclamation. There is, though, as this latter might suggest, a darker streak to the poem; and it is less visible in the brief admission that the majority of the ship's passengers died in the wreck than in this moment of religious wonder, or wondering: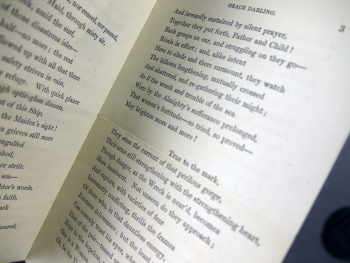 Each grasps an oar, and struggling on they go—
Rivals in effort; and, alike intent
Here to elude and there surmount, they watch
The billows lengthening, mutually crossed
And shattered, and re-gathering their might;
As if wrath and trouble of the sea
Were by the Almighty's sufferance prolonged,
That woman's fortitude—so tried, so proved—
May brighten more and more!
The exclamation mark at the end of this skilfully weighted sentence attempts to make uncomplicatedly positive a notion that probably requires more analysis: the notion that, with lives in the balance, God would render the Darlings' task more difficult in order to make their success more laudable. There follows a break in the pentameter line that invites readerly contemplation while apparently allowing the poet not to dwell on this troubling matter any longer. The poem was probably not the right place, nor 1843 the right time, to consider in detail or with irony the theological implications of the Forfarshire story's grimmer aspects; it is valuable that Wordsworth does not wholly refuse this engagement, and permits his response to Grace Darling to be thus, however slightly, unsettling and unsettled.
This Special Collections Spotlight article was contributed on 8 May 2014 by Adam Crothers, Library Assistant, who also writes about the poetic vestiges of St John's for PN Review.