"I'll start a casual conversation and instantly try to squash any stereotypes"
Leaving home to go to University was a bigger challenge than for most for second-year St John's undergraduate Mia Myers, who has Spinal Muscular Atrophy (SMA). She tells Karen Clare about what makes her tick, smashing stereotypes and educating others.
"I remember saying to someone once, if you gave me a pill right now, and said, if you take this, you can be completely SMA-free, I don't know if I'd take it. Because it is a massive part of me and I'm proud of it in a lot of ways. Some of the best people I've ever met is because of my SMA," said Mia. 
"And then there are days when I'm in pain or exhausted or going to the hospital, or when I feel myself deteriorate and I think, I could do this yesterday, and I can't use this muscle in this way today. Then it is tiring."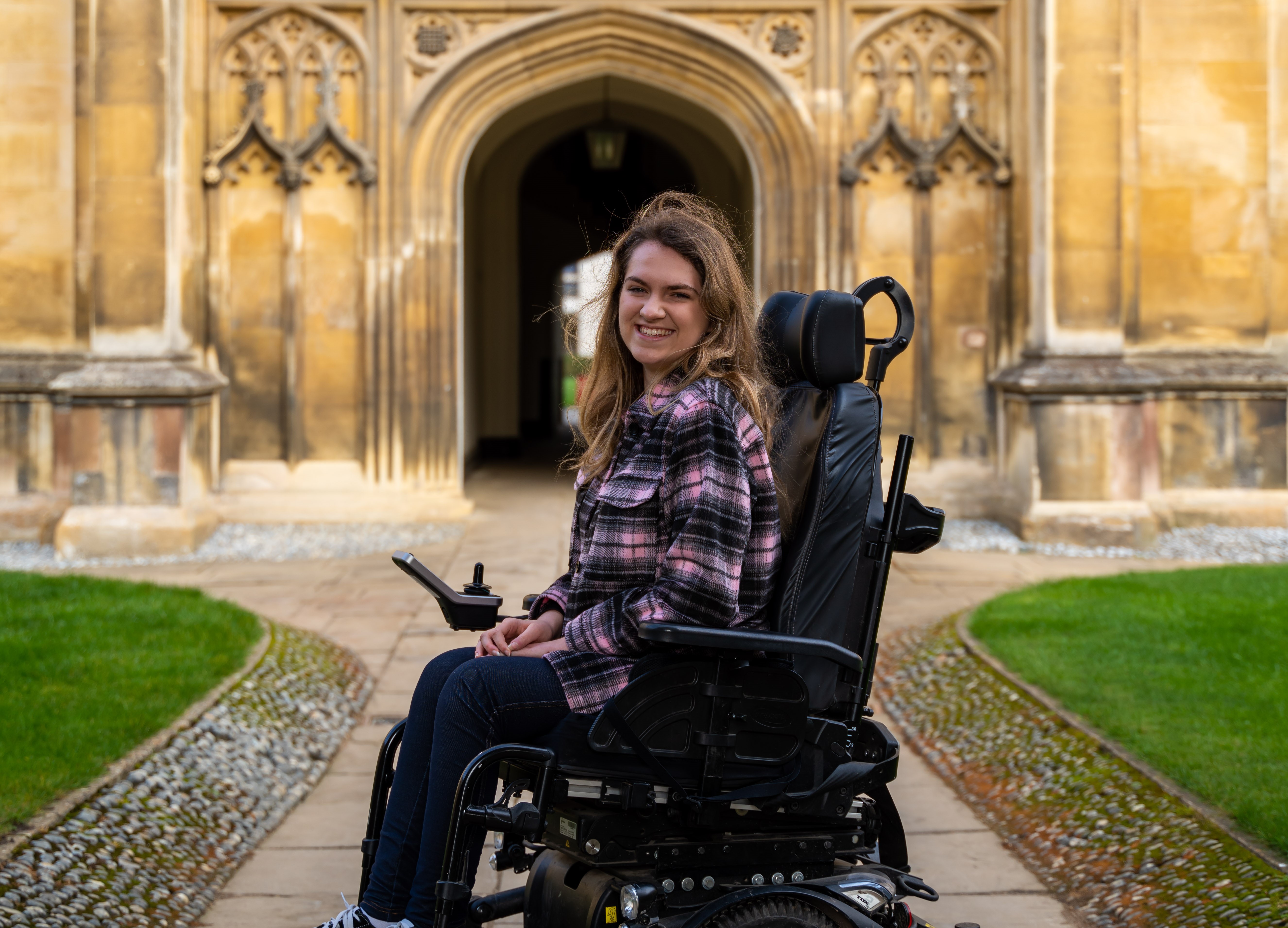 Mia was diagnosed with SMA type three, a rare degenerative neuromuscular condition that causes muscle wasting, at about 18 months old when her parents noticed she wasn't walking like other toddlers her age. Although Mia did start walking, she began losing the ability when she was 12. This coincided with major back surgery that included having titanium rods inserted along her spine and from then on Mia used a wheelchair.
The 19-year-old, who is studying Psychological and Behavioural Sciences, said: "I am now on my second electric wheelchair from the NHS and I love it, it has changed my life. Some people say things like, 'oh, they were confined to a wheelchair', and I think that just shows a complete lack of understanding of what it does. Obviously, I'd rather not be in the chair, but it gives me my freedom."
This freedom has enabled Mia to be a trailblazer in more ways than one. The first in her family to apply to Oxbridge, she is also an ambassador for Spinal Muscular Atrophy UK, a charity for whom she writes articles and presents podcasts. She strives to remove stigma surrounding all kinds of disability, and to make the world an accessible place for wheelchair-users – whether that be trying to improve access in a lecture theatre or city centre shop.
Encouraged by a teacher to apply to Cambridge, she loved the course 'because I love people', and fell in love with St John's when she visited. "Just the thought of living away from home was a little overwhelming because I have extra considerations, and these will change over time with my condition," said Mia. "I knew I'd have to employ live-in personal assistants, and I didn't think there would be anywhere that would be fully suitable for me. I narrowed it down to four Colleges and I came to John's first and when I came through the door  I knew it was the one for me – and I had been trying to keep Cambridge at a distance. Another thing about St John's was that nothing was ever an issue, and I was asked for my input. You can't teach that attitude, it comes from within."
Mia also has to interview for personal assistants, who she self-employs with the help of a specialised company, and with funding from Social Services in her home county of Oxfordshire. She now has two personal assistants (PAs) who swap living-in one week-in, one week-off in her two-bedroom wheelchair-accessible Cripps accommodation. "At this point my PAs are some of my best friends –  we get on so well. I recommend interviewing for your flat mates!"
"My SMA helps me to relate to people, to be empathetic"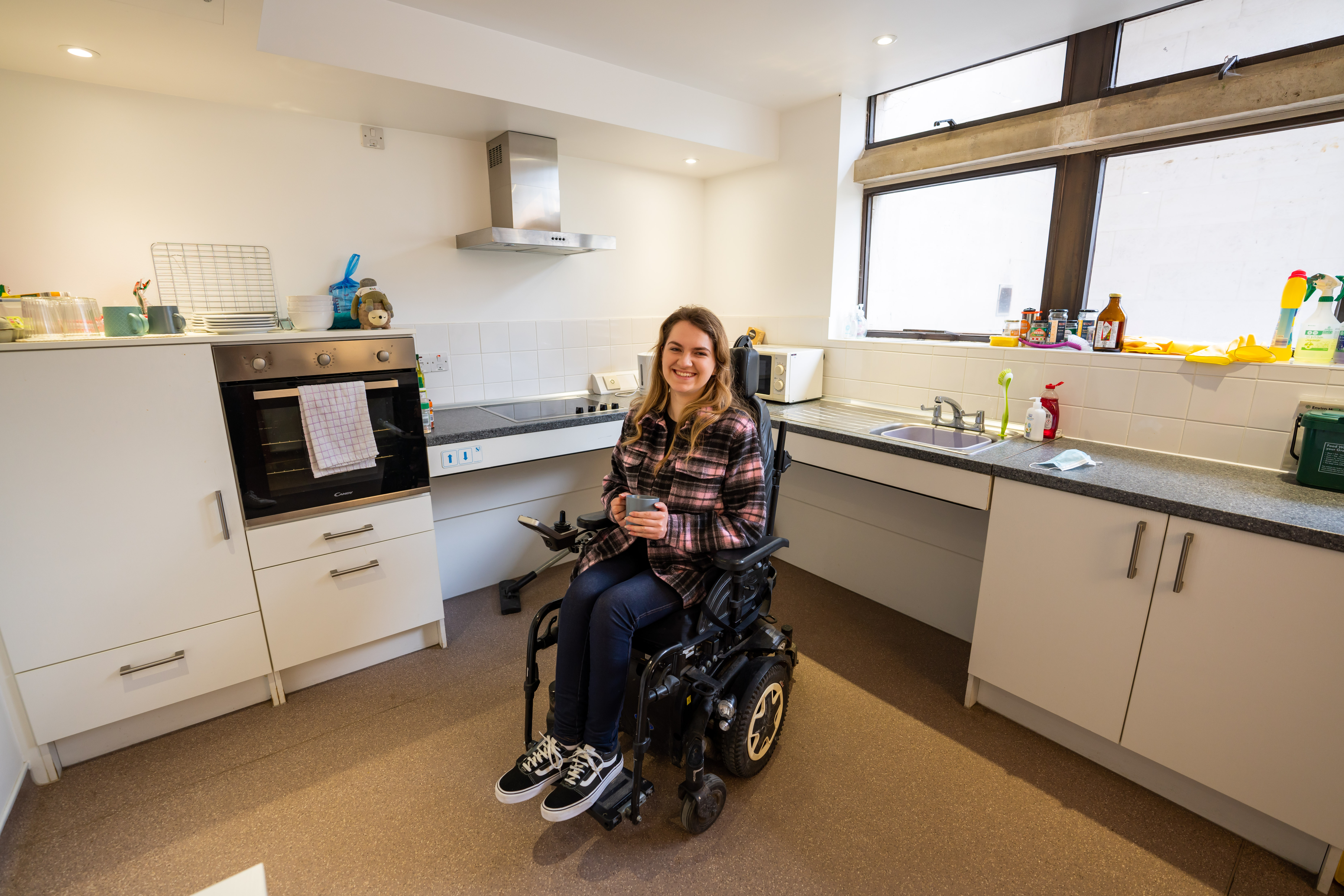 Starting University in the pandemic was another serious consideration for Mia, who is clinically vulnerable, but she was determined. "I never wanted to defer, I always wanted to go to uni straight from sixth form, because I really want to go travelling after my degree – that's one of my biggest goals. And I only wanted to do that when I'd had experience of living with a PA. I just had to really think about what uni would look like for me, how Covid would make it different from what I thought it would be, but I ultimately decided to come and I do not regret that at all.
"It's been helpful that I was expecting it to be the way it was when I came because at least for me, I had already come to terms with the fact that Covid was going to be part of my uni experience."
Since an early age she and her family have been involved in Spinal Muscular Atrophy UK, which supports research and families. As a child Mia held cake sales in aid of the charity, her grandmother became a trustee, and her dad has taken on various challenges, such as trekking the Great Wall of China. Since the age of 15, Mia has been a mentor, advising other young people with SMA about matters such as applying to university. She writes blog posts and articles and is currently producing a series of podcasts focusing on the experiences of women and non-binary people with SMA, with topics ranging from periods to accessible fashion. "SMA UK is very important to me, everyone is so lovely and supportive. When I go to conferences and socials there's such a community feel, I love it."
Mia has always loved meeting new people, and is keen to break down barriers. "Sometimes I see people looking at me and not really knowing what to do. Then I think, okay, let's go do some educating – and that's not a criticism at all, it's completely normal. I'll go up to them and start a casual conversation and instantly try to squash any stereotypes. I think that's important because they'll carry it forward and pass it to people that they know, and it paves the way for others."
She believes her work ethic is partly due to her disability. "You feel like you have to prove yourself a little bit more, and I definitely felt that in my freshers' year. It's completely a pressure I put on myself, but you go into a room and you think, okay, people might expect that I can't do this, so then you work that extra bit more, to push yourself. I think that probably contributed to my work ethic at the beginning and now it's just part of me, for better or worse! I also think my SMA helps me to relate to people, to be empathetic. It's a journey that I've been on."
Mia is now weighing up the chance to participate in new clinical trials that could stop the deterioration of her muscles and potentially give her some strength back.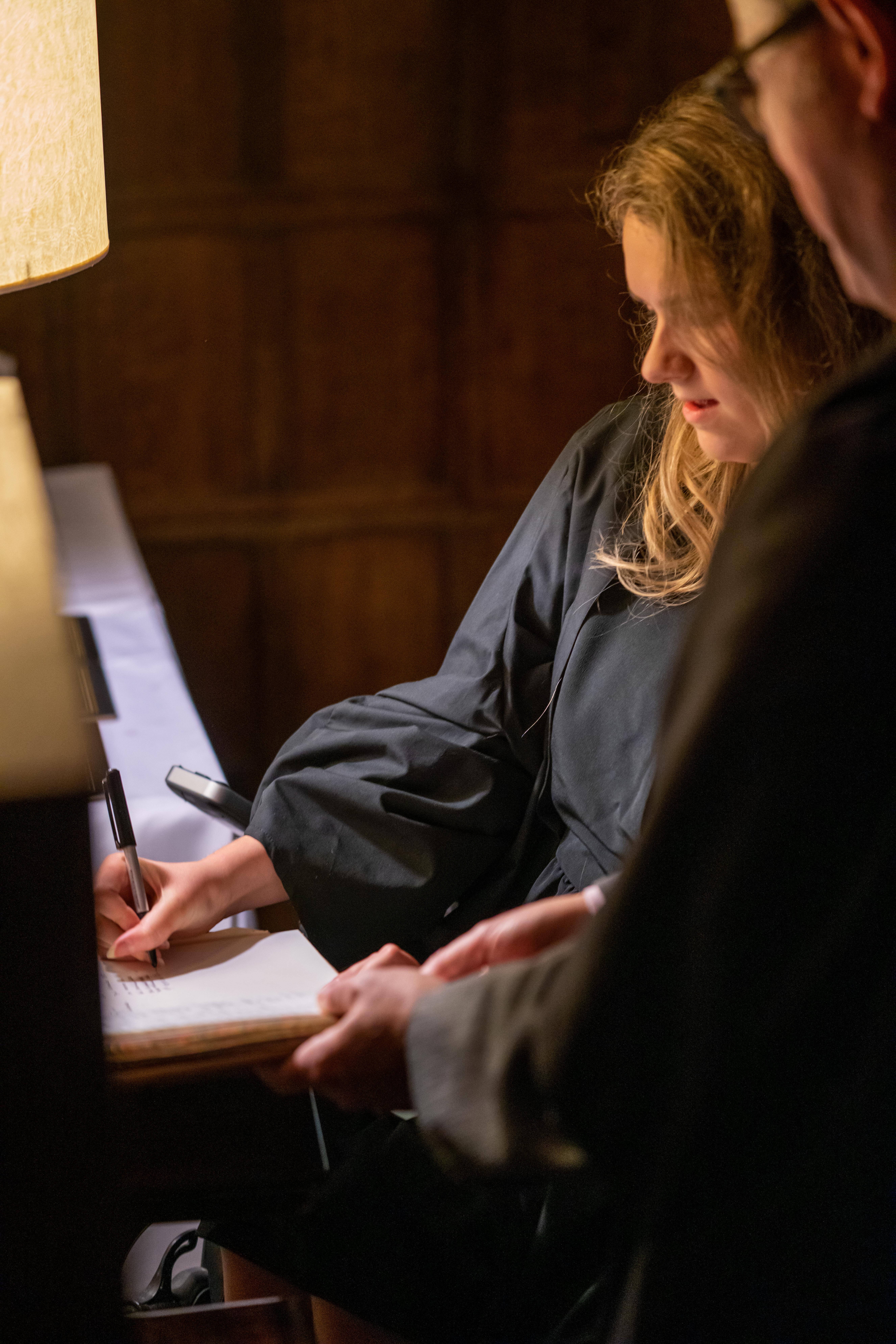 With spending so much time in hospital, she is considering working in clinical practice in the NHS after she graduates. She is also interested in writing and producing content that is 'inherently psychological' and disability-focused, "where the disability is used in a way that we don't very often see, in the sense that it's not, 'oh, this person is in a wheelchair, this story is about why we should feel bad for them'. It's more like, 'Oh, they're in a wheelchair, let's give them space to share this person's authentic story and now let's talk about something else'. And it's nothing to be afraid of, this thing we can talk about, and decide to be proud of."
Mia's dream is to travel the world. "There are lots of things that I want to do, and places I want to go. And lots of places I want to go are not good for wheelchair-users, so I want to work there to try to improve things because I'm very aware that I was born into massive privilege. I was born in this country, I have the opportunity to be educated at Cambridge, I have a loving family and I have amazing friends. And I am in a position that even though I was born with SMA, and that comes with its own advantages and challenges, I've been able to get to this point. 
"I could have been born into another situation, maybe a context where disability is feared, or without access to adequate healthcare or equipment, or where the terrain and architecture is not suitable for wheelchairs and you just can't get out, you can't go to school, you can't meet people, you can't learn – it's hard to contribute. I want to work towards helping change that."
*This article appears in the Lent Term 2022 issue of Eagle Eye, the St John's College magazine.
Published 4/3/2022