Decade of academic excellence celebrated as St John's marks 10 years of Dr Manmohan Singh Scholarships
"The values, the ideas and the discipline instilled in me at Cambridge have lasted through my life"
Ten years ago the first Dr Manmohan Singh Scholarship students arrived at St John's – now 19 scholars have completed their doctoral studies and another four are in residence.
Dr Singh was Prime Minister of India from 2004 to 2014. He is a graduate and Honorary Fellow of St John's College where he was awarded a BA in Economics in 1957.
It was an experience that had a profound impact on him, and nearly five decades later, he gave his name to a scholarship scheme at St John's College. Speaking at the time of its launch, he said: "Cambridge made me. The values, the ideas and the discipline instilled in me at Cambridge have lasted through my life."
The intention of the Dr Manmohan Singh Scholarships is to enable academically outstanding doctoral students from India the opportunity to study at Cambridge with a focus on Science, Technology, Economics and Social Sciences subjects. Applicants are expected to demonstrate their potential to become leaders in their fields.
The scholarships cover the academic fees, international airfare, UK Visa costs and offer a monthly stipend to cover living expenses for outstanding students from India to pursue doctoral studies at St John's.
19 scholars have completed their studies through the scheme and a further four are currently in residence at St John's. Alumni of the scheme have gone on to work in a variety of fields in academia and beyond. While many have pursued their work in India, others have continued their careers in the UK and elsewhere.
Three alumni of the scheme have shared their experiences of their time at St John's and reflected on how it has shaped their lives.
Niladri Banerjee (2008)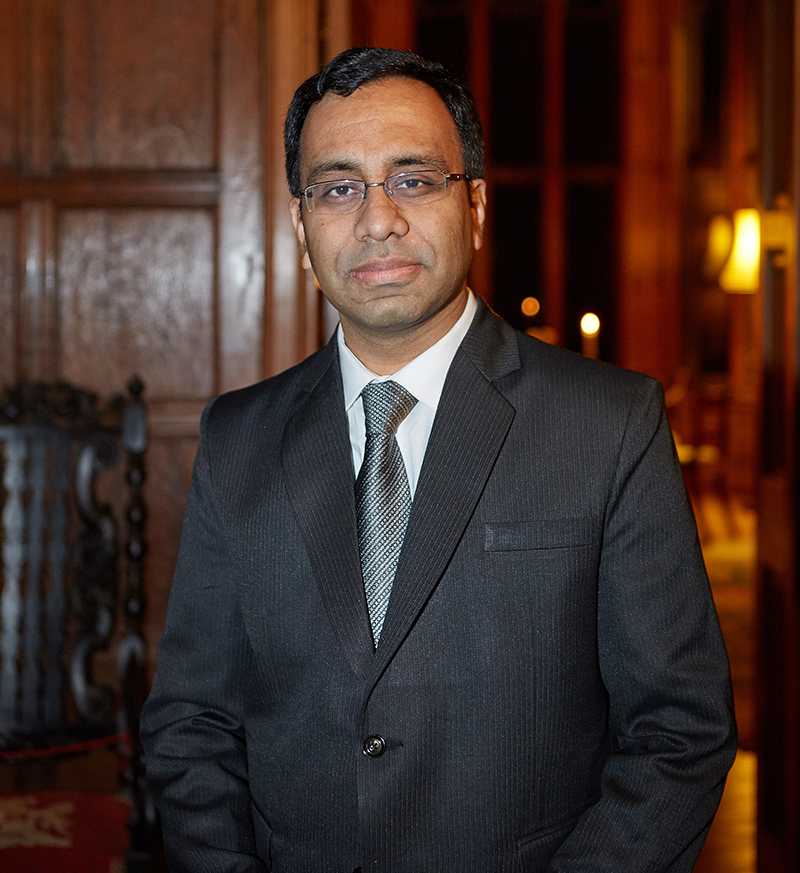 You were among the first scholarship cohort to come to St John's in 2008. How did Cambridge differ to what you had previously experienced?
I moved to Cambridge in 2008 from India to study for my PhD in materials science. I found the research style and environment very different from what I was used to - it gave me significant academic freedom and time to pursue a single problem with no pressure of publishing. Looking back, this was critical in the development of my skills and it has fundamentally shaped my attitude towards research. I doubt that this would have been possible elsewhere.
Any unforgettable experiences during your time here? 
There are many but one stands out: during a dinner reception in the Combination Room, the Master Professor Sir Christopher Dobson introduced me to the legendary Sir Maurice Wilkes [a Fellow of St John's and the scientist who helped to build one of the world's first stored program computers]. We chatted for just a few minutes during which he mentioned his interactions with Einstein. Although brief, the memory of that inspiring interaction will last a lifetime.
What are you doing now?
I currently hold a Vice Chancellor Lectureship at the Department of Physics, Loughborough University.
Any words of advice for applicants to the Dr Manmohan Singh Scholarships?
The committee was keen to get to know me and my work and the interview was more of a conversation. Be clear and honest about your reason(s) of coming to Cambridge even if it is as silly as being initially inspired, as a 10-year old kid, by a drawing of a little village called Cambridge where Newton studied (which is what I said!).
Aditi Borkar (2010)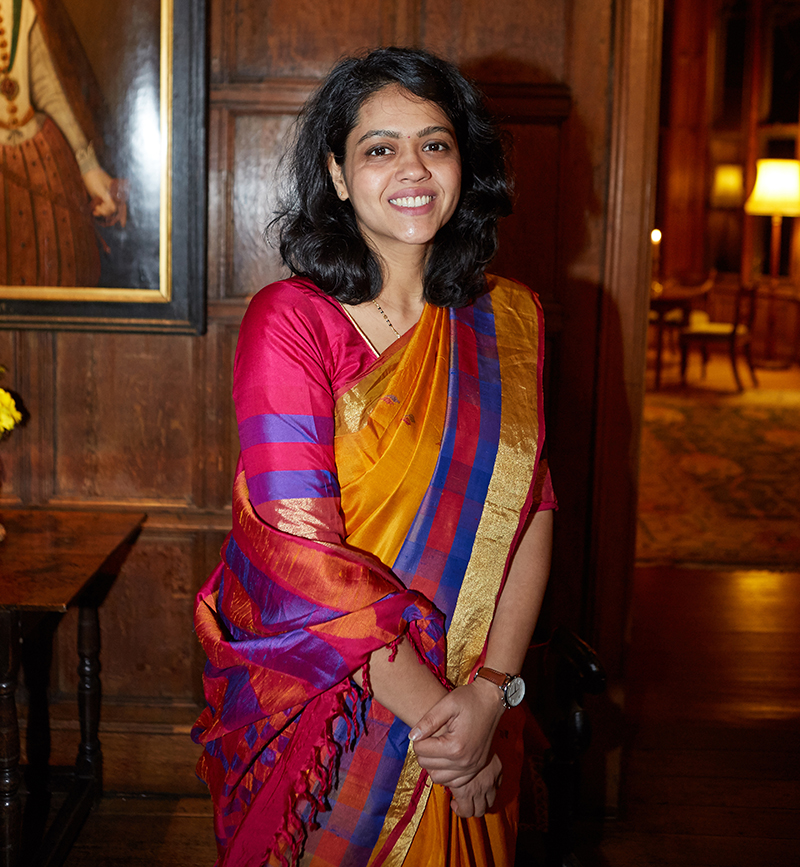 Tell us about your PhD studies at Cambridge...
Studying at the Department of Chemistry with Professor Michele Vendruscolo, I developed the 'RAM' method. The method allowed us, for the very first time, to report on a high-resolution structure populated in protein-RNA recognition during early stages of HIV replication. The work has provided insights for the development of anti-HIV therapeutics.
The scholarship gave me unparalleled opportunities for independent work. I presented my work at international conferences, strengthened my network with international experts and formed new collaborations. During this time I was also awarded the Messel-Grey Trust Scholarship of the Society of Chemical Industry (SCI) and the results of my work formed the basis for my successful application to the Wellcome Trust, where I am now a Postdoctoral Fellow.
What's your favourite memory of Cambridge?
Cambridge is the birth place of Structural Biology, my field of expertise; so my favourite memory is of the first time I visited the Old Cavendish Laboratory site. That's where Watson and Crick discovered the structure of DNA. To become part of this huge legacy was a very inspiring and humbling experience for me. 
And any special moments from your time at St John's?
During the College's 500th Anniversary celebrations, I was among a few students to be presented to Her Majesty The Queen at a garden party. I feel very privileged to have represented my country at such an important occasion.
Rohit Chikkaraddy (2014)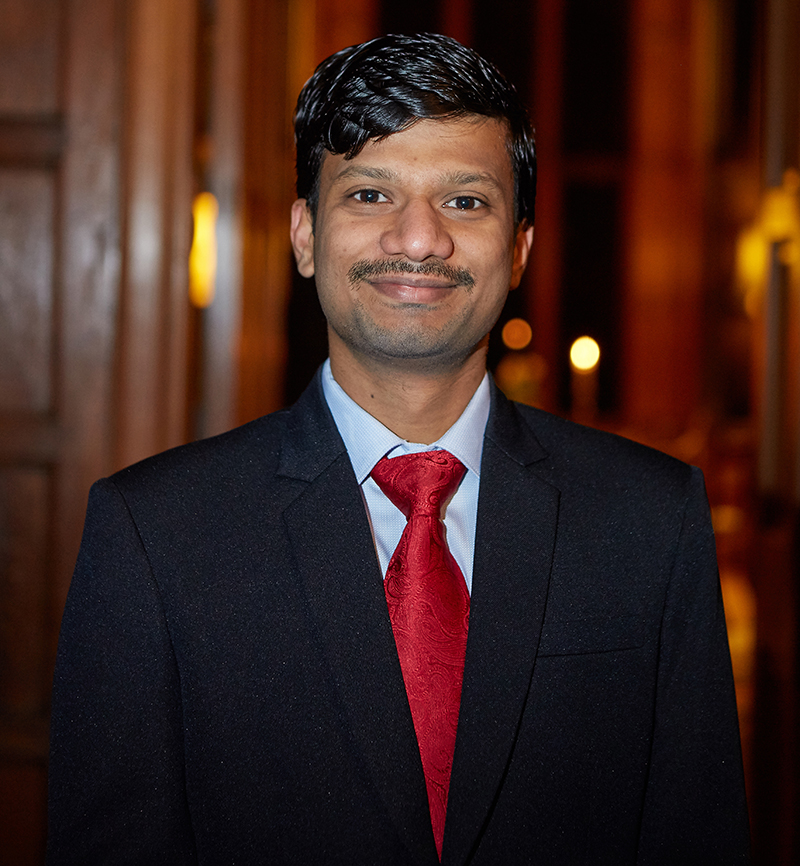 What did you work on during your time at St John's?
As a Physics PhD student at the Cavendish Laboratory, my research focused on the interaction of light and molecules by addressing pressing problems at the intersection of nano-optics, material science and bio-photonics. I constructed specialised metallic nano-cavities that can trap light down to single molecules, allowing us to watch and manipulate electronic and vibrational dynamics of molecules at ambient room temperature conditions. I'm currently a Junior Research Fellow at Trinity College, Cambridge.
How did the scholarship help you develop personally and professionally in practical terms?
I was amazed by the level of support and care the scholarship offered, even with allowances for items like winter clothing, bike, laptop etc. Generous travel grants gave me the independence to choose the conferences I wished to attend and enabled me to establish valuable international research collaborations. And I was grateful for the yearly sponsored trips back home; they were vital in keeping my work-life balance in check.
Any thoughts for aspiring scholars?
Reflecting back, I believe that the incredible resources which I had the privilege to access made a significant impact in building my professional career. They enriched my PhD experience and made it that much more rewarding. To the aspirants out there, chase your dreams with continued hard work and perseverance.
Read more information about the Dr Manmohan Singh Scholarships