College poet releases debut collection to critical acclaim
Adam Crothers, Northern Irish poet and Library Assistant at St John's College, is releasing his debut poetry collection on 28 January to glowing reviews. 
Several Deer, published by Carcanet, is a collection of over 60 poems on the themes of destruction, consumption, misogyny, gods, sex, failure and music. The poems have a range of influences from Bob Dylan and Lana Del Rey to Emily Dickinson and George Herbert and are described by the publishers as skilful with an "air of verbal mischief".
The collection has already received a positive review from the Irish Times, which reads: "[Crothers's] long, engaging first collection is typical of a diverse younger generation of poets.  These poets take it as a given that the individual's experience of language is almost entirely overwhelmed by history and, most spectacularly, by online culture's ability to name and know its users."
Adam Crothers is from Belfast and has been writing poetry since he was a child. He completed a PhD on rhyme in contemporary poetry at Girton College in 2010 and is now a Commissioning Editor for the online magazine The Literateur. He also works as a literary critic and teacher in addition to his post at St John's.
Adam said: "I would describe my poetry as quite self-aware. The poems in the collection contradict and undercut themselves in a way that reflects, I hope, the inner workings of the human mind - you don't always have consistent thoughts about a subject, and you don't always think or do the right things even when you know what those right things are." 
"When I write poetry, however, my primary focus is on form and rhyme. For me a poem is not like a crossword puzzle where your task as the reader is to figure out the meaning – it's more about the sound. Poetry should be treated like a piece of music." 
Adam recites Muse, a poem from his debut collection Several Deer
Three of the poems featured in Several Deer have a strong Johnian connection: Two were written for the Poetry in the Archives competition which was set up last year to mark the opening of the new College Archive Centre in the School of Pythagoras. A third poem was inspired by the Anselm Kiefer painting of Chairman Mao currently hanging in the Working Library.
Cambridge has been a nerve centre for innovative poetry since before the days when Edmund Spenser and Christopher Marlowe studied there and many current students and staff at St John's are actively involved in the city's poetry scene. "Although writing is mostly a solitary pursuit, it certainly helps to have people around you who understand why you are doing this strange thing, and why it is something more than a hobby. In my department there are two other active poets so perhaps there's some overlap between the mentality of a poet and that of a librarian", Crothers said.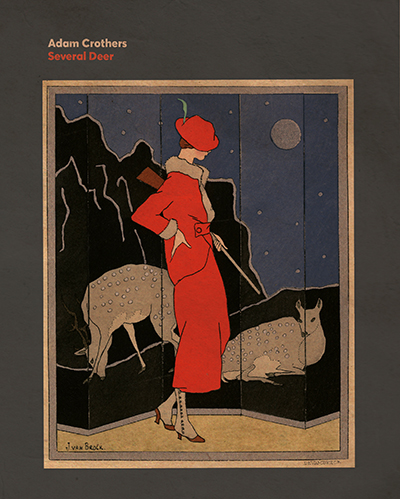 Last year, Adam contributed to the New Poetries VI anthology, also published by Carcanet.  The anthology showcases some of the most engaging and interesting new poets writing in English from around the world.
Adam will be launching Several Deer with readings of his poetry at Topping, St Andrews on 23 February; No Alibis in Belfast on 17 March and at CB2 Bistro in Cambridge on 22 March.
To buy a copy of Several Deer by Adam Crothers, visit: http://www.carcanet.co.uk/cgi-bin/indexer?product=9781784102449