Blondie a highlight for rowers
from St John's
"We came together as a team more than ever" 
It has been a remarkable year for Cambridge University Rowing Club (CUBC) – and St John's athletes have had front row seats right on the water. Undergraduates Gemma King and Jo Matthews spoke to Karen Clare about their love of rowing, training in a pandemic, and competing with an identical twin.
Not only did the Light Blues win both the 2021 Men's and Women's Oxford and Cambridge Gemini Boat Races, but they were victorious in the Men's and Women's Reserve Races three weeks later. The women's reserve boat, Blondie, beat Oxford's Osiris by seven lengths.
"We came together as a team more than ever, just because we've all been through so much this year," said Gemma, whose identical twin sister Catherine – a student at Gonville & Caius – also helped the crew row to victory.
Gemma and Jo are still buzzing from their win which, like 2021 Blue Boat bow man and fellow St John's student Theo Weinberger, they felt was helped rather than hindered by the pandemic – despite, perhaps in spite, of the fact that most of the training was done individually on dry land during the post-Christmas lockdown.
The two third-years were substitutes for the women's Blue Boat crew, so they were permitted to return to Cambridge to begin training on the water in early March, under British Rowing's strict Covid guidelines for elite sport. The rest of the Blondie crew joined them a couple of weeks later and the squad was complete for the first time in nearly three months.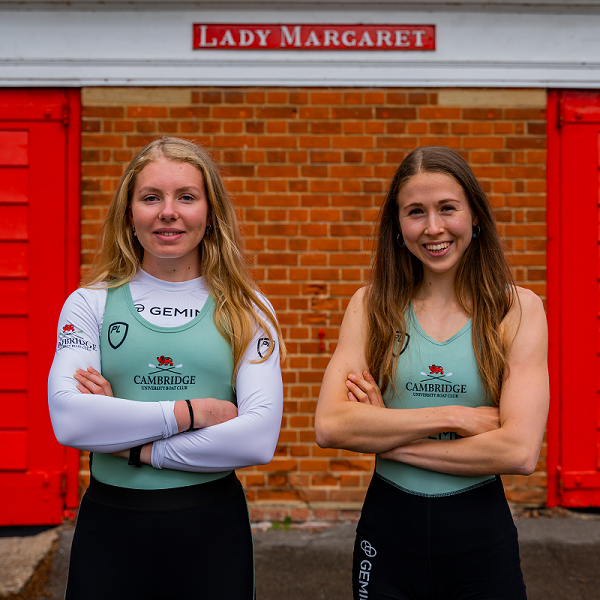 Gemma, who is reading Natural Sciences, Biochemistry, sat in seat five in Blondie. She said: "Everyone was so excited to be back and make the most of every session after so long apart. We all had a great time and enjoyed being back together. I think that's what made us all gel straight away.
"Another thing that was so unique this year was that the Blue Boat Race was a couple of weeks ahead of us. Seeing what they achieved made it feel real for us and really made us want to work hard to repeat their success."
The UK lockdown ahead of Lent Term came as a shock. Jo, who is studying Medical Science, only packed enough kit and clothing for a few days over Christmas. "Pretty much all my stuff was here. I had just enough to see me through – but I had to do a lot of laundry," she said.
"I always over-pack, so I was fine," said Gemma. "In a way we were lucky in that we missed training in all the really cold, wet weather – that was the only advantage! But I missed the water." 
Both women hail from Surrey – Jo from Dorking and Gemma from Bagshot. They met for a picnic before their return to Cambridge, and trained on rowing machines and cross-trainers at home.
"Luckily, I have my twin sister, so it helped for me to have someone to train with at home," said Gemma. "And we had lots of Zoom calls with the squad to build team spirit. The fact that you knew everyone else was doing the same training programme in lockdown definitely helped. It was a change in mindset over time as lockdown got ever longer, but in a strange way I enjoyed it – just seeing my progress was really satisfying, and doing more cross training and cycling helped me to enjoy the process."
"We just wanted to race, we wanted to win"
Gemma and Jo were both selected for the Blondie squad in 2020. It was a rapid progression for Jo, who only began rowing in her first year, at the College's Lady Margaret Boat Club (LMBC).
"I had a great time and really enjoyed the sport, so I stayed on as a senior," said Jo, who sat in seat six in Blondie. "We had a fantastic year, I loved the Bumps and wanted to carry on. In my second year I trialled for CUBC and both Gemma and I got honorary Blondie colours. Because of the pandemic, the Races were cancelled, so it was brilliant for it to go ahead this year, we just wanted to race, we wanted to win."
Gemma began rowing at school and was in the CUBC lightweight women's Boat Race crew in her first year. She hopes to do a Master's at St John's in Michaelmas Term, and to compete in the women's Blue Boat would be a dream come true.
She said: "Obviously being in the Blue Boat is the goal, but I had a great time this year and I just want to do the best I can. We've got some really strong people coming up in University rowing, so we'll see what happens."
Jo, who has another three years at St John's as a medic, agreed. "I would love to be in the Blue Boat next year. I'm fairly new to the sport so I'm not as experienced as a lot of people like Gemma, and next year I imagine there'll be a lot of competition with the seats. But I'll definitely be trying my best."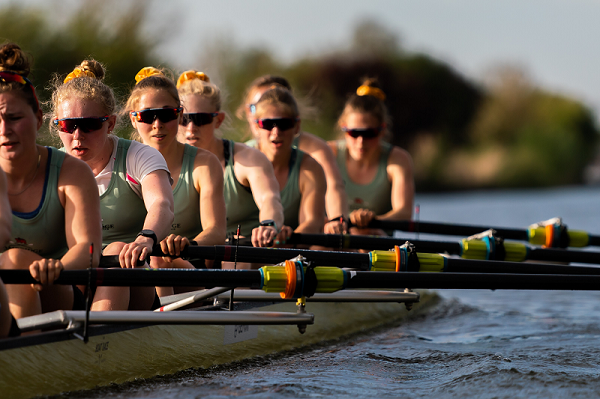 Before coming to St John's, Jo's main sport was cycling. "Cycling is a very individual sport: all the training is on your own, and racing is on your own. With rowing, everything you do is about the people you're with, and camaraderie is such an important part of that, along with the training. I just really enjoy it."
Said Gemma: "Being in the Blondie race was amazing, just being with the people that you've trained so hard with all year, and celebrating. It gives me a focus as well. I find it weird if I don't have training, I find myself wondering what I'm doing with the rest of my time. It helps me with my work and organising myself. I can't imagine my life without rowing."
Jo was nervous when the squad first got back on the water. "I thought, have I forgotten everything? What will it be like? Will it go really badly? But from the first session back, it felt like we had never stopped, everyone was so ready and fit, and the boat went really well. The first-week blisters weren't so fun, but we really enjoyed it."
Rowing with her twin sister gives Gemma both a companion and a challenger. "We got into rowing together. We always thought we'd diverge at 18 and go to different universities, but we both came to Cambridge to do Biochemistry. So that was a shock, but amazing.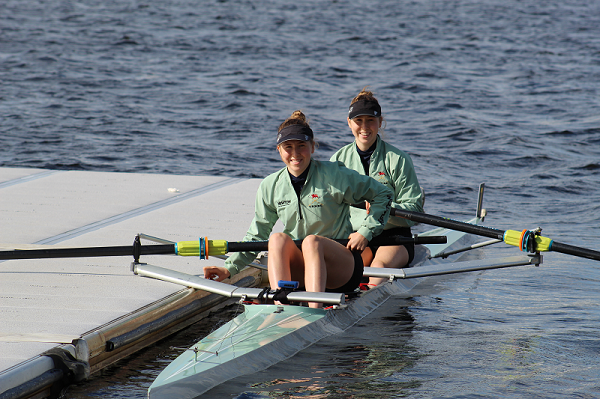 "Being at different Colleges, we still have that independence and separation, but it's nice to be able to merge together with rowing. I've done a lot of races in a pair with my sister and we've had some pretty amazing experiences together, and I think our pair does go pretty well. We've always found being in a boat together just works. I guess we're very, very competitive with each other but that also drives us forwards."
This summer the twins will be trialling for the GB U23 lightweight rowing team, and hope to race in the British Universities Championships and at Henley.
Jo has her own family ties to Cambridge - her dad is an alumnus of St John's.
In the past year not even a pandemic has stopped this new generation of St John's rowers making their own waves.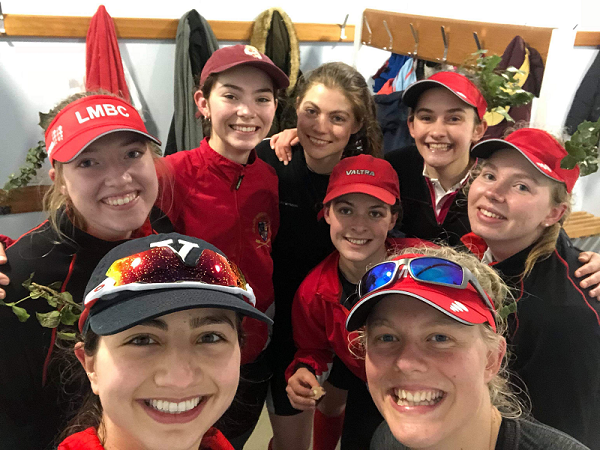 *This article first appeared in the Easter Term 2021 edition of Eagle Eye.*
Published: 25/06/2021