Behind the scenes with a Cambridge University Admissions Tutor
"I've seized opportunities as they came along"
Former windsurfing centre manager Dr Victoria Harvey, Tutor for Undergraduate Admissions, talks about her eventful road to St John's that included leaving university due to ill-health and returning as a single parent.
Did you go straight into academia after university?
No, I got chronic fatigue syndrome after I caught glandular fever during my GCSEs and flogged myself during my A-levels. I went off to Cardiff University but left after 18 months because I was struggling to cope. I moved home to Cornwall and went travelling for six years, partly with a boyfriend.
Tell us about your time working in Egypt.
I lived there for two years and managed a windsurfing centre. I returned to the UK via Brazil with a different boyfriend and we were planning to set up our own windsurfing resort in Cape Verde but we never managed to because I was in a serious car crash.
What happened?
A man was chasing his brother's car and he smashed into me on a winding road. I was hospitalised with a ruptured spleen, collapsed lung, concussion, whiplash, broken pelvis, sternum and ribs. When I was discharged I couldn't walk and I had a long period of rehabilitation.
When did you become a mother?
I got pregnant when I was 25 during the recovery period. My boyfriend and I split up when I was pregnant and it has just been me and Belle ever since.
You returned to university to study French when Belle was six months old, was that difficult?
I went into the interview at Exeter when I was heavily pregnant and still on crutches, but I got in! I lived with my mum and dad near Truro. At first, I crammed everything into three days at uni and four days at home, and drove back and forth. Eventually I moved to Exeter with Belle. I came top of my year and we went off to Worcester College in Oxford together so I could do a Master's in Renaissance French.
Tell us about your adventures abroad with Belle during your PhD at Girton College.
She has always been very portable and it has been us against the world since she was born. So we packed up and headed off to Paris when she was five and she learned French, went to the local maternelle and came around the Louvre looking at pictures with me.
Belle is 15 now and you have both got a new member of the family, Roxy, the golden retriever. Have you always wanted a dog?
I've never really looked very far ahead and I've seized opportunities as they came along. I did outreach work at Robinson College and Trinity Hall before I was elected as Director of Undergraduate Admissions at Lucy Cavendish College. I oversaw the preliminary transition period of going from an over-21 women's College to an over-18 all-gender College and was ready for a change. Now I am Admissions Tutor at St John's, it is the first time I've felt able to put down roots. I recently bought my first house and we have finally been able to get a dog and a rescue cat. Roxy and Miss Molly are complete rascals but they make us very happy.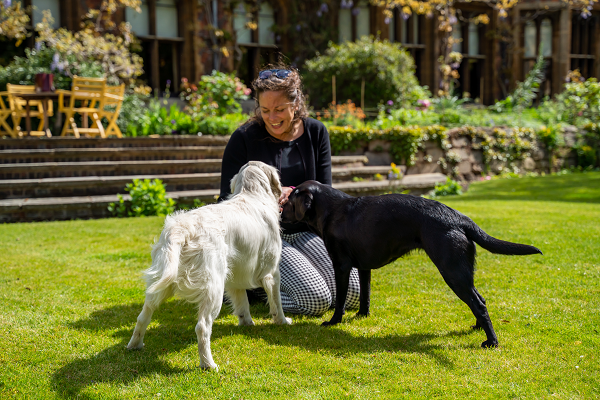 "If we make the right Admissions decisions, we will select the students who have the most potential to thrive at Cambridge"
How does it feel to have so much influence over whether someone gets into Cambridge?
The transformative power of Cambridge over other universities shouldn't be overestimated. Cambridge is amazing and you get a very different style of education but it isn't for everyone. It's not just about if you are clever enough, it is about whether you are going to commit to the sheer amount of work required every single week. If someone doesn't get into Cambridge, their life hasn't ended. Even getting an interview is a huge achievement.
You are very sporty and you are president of the Cambridge University Real Tennis Club. What is real tennis?
The game was one of King Henry VIII's favourite sports, he played it a lot and ordered lots of courts to be built. The rules were written down in 1599 and it is played with racquets made of wood in an asymmetrical court that has weird features like sloping roofs. It is complicated but a lot of fun! The club is open to everyone and there's often a chance to do a taster session, so do come and give it a try if you'd like to have a go at something new.
You've had a varied career so far, what would you like to do in the future?
I don't like to do the same thing day in, day out. One of the things that attracted me to St John's was the challenge of a larger College. If we make the right Admissions decisions, we will select the students who have the most potential to thrive at Cambridge. This will help to create a diverse, academic community full of different educational and cultural experiences.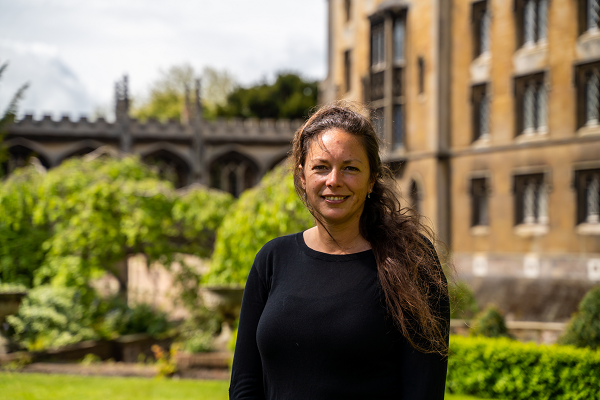 *This article first appeared in the Easter Term 2021 edition of Eagle Eye.*
Published: 2/7/2021