The bagpipe-playing asylum seeker who is going to Cambridge
"We left Nigeria to escape the violence there and to find a better life, it was tough leaving everything we knew behind. I knew education was the key and I needed to work hard at school"
On A-level results day, some of the students who will be starting as undergraduates at St John's next term tell of the challenges they have faced – and overcome – en route to Cambridge.
When Dami Fadun arrived in the UK from Nigeria he, his mother and three siblings could only speak broken English.
The family had fled the violence that plagues the African country just days before his eighth birthday.
Now the 18-year-old has secured a place at St John's College to study Architecture and he will be the third of four siblings to head off to university.
The family settled in Glasgow where they got involved in local life with Dami wearing a kilt and even learning to play the bagpipes in primary school to honour the Scottish culture.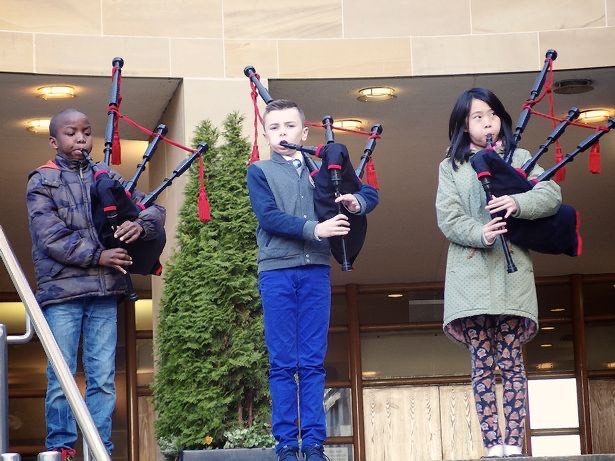 Dami said: "We picked up the language quite quickly as we were so young. We still speak Yoruba at home, probably with a Scottish accent now!"
Like all prospective undergraduates, Dami had his Cambridge interviews online, and he hasn't visited Cambridge or St John's before.
He said: "There's a special open event in September that I will go to with all the other new undergraduates which will be the first time I see the College and city in person but I have looked at lots of videos and stories about life at Cambridge. My mum is so proud of me and pleased for me but she is sad that I'm going to be moving away from her to England."
Education has always been important to Dami and his family, who all qualify for Free School Meals because of their circumstances, and he is following in the footsteps of his two older siblings who have also gone to university.
He explained: "We left Nigeria to escape the violence there and to find a better life, it was tough leaving everything we knew behind and my mum also got really sick. I knew I needed to work hard at school. My mum had never even heard of Cambridge University before I applied but I knew I wanted to aim for the best and it worked!"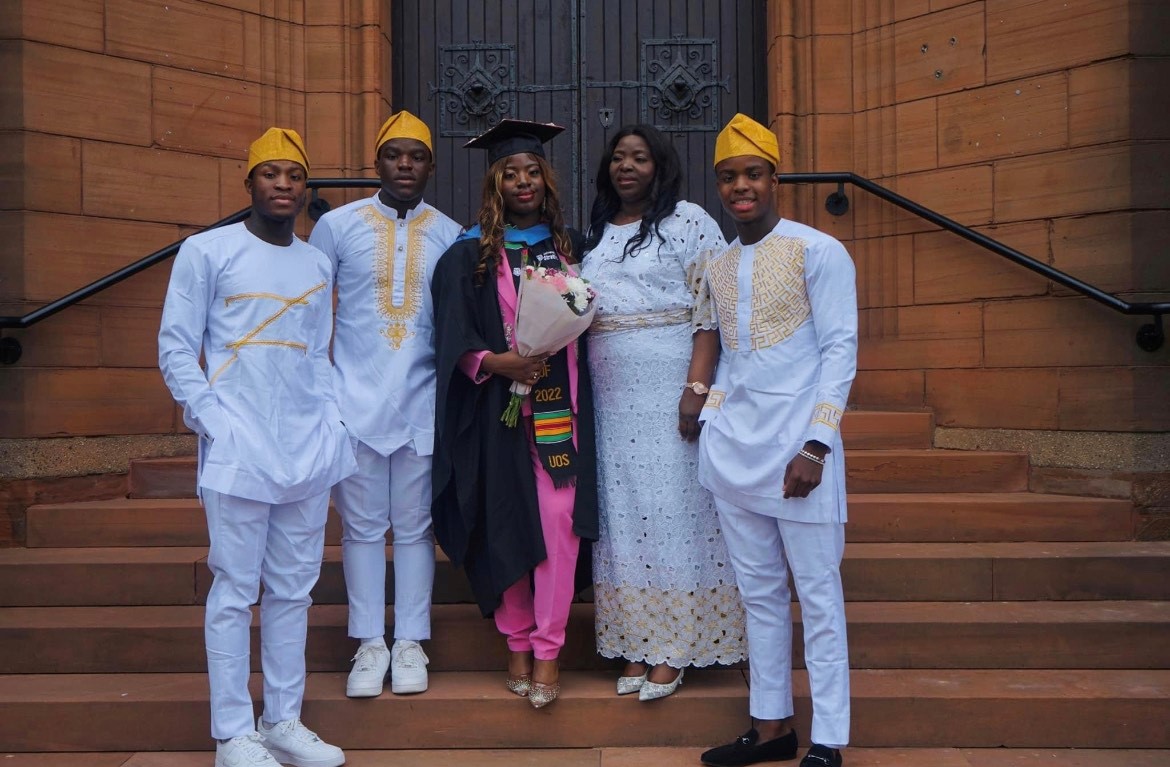 Dami, like the rest of his generation, endured a huge amount of disruption to his education as a result of the Covid-19 pandemic, and he was among the first cohort to sit Scottish Highers with exams to grade performance since 2019. He went to Lourdes Secondary School in Glasgow.
He said: "My school were really supportive and encouraged me to apply to Cambridge. I did a lot of research, particularly about all the different Colleges once I realised it wasn't just one big university. I decided St John's was the place to apply to because of its reputation and facilities. I'm sporty too so I'm looking forward to getting involved in the social life and societies once I arrive."
Dami, who got three As in his Advanced Highers, is looking forward to seeing St John's and its architecture in the flesh but not everything will be coming with him when he moves to Cambridge.
He added: "I still play the bagpipes in a band but I think I'll leave them behind in Scotland."
"It's been tough trying to support myself through all of this but getting into St John's is life-changing"
Sixth-form friends who both lived alone aged 16 heading for new life at St John's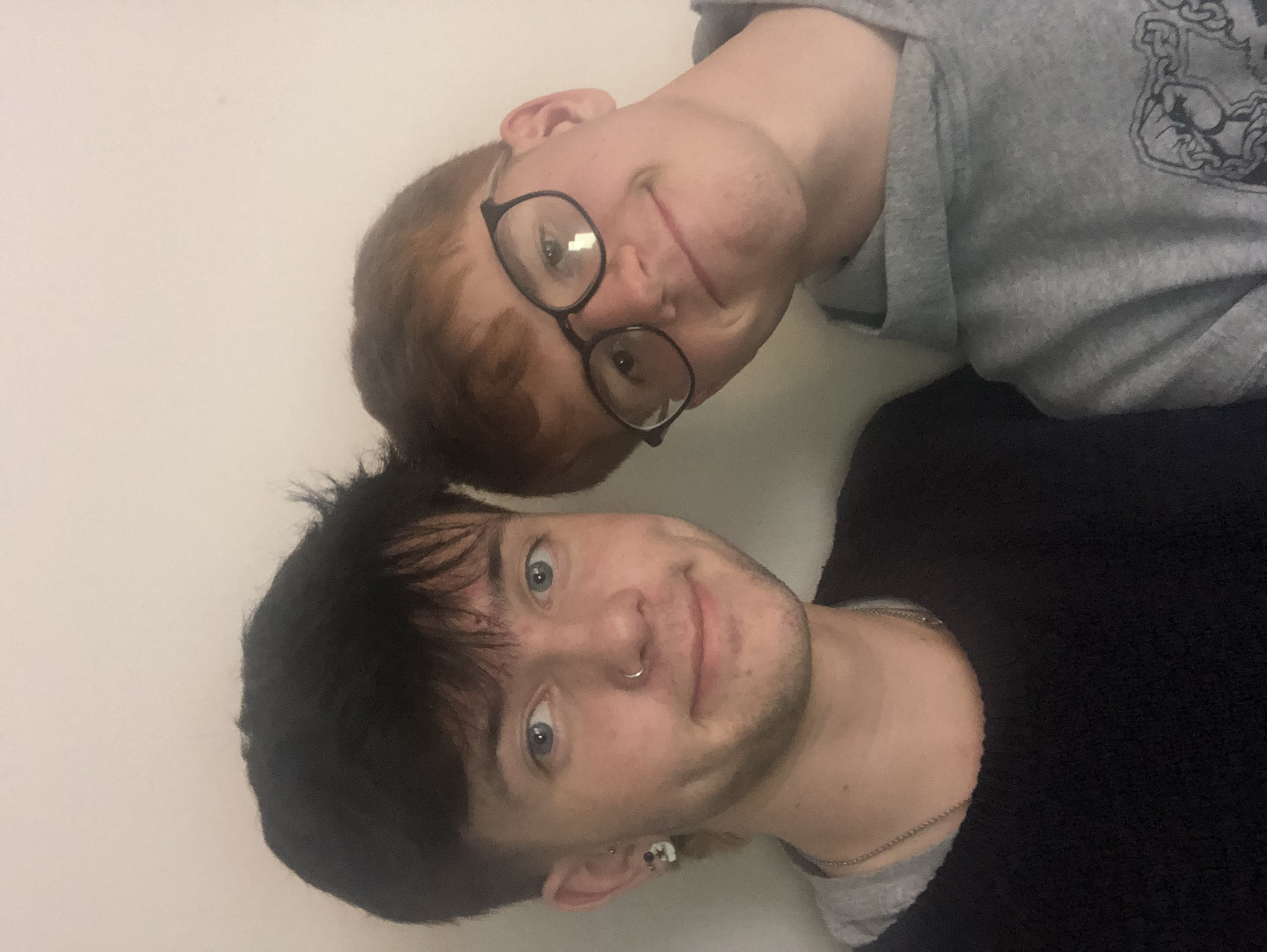 Teenager Richard Shumilin-Croxton was living in a YMCA hostel while doing his A-levels – and has now won a place to study at St John's College along with his best friend.
He and pal Ed Hulme met in their Maths class in their first year at City of Stoke-on-Trent Sixth Form College and will now be coming up to Cambridge at the same time to study Natural Sciences. Richard, who grew up with the support of social services from a young age, will be studying Biology and Ed will be taking Physics.
The 18-year-olds both experienced challenging home lives that led to them living on their own early in the pandemic. Richard said: "Growing up family life was difficult, I lived in the sorts of places where there wasn't any heating or hot water. It wasn't the best environment. So when I was 16, I moved out and originally I was just going to join the Marines to escape my situation, but then I met someone who said, 'you've got the potential to do well academically', so I gave it my best shot."
For the first year of the pandemic, Richard was living in a YMCA hostel, using his mobile phone to access A-level lessons online during the Covid-19 lockdowns, when schools and colleges were shut. He said: "It was stressful. The fire alarm would go off in the middle of the night. I didn't really have any way of escape, I couldn't spend time at college, I just had to sit in my box room.
"My laptop broke quite early in the pandemic so I ended up doing all my online lessons on a tiny phone screen, paying for expensive data because I was using it for video calls. So that was tough."
Richard kept his head above water financially by working long hours, topped up by Universal Credit payments. "It's been tough trying to support myself through all of this but getting into St John's is life-changing," he said. "The College offers really good financial support and it feels as if I will be on a level playing field for the first time in my life."
Ed began living independently after the third lockdown and Richard is currently staying with him until the pair move to Cambridge. Special arrangements are being made for them to move into College accommodation early because they will no longer have anywhere to live once they leave Stoke.
Ed decided to apply to Cambridge after shadowing a Maths student as part of an outreach programme, and chose St John's when he learned of the financial support available.
"Throughout the application process we have been there for each other and to help each other out. We couldn't believe that we both got offers to St John's, never mind that we both got in," said Richard.
Richard and Ed both have advice for any other young people in a similar situation to themselves. "Just keep trying, keep pushing, keep going, because eventually something's got to give," said Richard.
"I am very happy to be coming to St John's," said Ed. "We are both from a deprived area so I would say to anyone in a similar situation thinking of applying to Cambridge, definitely go for it, don't be put off. First of all, don't listen to people who say you're not good enough. Second of all, if you want to apply, even if you don't think you're going get in, it's worth a try. And work hard, you can do it."
The friends both hope for a career in scientific research, with the aim of helping others. Richard's dad died of cancer and he wants to help develop treatments for potentially fatal diseases. "I just want to make the world a better place."
"I missed months of school because I would be bedridden when it was really bad but I knew I couldn't let the illness hold me back"
Teenager with chronic health condition secures place at St John's – despite being hospitalised during A-levels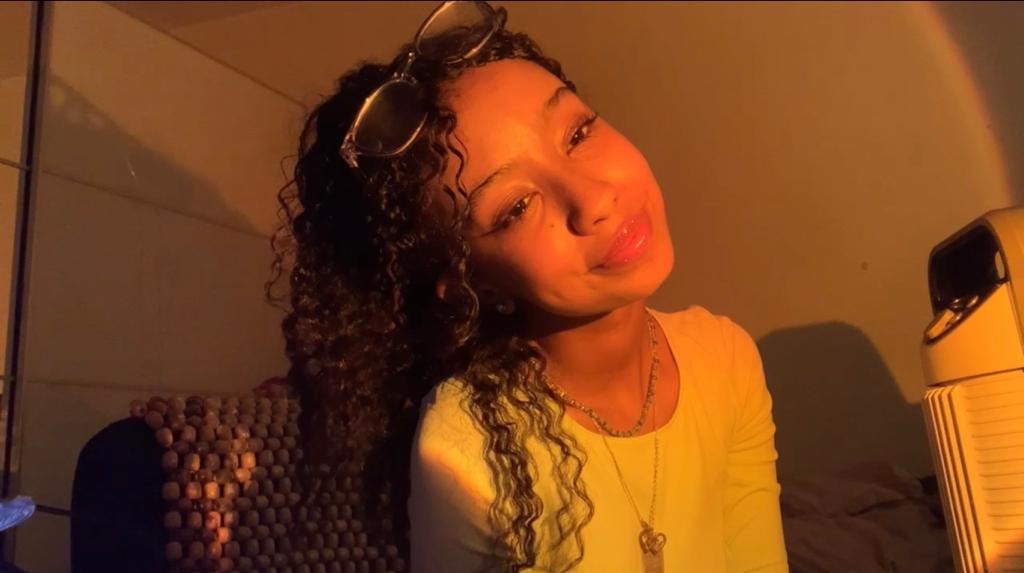 Nima Babiker and her family were waiting outside her school in Manchester before it even opened this morning.
The 18-year-old was eager to get her A-level results to find out if she had got the grades needed to get into Cambridge – and she did! Nima will now enrol at Cambridge to study Archaeology after getting two A*s and an A at A-level.
She said: "I wasn't expecting to get in, I did everything I could but until I saw it in black and white I didn't believe it. My whole family have been in tears because they are so pleased, it is like a dream."
Nima has not had an easy route to university. In 2019 she was diagnosed with Crohn's disease, a chronic disease that causes inflammation in the digestive tract, which led to a series of hospital stays meaning she missed weeks of school at a time. Like the rest of her peer group, she was also affected by a number of Covid-19 lockdowns during her A-levels.
She praised her teachers at Stretford Grammar School for the approach taken during the pandemic to support students with online learning: "We had really good resources and we were given all the materials we needed and had a lot of contact time with our teachers."
Nima, who qualifies for Free School Meals, decided to talk openly about having Crohn's Disease to normalise it, said that she had been very ill before she was diagnosed and it took time to get it under control.
She explained: "I can become bedridden when it is really bad but I have learned how to manage it now but it has taken time. Previously I'd be back and forth to hospital and I missed months of school in total. My teachers were so supportive making sure I had everything I needed and I was determined not to let it affect my education. I saw that Cambridge and St John's were focused on being accessible to all students and when I looked around the Colleges it felt like the right fit for me."
Nima will meet the other St John's freshers next month during a special series of events designed to welcome them to Cambridge and she is already looking forward to finding out about the music societies at College.
Published 18/8/2022